Sony's Concept N and interactive table look like something right out of Star Trek
Over its lifetime Sony has made some absurd products - portable LP player or the 4K-enabled Xperia Z5 Premium, anyone? Now though, its R&D lab Future Lab is looking to turn science fiction into fact.
Unveiled at this week's SXSW festival in Austin, Sony's Future Lab showcased an incredible "Interactive Tabletop". No, this isn't like Microsoft's failed Surface table from years ago; Sony's tech uses a projector to turn any flat surface into a screen for people to interact with.
Using depth sensors and motion tracking, Sony's projector can recognise objects and allow you to interact with them in new ways. One example attendees were shown was a Wonderbook-style interactive storybook of Alice in Wonderland – with the projector recognising an off-the shelf copy of Lewis Carroll's classic.
Once activated, you can pull pictures out from the book and have them interact with other objects on the table. In a neat touch, when you move a character around on the table, it leaves behind little footprints to show them walking to a new location.
Concepts like this have existed for a while now and never really taken off, but Sony sees this as nothing more than a prototype to demonstrate what Future Lab is capable of. It's not hard to imagine this sort of technology coming to classrooms that can't afford the likes of Microsoft's costly augmented reality Hololens headset.
Projected audio
Sony's Future Lab was also showing off a pair of headphones that you don't actually put anywhere near your ears. Known as Concept N, Sony's bluetooth audio device actually sits around your neck and uses multi-directional speakers to funnel music up to your ears without the need for earbuds and wires.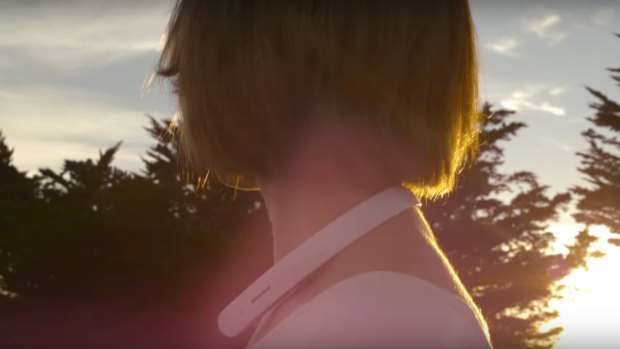 The idea behind Concept N is to allow for people to listen to music without blocking out environmental sounds such as traffic or people talking to you. Audio safety has become a concern lately, with a few headphone manufacturers at CES also showing tech to keep outside noise audible for safety reasons.
Concept N also comes with accompanying cone-shaped earphones that talk to the neckband so you can use it more like a standard pair of headphones. The earbuds still don't completely block out external noise, but they do provide a more familiar audio experience.
You can also interact with Concept N via Google Glass-like voice commands. Although it's unclear exactly what you'll be able to do, it's possible Sony would use the tech found in its Xperia Ear to power the feature.
While Concept N seems far more polished than Sony's interactive tabletop, both devices are firmly in prototype stages with absolutely no plans to take the devices any further. Let's hope that Sony doesn't sit on the concept for too long though, it could really do with another product hit to help turn its lagging business areas back around.