Want to dabble in VR to find out if it could ever possibly be relevant to your business? The Gear VR is a fun proof-of-concept, but it doesn't do much to showcase VR's business potential.
Samsung is pushing VR pretty hard right now. Alongside the VR-laden announcement of its Galaxy S7 and Galaxy S7 Edge flagship smartphones, the company also announced that everyone who pre-ordered one of those new phones would also get a free Samsung Gear VR Consumer Edition thrown in.
That's quite a giveaway - the headset normally sells for $159 - but it means that ahead of the release of the HTC Vive/Steam VR, Oculus Rift and PlayStation VR later this year, Samsung's VR system will already be in the hands of thousands, if not tens of thousands, of users.
With other mobile manufacturers such as LG recently getting in on the act, that head start could be crucial for Samsung in the race to dominate the VR market.
Except of course the Gear VR isn't like those other systems. It's not a self-contained VR device and has more in common with Google Cardboard than the Oculus Rift.
Samsung Gear VR: What's new?
This isn't the first time I've seen the Samsung Gear VR. I first reviewed a developer version of the Gear VR back in January 2015, and since then it has released a second version, designed to fit the firm's Galaxy S6 and S6 edge phones, but not a whole lot has changed, at least from a hardware perspective.
The new version is lighter overall, weighing 318g, the touchpad is now sculpted to guide your finger, the padding that fits on your face is slightly less thick than it originally was and the elasticated strap that goes over the top of your head is less cumbersome.
There's more than that, though. At the front where the phone mounts to the Gear VR there's now a sprung, adjustable clip so the headset is compatible with a greater range of phones than before - you can now can fit a Galaxy S6, S6 Edge, S6 Edge+ and Note 5 to the Gear VR as well as both new S7 and S7 Edge models. Alas, Samsung doesn't want you using other manufacturers' handsets (the spoilsports) so there's no third-party handset compatibility.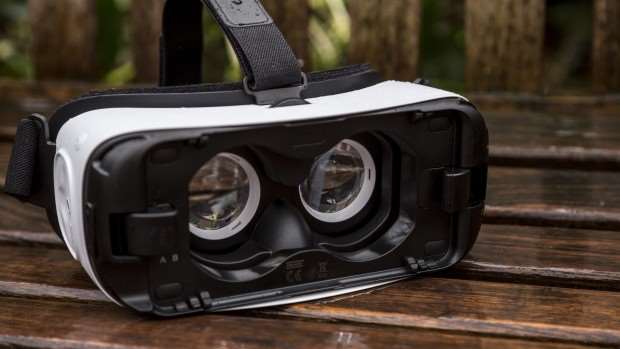 Aside from this, the hardware is largely the same as before and it functions in precisely the same manner, too. Which is why we see it as a fancy Google Cardboard, with some extra sensors built into the body of the headset, and a handful of additional practical features. It has no screen of its own, relying instead on a phone being plugged in at the front.
There's a wheel on top so you can adjust the focus to suit your eyes, a pass-through USB port on the bottom of the unit below the right eyepiece for charging the phone while it's mounted, and back and volume buttons flanking the touchpad on the right-hand side of the Gear VR for navigating around Samsung's VR interface.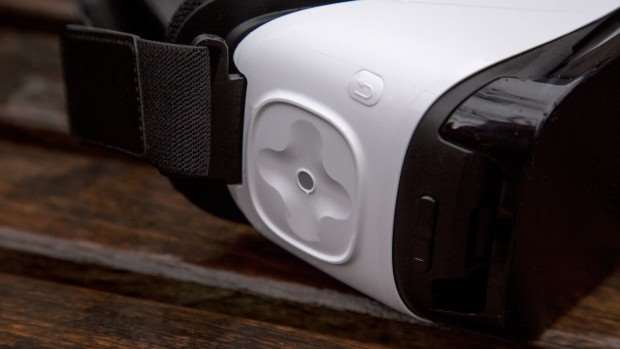 Samsung Gear VR review: Fit and performance
So what difference do the changes make? Some are for the better: it's great that the Samsung Gear VR is now compatible with multiple handsets and not only limited to only one or two, and the redesigned touchpad makes it easier to locate with your fumbling fingers.
Some changes, however, have made things worse. The redesign of the foam cushioning is the principal culprit here. Now that it's thinner, I found the lenses sat too close to my eyes; in my case that meant my eyelashes brushed the surface of the lens when I blinked - not exactly comfortable, but not horrifically awkward - however, it also means the lenses get moist and blurry very quickly, and need regular cleaning.
This is compounded by the lack of individual eyepiece adjustment. The adjustment wheel merely tweaks the position of the phone back and forth, not the lenses, and initially, I found it difficult to bring the whole display into focus. The only thing that worked was adjusting the position of the headset on my face.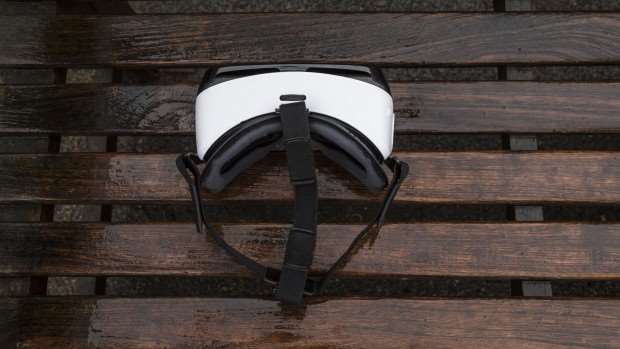 Another issue is the performance capabilities of the phone you might be connecting with the headset. I tested with a Galaxy S6 and after 15 to 20 minutes of VR gaming it overheated and froze, needing a good long while to cool down before I could carry on. The Note 5 did better, not crashing even after 30 minutes, but again the phone did get pretty hot and the various games, demos and 360-degree videos chewed through 40% of the battery!
I'm not completely down on the Samsung Gear VR, though. Its head-tracking, courtesy of Samsung's partnership with Oculus, is remarkably accurate and, once you've found a comfortable position for the headset through experimentation, it can be a truly gobsmacking experience. And as far as resolution is concerned, that's absolutely fine, too. Thanks to the 2560 x 1440 displays on the compatible phones, the 3D resolution is a relatively high 1,280 x 720 per eye, and although those lenses magnify the screen hugely you quickly forget that the picture is a little grainy.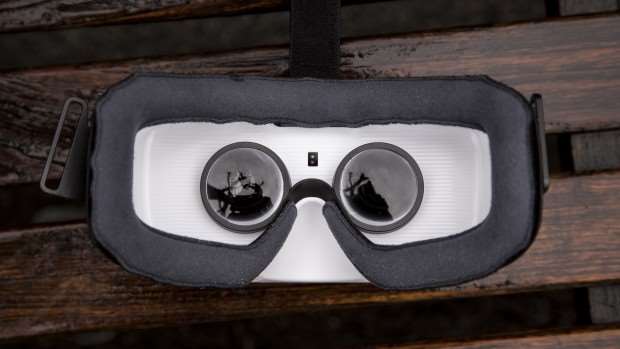 Samsung Gear VR review: Software
The key to the success of any VR system, however, isn't the technical prowess of the system in question, nor its comfort (although there are clearly some issues on this front), but the availability and quality of the available software. On this count, it's still a bit of a mixed picture for the Gear VR.
There's far more of it now than there was when Samsung started its VR journey, including a good selection of free and pay-for games and a broad array of 360 video and photo apps.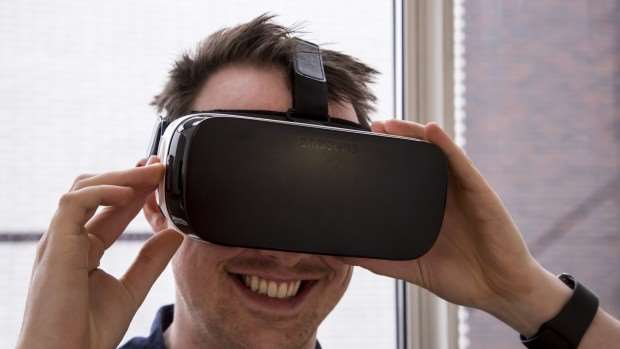 The UI of the Oculus VR app has been improved vastly as well. Menus now have attractive VR backdrops instead of simply floating in black space, and it's easier than before to find your way around. Browsing the store in VR still needs some work, though. There's far too much back and forth going on here, and too much VR for the sake of VR. I found it easier to install apps and games via the standard 2D smartphone interface, then don the headset when the time came to watching or gaming.
The trouble is, although there's much more content than before here, and a lot to explore, there's still no one killer title, the game that makes you think: "This is it. This is why I absolutely MUST have a Samsung Gear VR." My favourites among the titles I tried was HeroBound - Spirit Champion and Esper 2, a 3D puzzle game, but a lot of the other games and apps still feel a little simplistic, and some are downright embarrassing. Who on earth wants to play solitaire in VR? Does anyone really want to play a virtual arcade version of the 1980s top-down racer, Spy Hunter or Gauntlet II?
I also think it's a mistake not to include a Bluetooth games controller in the box when so many of the better titles require one to work at all. If you've paid money for the headset because you absolutely have to get your hands on a working VR system, an extra $40 isn't going to make that much difference to you. If you've been sent a Gear VR as a freebie after pre-ordering your S7, however, it's another - unnecessary - barrier to entry.
Samsung Gear VR Consumer Edition review: Verdict
And that, in essence, is the Samsung Gear VR's biggest problem. It's the software. Although the list of titles is steadily burgeoning, there's still nothing here that makes me stop and gape. Nothing that's so compelling I absolutely must have it.
A lot of the apps and games, in fact, still feel like proof of concept stuff, and once the initial wonder of VR wears off, you may well be left wondering what all the fuss was about. It's also heavily skewed towards fun and entertainment. VR has the potential to dramatically change the way companies can realise early versions of their products, or show clients around a planned space, or videoconference in a whole new, immersive way. But what you get is surfboard ride-along videos, and Star Wars ride-along videos, and rally car ride-along videos and... well, you get the point.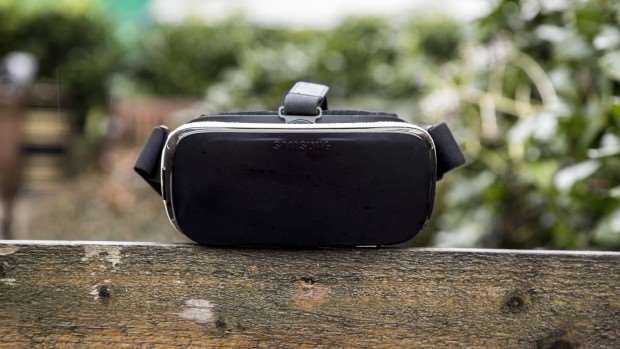 Don't get me wrong here. The Samsung Gear VR works wonderfully well, and the fact that soon tens of thousands will have one in their hands means it will have a massive head start on the VR competition. And it's only $159.
But... it's not a proper VR device. We can imagine a business grabbing, say, 10 of these for some kind of presentation. But actually using one for the kind of work that we haven't even imagined yet? Wait for the Oculus Rift or the Vive. There's a reason they cost nearly 10 times as much.