Unsure whether you should buy the Samsung Galaxy S7 or the LG G5? Here's BIT's definitive opinion
Should you buy the Samsung Galaxy S7 or opt for the LG G5? Another year, another tricky decision on which flagship smartphone is worth your money.
Worry not, because Alphr has gone through the difficult decision process for you. We've weighed up which phone is best, comparing design, display, specifications, camera, battery life and more.
Neither phone is out just yet, although pre-orders are now open for two of this year's most exciting smartphones. Now's the time to sit back and mull over which one you want to pick up as your next smartphone.
Samsung Galaxy S7 vs LG G4: Design
Samsung's Galaxy S6 and S6 Edge were a world apart from the Galaxy phones that came before. They were curvaceous, premium and felt like a revolution for Samsung's mobile hardware. For the Galaxy S7, however, Samsung has decided to simply refine what came before.
Interestingly, Samsung has taken yet another leaf from Apple's book, producing a slightly smaller 5.1in S7 alongside the 5.5in Galaxy S7 Edge. Aside from a slight size difference and the Edge's curved display, both phones are identical. Buttons and ports are also in similar places to where they were on the S6.
LG, on the other hand, has given the G5 a complete overhaul. Thanks to the G5's new modular design, you'd be hard-pressed to believe the G4 and G5 were even related to one another.
While the G4 was stylish and solid, the G5 looks rather dull and – some may say – rather ugly. Fitting with its design ethos, the G5 certainly looks functional, but in doing so it loses a lot of the charm of its predecessor. Still, it's not all bad: the rear-mounted fingerprint reader feels great, and LG has finally moved the volume buttons from the phone's rear onto its side.
The G5 should also be commended for its innovative use of modular components and how it factors that seamlessly into the phone's design. In terms of pure aesthetics, though, there's only one winner here.
Winner: Samsung Galaxy S7
Samsung Galaxy S7 vs LG G4: Display
Samsung has long been known for excellent smartphone displays, and with the Galaxy S7 things are no different. It has a 5.1in Super AMOLED display with a 1,440 x 2,560 resolution – the same resolution found on the Galaxy S6. The S7 Edge sports the same resolution, but across a 5.5in screen.
The LG G5 has decided to switch out the G4's curved 5.5in screen for a smaller 5.3in display. Don't worry, the resolution hasn't dropped, ensuring that its 1,440 x 2,560 screen is still super-sharp with a pixel density of 554ppi.
We'll be able to assess the LG G5 and Samsung Galaxy S7 screens for brightness and responsiveness when we get both in for review. Until then, we only have raw specifications to go off, and as both sport the same resolution (albeit the G5's is over a slightly larger area), it's too close to call.
Winner: Draw
Samsung Galaxy S7 vs LG G4: Specifications and performance
Rumours have it that Samsung's Galaxy S7 could feature two different processors upon release. Vodafone has indicated the S7 will run on Samsung's own Exynos 8890 chip – an evolution of the S6 processor – but there are murmurings that other territories will see S7s running on Qualcomm's Snapdragon 820.
The rest of the S7's specs are reasonably commonplace. It has 4GB of RAM, 32GB of storage space (with up to 200GB more via microSD), runs Android Marshmallow and has IP68 dust and water resistance too. It also has a 15% bigger battery, pushing the S6's 2,550mAh power pack to 3,000mAh – the S7 Edge goes even larger to 3,600mAh. The S7 also has watercooling functionality to help eke out even more from its CPU and GPU.
While the LG G5 is modular, its core specs won't change. Every G5 comes with a Snapdragon 820 processor, 4GB of RAM, 32GB of storage and a microSD slot, and a 2,800mAh removable battery. It also has a modular expansion slot, should you wish to add functionality via a bigger camera or audio module, or even snazzy VR glasses.
It's hard to know how each phone performs until the review units begin to appear at our desks. Until then, we'll have to go by raw specs, which are reasonably similar – but the LG G5 loses out on stock battery, watercooling and water resistance.
Winner: Samsung Galaxy S7
Samsung Galaxy S7 vs LG G4: Features
LG G5's key feature is how it allows you to add and remove components as you see fit. Want a bigger battery, more accurate camera controls or a better amplifier? Done. You can switch parts out to create a smartphone to suit your day.
Besides that, the G5 features a USB Type-C connector, another in the wave of handsets adopting the new reversible charging and data-transfer cable. It also features NFC, Bluetooth 4 and 802.11ac Wi-Fi, and runs LG's TouchWiz UI version of Android Marshmallow. It also boasts a low-power always-on display so you'll never miss a notification.
Interestingly, there's also a slew of companion devices that are designed to be controlled from the G5's screen. While these are separate purchases and don't come with the phone itself, they do show the versatility of LG's mobile hardware.
Samsung's Galaxy S7 and S7 Edge, on the other hand, have only a minimal set of additions over the previous S6 and S6 Edge. The S7 now has a microSD slot, much to the joy of old Samsung Galaxy fans who abandoned the S6 due to its limitations, and has IP68 water resistance. As with the G5, the S7 and S7 Edge both have always-on displays, which shouldn't drain your battery due to the low-power nature of Samsung's Super AMOLED display.
The biggest new feature in both S7 phones is the watercooling system. A sealed "thermal spreader" inside the S7 uses water evaporation and condensation to cool the phone more effectively. This should translate into better performance from the S7, but we'll be able to confirm that once we receive a unit for review.
From a features perspective, the LG G5 takes the crown – even if it is only because of its more novel approach to phone design.
Winner: LG G5
Samsung Galaxy S7 vs LG G4: Camera
Last year the Samsung Galaxy S6 and the LG G4 had the two best phone cameras around. The S6 managed to just beat the G4 to the title of the best smartphone camera, and now the G5 and S7 are back to duke it out for the title once again.
Compared to last year's S6 camera, the S7 drops its resolution down from 16 megapixels to 12. No, Samsung hasn't gone mad: the number of megapixels has reduced, but Samsung has actually increased the size of each pixel to 1.4um (the S6 had 1.16um pixels) and increased the aperture to f/1.7 to improve the S7's low-light performance. This translates to a faster shutter speed, resulting in sharper pictures with less noise.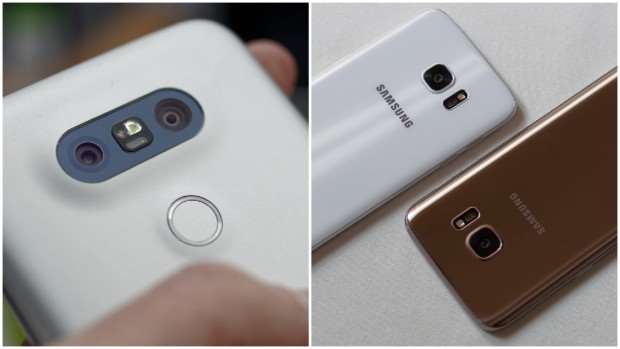 With the LG G4, LG made a giant leap in the performance of its camera. However, that leap hasn't continued into the G5. While it still has laser autofocus, the manual DSLR-style controls have been eschewed onto its camera module addon. This time around, the big change with LG's camera is the addition of another camera. The G5's main camera is a standard 16-megapixel snapper with a 78-degree field of view lens. The second camera has an 8-megapixel sensor, utilising a 135-degree wide-angle lens to take landscape and architectural photos. Unsurprisingly, LG says its second rear-camera mimics the field of view of the human eye.
It's also worth remembering that LG is bringing a camera module, the CAM Plus, to its G5 for those who really want to get the most from its camera. We'll have to wait for our tests to find out how much this improves the G5's camera, but it will add DSLR-style controls and a 1,200mAh battery with physical buttons for power, shutter, zoom and record.
However, comparing raw camera specs, it looks likely that Samsung will once again win out by giving its users a simple yet powerful camera, capable of sharp low-light photography. Until we can go hands-on with both and come up with a definitive verdict, it looks as if the S7 has won this round.
Winner: Samsung Galaxy S7
Samsung Galaxy S7 vs LG G4: Battery
As with any mobile device, good battery life is absolutely essential.
Last year many manufacturers tried to improve battery life through clever hardware and software improvements. This led to some – notably Samsung – reducing the size of its battery to save on space. This year, it looks as if big batteries are back and, along with hardware optimisations from last year, both the Samsung Galaxy S7 and the LG G5 should have healthy power packs.
For the S7, Samsung has increased the battery size by 15% to 3,000mAh. Along with improvements to its CPU and GPU via its thermal spreader, power consumption can also be reduced through frame-rate and resolution capping when playing games.
The LG G5 may have a smaller battery, at 2,800mAh, but you will have the option to swap it out for another if needed. Even if you don't bother to use the feature, it means you could theoretically increase the G5's battery size further down the line. The G5's CAM Plus module also boosts its base battery size to 4,000mAh, meaning if you're an avid photographer you shouldn't be left in the lurch when using your phone.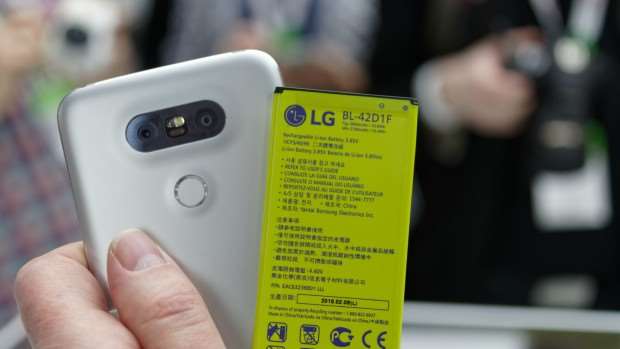 It's also worth remembering that while both the S7 and G5 have always-on displays, Samsung's Super AMOLED doesn't need power to display black – meaning it'll be more power efficient than the G5's IPS screen. While this shouldn't really impact battery life too much, it's clear that this will be more of a drain on the G5 than it will be on Samsung's Galaxy phones.
Again, it's hard to call exactly which phone will win out in terms of battery life until we've had the chance to test them. LG's phone may initially have a lower capacity, but its versatility gives it points over Samsung's fixed unit. For now, though, it's too close to call.
Winner: Draw
Samsung Galaxy S7 vs LG G4: Verdict
Comparing the LG G4 to the Samsung Galaxy S6 was a close-run thing, but in the intervening year, the gap between their successors has widened significantly.
Perhaps LG's modular approach for the G5 will allow it to fight back against the S7 in our performance, camera and battery tests, but for now, it's clear that Samsung's Galaxy S7 and S7 Edge are better phones in terms of raw specs and power.
Winner: Samsung Galaxy S7