Does your business need a super cheap tiny computer you can build into whatever you can imagine? If so, good news! The new Raspberry Pi is more flexible than ever, with added wireless connectivity and a boost in processor speed.
The original Raspberry Pi was a work of wonder: a tiny board capable of running a full desktop operating system for less than £30 - it was no wonder people were desperate to get their hands on one. Now, though, the Raspberry Pi 3 is on its third version, and it's faster, more flexible and set to be more popular than ever.
The big news for the Raspberry Pi 3 Model B is that there's now built-in 802.11n Wi-Fi and Bluetooth 4 alongside the existing wired 10/100 Ethernet connection. Hobbyists and project builders will no longer need to budget for a cumbersome USB dongle or factor in extra space in their project cases.
That alone will be reason enough for most enthusiasts to rush out and buy one, but there's more. Along with the wireless improvements, the processor has been given a boost, too, with the Raspberry Pi 3 now featuring a 64-bit, 1.2GHz quad-core Broadcom BCM2837RIFBG SoC based on ARM's Cortex-A53 CPU architecture. The Raspberry Pi 2's processor was a 900MHz chip, so on paper, it's a 33% performance boost.
Raspberry Pi, however, is claiming a 50% overall performance boost, something that's explained by the boost in graphics performance. The VideoCore IV multimedia component now runs at an improved clock speed of 400MHz compared with 250MHz it ran at before.
It was also announced that, from launch, the Raspberry Pi 3 would work with Windows 10 IoT Core.
Raspberry Pi 3 review: Key specifications
New Broadcom BCM2837RIFBG SoC: 64-bit, 1.2GHz, quad-core ARM Cortex-A53 CPU

400MHz VideoCore IV multimedia

"50% faster" than Raspberry Pi 2

1GB LPDDR2-900 SDRAM

802.11n Wi-Fi

Bluetooth 4

Price: $56
Other than that, it's business as usual. The price of the Raspberry Pi 3 remains the same as the Pi 2 - around $50-$60 - and the board itself retains the same layout and size, so it should still fit most existing third-party cases.
Close inspection reveals that the indicator LEDs have move to the other side of the display ribbon connector, so you may have to get the Dremel out, and the Run header has also shifted location, however, all the rest of the major connectors and headers stay in the same place.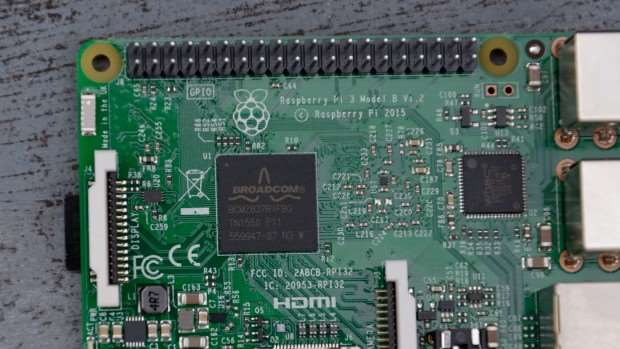 That means the Pi still has four USB 2 sockets and one Ethernet socket on one end, a full-size HDMI, micro-USB and 3.5mm audio jack on one long edge, plus a microSD slot for loading the operating system on it on the other end. Interestingly, the microSD slot is not now a mechanical push-to-eject type of slot, but a plain push-in, pull-out type.
Along the other long edge is the Pi's GPIO header. The display ribbon connector sits at the same end as the microSD slot, and the camera input remains between the HDMI output and 3.5mm audio jack.
The one big disappointment is that, as with the Raspberry Pi 2, Ethernet speeds are still limited to 100mbits/sec, but this is due to the limitations of the USB 2 bus, which the Ethernet port is connected to.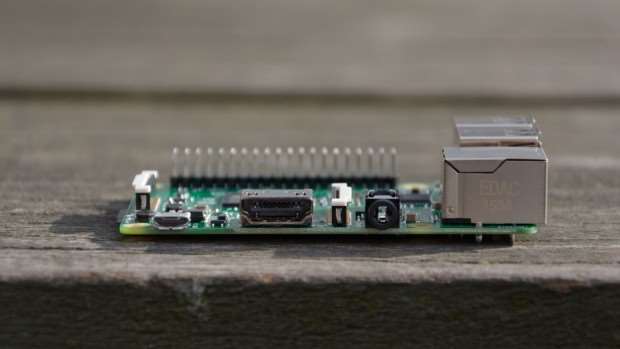 Raspberry Pi 3 review: Early verdict
It's too early yet to say exactly how much faster than the Pi 2 the Raspberry Pi 3 will be - I'll have to run some tests when I get hold of our review sample to determine that - but the upgrade will come as welcome news to Pi enthusiasts and hobbyists the world over.
It's now quicker than ever, more flexible and better connected, with no increase in board size or price. You can't get fairer than that. Of course, good luck finding a retailer that hasn't already sold out...