Intuit has released its new QuickBooks Self-Employed mobile app, which includes invoicing, expense capture and tracking, and mileage tracking.
Available for iOS and Android, the QuickBooks Self-Employed (QBSE) mobile app is free to download, though it requires signing up to the $9.99 per month QBSE service. A free 30-day trial is offered, and for an introductory period there's a 50% discount for users who sign up during their trial.
QBSE has already been launched in the US and the UK, where it has attracted 85,000 customers and is available via the web as well as the app. Australia is serving as a test market for the app-only model.
QBSE makes it simple to generate invoices at the point of contact or supply – generally speaking, the sooner you invoice a customer or client, the sooner you get paid.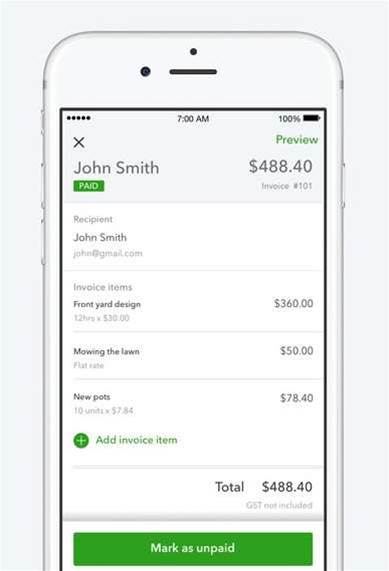 Invoicing on the go
Curiously, there's no support for time tracking and billing, so if you charge hourly rates you'll need to stick with whatever method you currently use and manually enter the number of hours it took to repair your customer's washing machine, proofread their book or whatever service you provide.
The app lets you take a photo of a receipt and store it along with the transaction, but there's no indication of optical character recognition capabilities to reduce data entry. In addition, bills (accounts payable) can be entered and managed in QBSE, but there's currently no cashflow forecasting capability as found in QuickBooks Online.
If you aren't scrupulous about keeping separate personal and business credit cards and bank accounts, QBSE lets you swipe bank feed transactions left or right to categorise them as personal or business.
Keeping a vehicle logbook can be a chore for those using the cents-per-kilometre method of calculating car expenses, but QBSE simplifies this task by recording the business kilometres with the aid of the phone's GPS.
Tracking mileage
Expense, mileage and invoice reports are all available in one place in the app, which is designed to be used on phones but also works on tablets, an Intuit spokesperson told BIT, though we suspect the lack of GPS could be an issue with models without built-in 3G/4G capability.
"The self-employed use their time to make money and so they want a simple platform to track income and expenses, without the hassle of time-consuming data entry. QuickBooks Self-Employed does just that and so much more, even enabling customers to untangle business and personal expenses, a key roadblock for the self-employed," said Intuit Australia vice-president and country manager Nicolette Maury.
"I predict the launch of QuickBooks Self-Employed will put an end to people storing receipts in shoeboxes! Also, it will eliminate the need for keeping a paper logbook and the hassles associated with recording business trips, thanks to the auto-mileage tracking which is a global customer delighter."