Firm says use of H.264 compression technology provides dramatic benefits and 1080p high-definition (HD) video
Polycom is to launch a telepresence product that it claims offers 1080p high-definition (HD) video while using half the bandwidth of comparable systems.

The Polycom Open Telepresence Experience 300 (OTX 300) runs on the H.264 video compression standard to provide a "true-to-life" collaboration service without the need for network upgrades, according to Polycom.

"Using telepresence, customers can save millions by improving productivity and reducing the need to travel. We estimate that a mid-sized enterprise will spend up to $2.1m less in the first year of deployment," said Polycom chief executive Andrew Miller.

The OTX 300 will become part of Polycom's Open Collaboration Network to integrate with other unified communication systems, such as Microsoft Office Communications Server R2 and Microsoft Exchange.

Josie Sephton, an analyst at Freeform Dynamics, believes that Polycom's announcement underlines a gradual move towards videoconferencing facilitated by the rise in HD technology.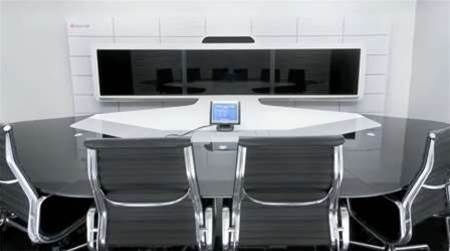 Not the bridge of the USS Enterprise, but a telepresence room as imagined by Polycom
"HD is certainly a key driver for many people, as it lifts the quality of the experience overall. It's the sort of thing that's needed to raise the profile of videoconferencing," she said.
"We are certainly seeing a lot more firms putting videoconferencing on their agendas, and this opens up a lot of opportunities for vendors. It needs to be done with a top-down approach, so C-level executives need to be convinced of the benefits."
However, Sephton added that there are still some "stumbling blocks" to the wider adoption of videoconferencing.
"Many people consider web or audio conferencing suitable for their needs. It's often not until people see telepresence in action that they consider how they could make it work for their business," she said.
"It's important for firms to identify the relevance of a videoconferencing system to their needs."
Polycom will demonstrate the OTX 300 at the InfoComm 2010 Conference and Expo from 9 to 11 June in Las Vegas.