Still not sure about these new-fangled combined tablet-laptops like the ASUS Transformer Infinity? Wait till you see the battery life.
If you are thinking about buying a tablet or a laptop, you might have started to notice combined tablet-laptops like the ASUS Transformer Pad Infinity.
Going on sale in Australia tomorrow, the Transformer Pad Infinity is basically a 10.1in Android tablet computer, which comes with an optional keyboard dock. Snap the two together and you've got a tiny little laptop.
But at $999 including the keyboard dock, the Infinity is a good deal more expensive than your average tablet.
So what do you get for your money?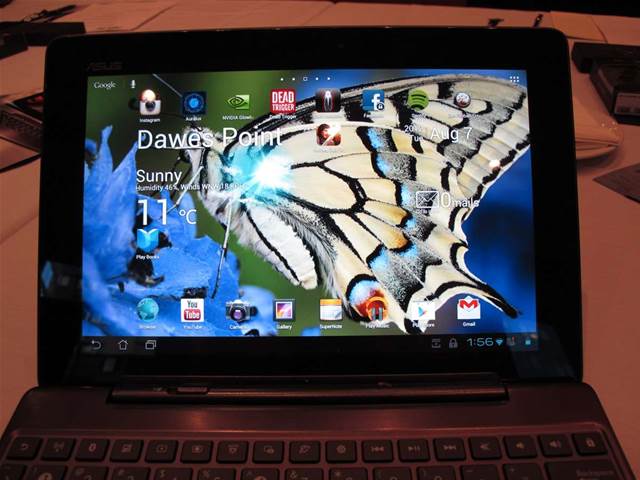 The Transformer Pad Infinity: the world's first Full HD Android tablet, claims ASUS
Without bogging you down in technical details, there's a full HD screen with particularly sharp images (though not as high resolution as the iPad) and the latest generation of processor which should translate into smoother apps and games. Then of course there's the attachable keyboard dock, which turns the Infinity into a laptop, with USB port so you can plug in a hard drive to store huge amounts of files (something you can't easily do with the iPad), and an HDMI port so you can watch your movies on a TV too. ASUS is pitching the Infinity as an "Entertainment" device.
But there's one thing that can't be ignored – the battery life. ASUS claims the Infinity has nine hours of battery life, that's with a movie playing, the brightness turned down and WiFi on. In all likelihood, you might get less in real life, but it's still an impressive number.
This sets the Infinity and all the other tablets masquerading as laptops with a distinct advantage. We've seen the MacBook Pro 13 last for nine hours, but you'll more commonly find run of the mill laptops give up the ghost much earlier, sometimes at five hours – and that's without pushing them by doing things that chew up the battery. We're speaking generally, but tablets will often smash laptops when it comes to lasting throughout the day without a recharge. The new iPad, for example, managed more than 12 hours in our test.
We haven't tested the battery life of the Infinity yet, so all ASUS' claims must be taken with a grain of salt (in fact any battery life claims you see on advertising should be treated with caution), but it's something to keep in mind. We wouldn't go as far as saying you should get the Infinity as your main laptop – for one thing, the software you need to run your business might not work on the Infinity's Android operating system.
Conclusion
Shiny metal: like some ASUS laptops, the Infinity has a distinctive metallic look
But if you need a smaller, lighter computer to take with you when you're travelling, or around town for the day to bash out emails and get some basic work done, then the battery life of the Infinity, and other tablet-laptops like it, might come in handy.
After seeing the Infinity up close today at a media demo session, we were left wondering how it will compare to Microsoft's Surface tablets. These will also come with keyboards though they will run Windows and some will come with Intel processors. We expect to see the Surface tablets go on sale sometime before the end of the year, possibly sometime around late October.