Briometrix is piloting an app with maps that provide reliable accessibility information.
The University of Wollongong campus is the pilot site for an app intended to help wheelchair users select suitable routes.
NSW startup Briometrix's Navability app shows the best routes for wheelchair users according to their ability to propel the chair.
It combines location-based technology and exercise monitors with wheelchair-specific information gathered using a crowdsourced approach.
"In our research we discovered that four out of five wheelchair users had not been anywhere new in the last year. The main reason was the unreliability of accessibility information," said Briometrix co-founder Natalie Verdon.
"Almost everyone had a horror story of travelling accessible routes or venues only to find it was not suitable for their needs. When asked who they would trust they replied someone with the same conditions as me."
So the system uses a sensor that can measure around 40 physical movements made by wheelchair users.
"The wheelchairs pilots, they're essentially acting like Google cars," explained University of Wollongong associate professor Robert Gorkin. "If you look at a Google map, there's a car that goes around with cameras to collect data.
"For wheelchair users, there are parameters that cameras just can't measure, so our pilots have specialised tools to create the maps and profiles for routes depending on their ability."
The app colour-codes routes according to the effort required, from black (steep descent) to purple (coasting), green (easy level), orange (incline) and red (steep climb, may need assistance).
Each time a logged-in user makes a journey, data is collected to ensure the app still represents the built environment.
Once the campus map is complete, the intention is to expand it to the city of Wollongong - and presumably eventually to other locations.
Town planner, disability consultant and wheelchair user Mark Tomkins is an early participant.
"Because we can't use stairs, and we're sensitive to gradients, we have to be a lot more strategic about how we move around the built environment," he said.
"We also have to keep in mind that we all have a different ability and fitness level."
The maps produced by the app are colour-coded for effort–from Black (steep descent) to Purple (coasting), Green (easy level), Orange (incline) and Red (steep climb, may need assistance).
"What makes this app superior is that we are increasingly going digital," Tomkins said. "The problem with a paper map is that I first have to find the tourist information office to pick it up. If I have the app, it could be as simple as the navigation devices we use every day."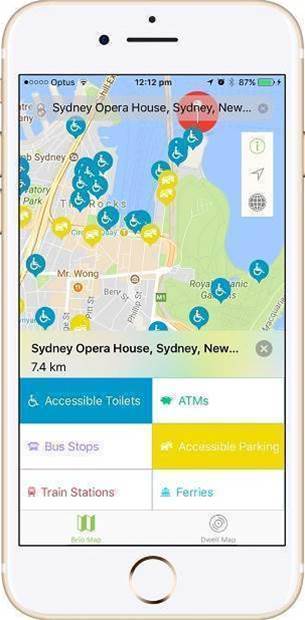 Verdon added: "For me, it's about normalising the technology for the wheelchair users. No-one at the moment is using the wheelchair community to collect the data points to create these maps – these guys make it possible.
"The ideal situation for us would be for everyone in the wheelchair community to download the app and we'll be downloading all the information and building the maps even faster."