The Surface Pro 4 is mostly an iterative improvement, but don't underestimate how good that makes it
The Microsoft Surface Pro 4 takes the tried, tested and really rather liked Surface Pro 3 form and improves almost every aspect of it. It's very much an iteration over its predecessor, but don't make the mistake of thinking the improvements are "only" iterative. As Apple has proved time and time again, constant iteration leads to products that end up head and shoulders above the competition. And that's where the Surface Pro 4 is.
In case you haven't seen a Surface Pro, or you've been hiding from the multi-million dollar advertising campaign Microsoft has run since the first one launched, it's designed to be the tablet that can replace a laptop. It runs Windows 10, so you can use the full gamut of Windows applications, and it's based on an Intel processor – in our case, the latest Skylake Core i5-6300U – although you can go up to an i7, or even step down to a Core m3.
Prices run from $1349 for the m3 model with 4GB RAM and a 128GB SSD, up to $3399 for an i7 with 16GB RAM and a 512GB SSD. As usual, you'll have to add on an eye-watering $199 for the (pretty much essential) Type Cover, which means a top of the range Surface Pro 4 will leave you basically no change from $3600. Microsoft is truly following the Apple model with this one.
Design and build quality
That's not to say, though, that you're not getting value for money, and you're definitely getting design and build quality that's at least as good as Apple's here. Although the design of the Surface Pro 4 doesn't stray too far from that of the Surface Pro 3, there are little touches Microsoft has made that improve it.
There's still the same, beautiful stand, which you can adjust to almost any angle, so it's close to being a laptop-like experience. Compare this with the iPad Pro's keyboard stand, with its one-size-fits-all approach, and you really appreciate Microsoft's design skills.
The body is the same as its predecessor, as is the array of ports: USB 3, DisplayPort, and a microSD slot hidden under the stand. Microsoft hasn't taken the opportunity to shift to USB Type-C, which I think is a shame. This means we're also stuck with the weird proprietary power connector, rather than being able to charge from USB Type-C. Oh well, perhaps next time.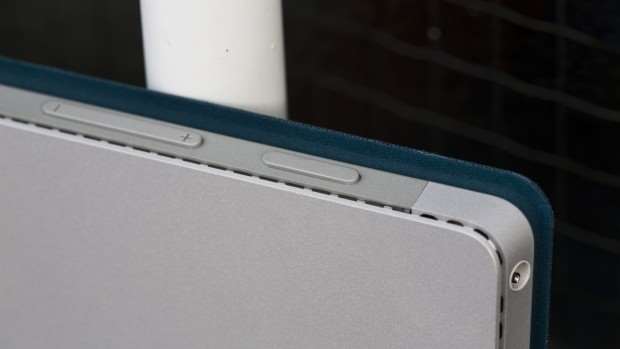 One small design tweak that's welcome, though, is the addition of a few magnets on the left hand side. These hold the Surface Pen – which is included – firmly to side of the device. How firmly? Firmly enough that, on a flat desk, I can drag the device along just by holding the pen and pulling. It isn't quite as secure as an internal docking slot, but it comes close.
Overall, though, the design and build quality remain the gold standard for this kind of convertible. The Surface Pro 4 looks, and feels, like an expensive, high-quality product. And that's because it is – on both counts.
Type Cover
I didn't hate the Surface Pro 3's Type Cover. I could type on it for hours, but was always happier to get back to a proper keyboard. It wasn't so much the size of the keys or the travel, but the slight feel of flexing that you got when you hit it.
The good news is that Surface Pro 4's Type Cover largely fixes this. Microsoft has added some much needed rigidity to the cover – it's actually hard to bend it now – which means the keyboard doesn't bounce in quite the same way. The keys themselves are still a bit clicky, but it's a nice experience, and I'd be more than happy to type on it all the time.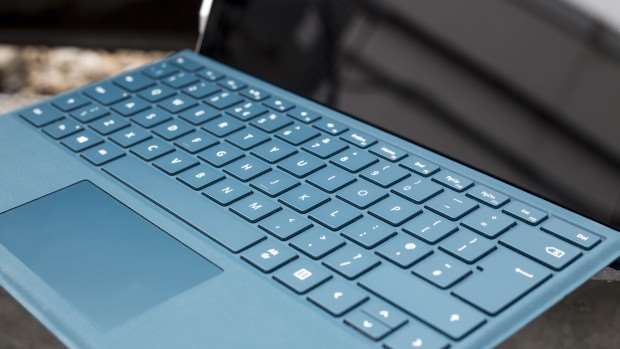 The trackpad has also been improved. It's now a little bigger, and topped with glass, with a much better feel. This has, thus, moved from the "I want a mouse now, please" category to "yeah, I can use this". There are a few small nice extra touches here. For example, the function key now has a tiny light on it and acts as function-lock. The backlighting has also improved, although the keys still leak light in a way that will alarm those used to Apple keyboards, with their highly precise lighting.
And the Surface Pro 4 keyboard works with the Surface Pro 3 as well. So, if you have an older Pro, I'd definitely recommend running out and buying one as soon as you can.
Surface Pro 4 review: Screen
The screen has had a lot of attention lavished on it. As with the previous model, the Surface Pro 4 has a ten-point touchscreen, which is fast and accurate. However, the resolution has been upped to 2,736 x 1,824, delivers a pixel density of 267ppi, and this means absolutely everything looks super sharp and clear, even to aged eyes like mine.
And there's more good news. We measured the brightness at 388cd/m², which is, to put it mildly, great, while contrast hit 1,218:1, which is absolutely superb. Likewise, colour accuracy and sRGB gamut coverage was difficult to fault. In layman's terms, the screen on the Surface Pro 4 is amazing, to such a degree that you won't want to plug it into an external monitor.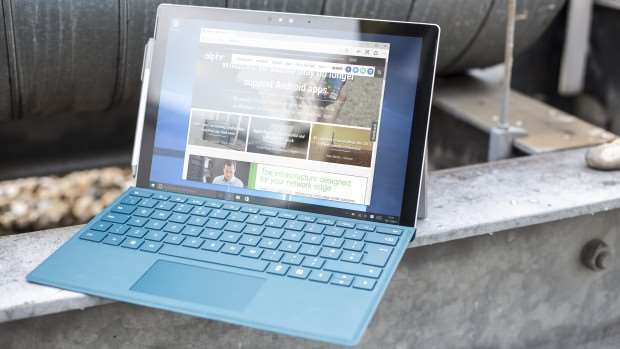 Performance and battery life
Microsoft talks about the Surface series as being "no compromise" machines, but whenever you're creating a compact, light device the laws of thermodynamics mean that compromises will inevitably be made. You can make a compact computer fast, long-working or cool – but you can't do all three at the same time.
The compromises Microsoft has made with Surface Pro 4 are reasonable, and similar to those of the Surface Pro 3. It's a little bit faster than this year's MacBook Air, but in our battery tests gave out after 5hrs 41mins. Out in the real world, you'll probably squeeze about seven hours of normal use out of it – not quite a full day, but close.
In other words, all-round performance is good, but not stellar. Certainly, that we got this kind of performance from the i5 version makes me wonder about how the Core m3 option performs – my gut feeling is that it's likely to be a disappointment.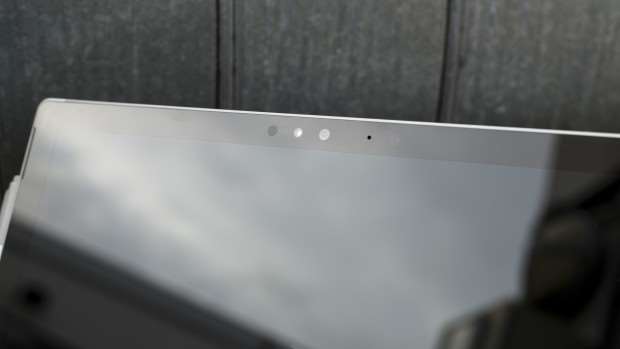 Verdict
I already liked the Surface Pro 3 enough to have run out and bought one after reviewing it last year. The Surface Pro 4 is a step up, and it's going to be hard going back to using the Surface Pro 3 again. The screen is amazing, the keyboard is improved and the small design touches that Microsoft has added all gladden the heart, making me smile at the attention to detail.
It's not, however, the perfect machine. I'd like to see just a few more hours of battery life from it, so I can confidently take it into work without worrying about if there's an adaptor around. There's also the question of software: Windows 10 is a massive improvement, but Windows apps are still laggards when it comes to touch and pen support, which is a shame given how good the touch and pen hardware is.
It's also expensive. Spending $1800 on an i5-based machine with 8GB RAM and a 256GB SSD (you HAVE to include the cost of the type cover, really) makes even me pause for thought. You're getting a lovely, lovely device that you'll be really pleased with, but it's a lot of money to spend.
Overall, though, Microsoft really is pushing the Surface Pro line along nicely. There isn't quite enough here to make me want to upgrade from a Surface Pro 3, but it's a good, solid update, and it remains the hybrid that sets the standard. If you have the money, and want a hybrid, buy it.