Microsoft attempts to redefine the laptop, but while it's very, very good, it's also breathtakingly costly
In Microsoft's own words, the Surface Book is both "the ultimate laptop" and "the future of laptop computing" – but what's truly surprising is that, in many ways, it's not far wrong.
That said, the Surface Book didn't make a particularly spectacular entrance. After all the bombast of the launch, and all those many megapixels of sneak peeks strewn across the web, I was eager to see the Surface Book with my own two eyes. However, despite my expectations, or maybe because of the sheer weight of them, I wasn't blown away.
Although Microsoft's literature indicates it's cast from a painstakingly-crafted slab of pale silver magnesium, it initially looked to me as if it were made from fashionably grey plastic. Very, very nice-looking plastic – the best kind – but plastic nonetheless. Oddly, there's something about the Surface Book that doesn't look like a premium-priced slab of metal.
Pick it up, and the cool-to-the-touch metal has a lovely silky texture, and while it weighs in at a fairly chunky 1.5kg, it largely feels like I'd expect a $2,999 - $4200, 13.5in laptop to feel. I say largely, because even here there are negatives to be found. The slight fore and aft wobble in the display adds to the feeling of something being not quite as it should be. It isn't worryingly unstable, but at this price I was expecting something rock-solid and engineered to within a micron-thin whisker of perfection – not something with a slightly wobbly hinge.
There are other little, but equally perplexing quibbles, too. Put it on a desk, and it's mightily tough to open the Surface Book one-handed without it sliding around. It's not even that easy to do when you employ both hands. Given the lofty expectation set by Microsoft's own marketing materials, this doesn't strike me as the pinnacle of design brilliance.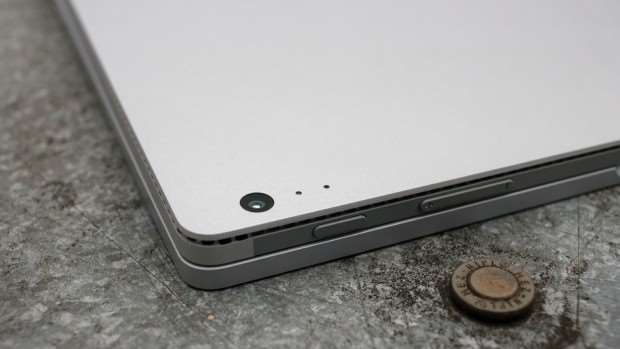 Microsoft Surface Book: The ultimate hybrid design?
Rewind to October of last year, and Microsoft's launch for the Surface Book hid one thing brilliantly: very few people clocked that it was actually a 2-in-1 hybrid before the on-stage reveal. Even now, if you didn't already know, you could be forgiven for thinking you were looking at a premium laptop rather than a cutting-edge 2-in-1 from the Surface camp. The only major giveaway to the Surface Book's talents? A Surface Pen is included in the box.
The novel "fulcrum" hinge is what allows the Surface Book to work its magic. The width of the hinge means that the display doesn't fold flat against the keyboard – something which irked some of our mildly OCD friends – but on the flipside, it allows the Surface Book's tablet half to dock seamlessly with the keyboard section.
The long strips of metal concertina together to pivot the display back and forth, and while you can't push the display all the way back flat, this does at least mean that there's no danger of the Surface Book toppling backwards. Oh, and it looks great, too - just check out the photographs.
Dab the undocking button on the top right of the keyboard, or the onscreen icon in the Windows 10 taskbar, and the undocking procedure is accompanied by a tiny LED flitting from red to green, and the quiet whirr of the "muscle wire" mechanism releasing the tablet section. No, that's not a typo: it really does use "muscle wire". The Surface Book's ingenious locking mechanism is actually made possible with strands of thin nitinol wire that contract when an electric current is applied. Once those strands release their grip, magnets still hold the tablet firmly in place, so it doesn't just fall backwards – you have to make effort to separate the two.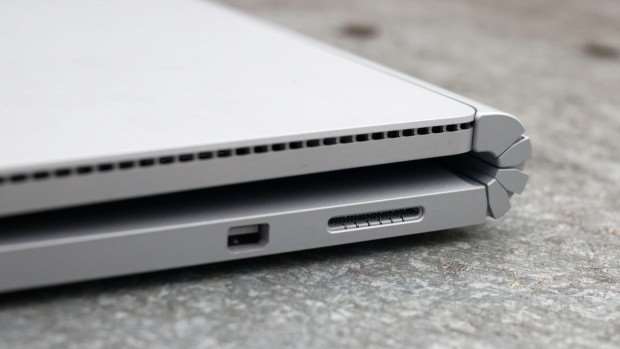 That done, you can either grab the tablet and wander off as you please, or you can spin it around 180 degrees and re-dock it to use the Surface Book in what Microsoft rather confusing calls 'tablet' mode. This latter scenario has two benefits: the first is you get the benefit of the discrete Nvidia GPU, secondary battery and connectivity in the keyboard; the second is you can choose whether to use the Surface Book as an on-desk graphics tablet or just a super-powerful Windows tablet that you can carry around. It's worth mentioning, too, that in this mode, the Surface Book's wide, rounded hinge is actually a good thing, as it makes it easy to hold in one hand and simultaneously scribble with the other.
Microsoft Surface Book: The laptop that can replace your tablet
You might imagine a 13.5in tablet would be unbearably heavy and awkward, but the Surface Book knocks that presumption on the head. As Microsoft has put two thirds of the Surface Book's battery in the base, the tablet is only good for around three to four hours of light use, but the reward is a huge tablet that weighs only 728g and measures 8mm thick. When you consider that you're getting a dual-core Skylake laptop condensed into a sub-1kg slab, the sheer engineering prowess isn't to be sniffed at.
I'll come back to the battery life later, but that won't be anyone's first concern. The Surface Book's 13.5in display is astonishing. Utterly, utterly astonishing. Simply put, I have never seen a display this good on a portable device.
The 3,000 x 2,000 pixel resolution means pixel density, and hence sharpness, is exactly the same as the Microsoft Surface Pro 4 (267ppi if you're wondering), but the combination of a larger display and class-leading colour accuracy, brightness, contrast and overall fidelity make for a truly jaw-dropping display.
For those who like statistics and benchmark figures, the Surface Book's display tops out at a maximum brightness of 435cd/m2; the contrast ratio peaks at 1,736:1; and the panel reproduces 96.5% of the sRGB colour gamut. Accuracy is superb, too, and Microsoft has calibrated the panel to cover the sRGB range with an average Delta E of 1.01 and a maximum deviation of 2.76. In other words, this is a display that genuinely can be relied on for serious colour critical photographic or video work, and software calibration would only push it even closer to perfection.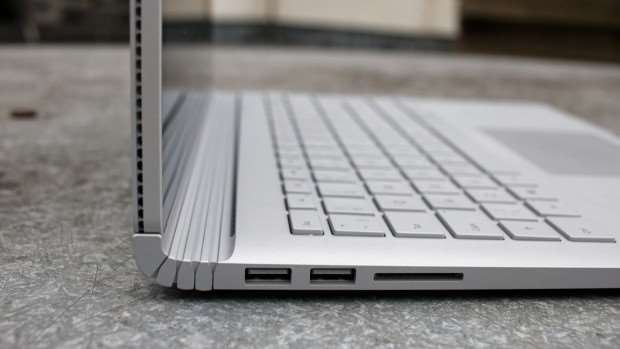 As ever, I'm a huge fan of the Surface Pen, and it works brilliantly with the Surface Book. Its size and shape makes it comfy to write or sketch with for long periods; it clamps magnetically to the side of the tablet when it's not in use, and using it feels gloriously natural. With 1,024 levels of pressure sensitivity (the same as on the Surface Pro 4) combined with the larger 13.5in display it feels as close to writing or sketching on an A4 pad as you could possibly hope for. And, as ever, you can tap the button on the end of the Pen to immediately bring up OneNote and start scribbling notes, or just while away boring meetings with aimless digital doodles.
Unlike the Surface Pro 4, however, the Surface Book leaves most of its connectivity on the keyboard base. There is a headphone output, and of course you've still got the in-built 802.11ac and Bluetooth radios, but that's your lot. Still, Microsoft has packed in a decent pair of front– and rear-facing cameras (see below), and the pair of stereo speakers sound pretty good as long as you resist the temptation to crank them up to maximum volume.
Microsoft Surface Book: The hybrid that can replace your desktop
The Surface Book really is a very, very good laptop. It took me a while to get up to speed on the keyboard, as there's slightly less space between each key than on my 13in MacBook Pro. I initially found myself making silly typos, but after a couple of hours it felt entirely natural. I'm not a fan of the shrunken up and down cursor keys, which is something one too many manufacturers insist upon for the sake of aesthetics, but the rest of the layout is spot on. The keys have a little more travel than the MacBook Pro, and a noticeably more positive action, too. It doesn't get much better.
The Surface Book marks one major first, at least in my book. Finally, this is a Windows device with a damn good touchpad, and in many ways it's just as lovely to use as Apple's Force Touch hardware. It feels gorgeous under the finger, responds super-smoothly to every touch while ignoring accidental brushes of a palm, and the physical click is perfect. Press down, and with barely any movement at all, the pad chirps back with a crisp, light click. Even gestures work well.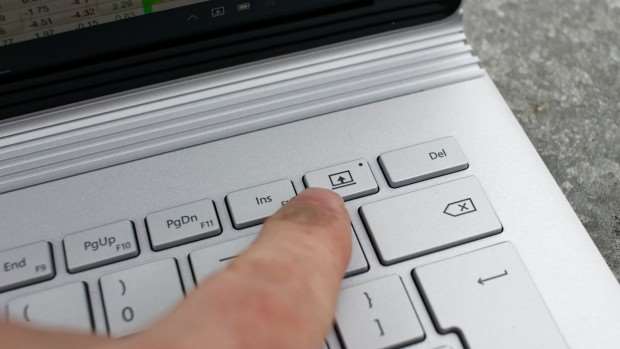 Factor in the large 3:2 display above, and the Surface Book is a genuinely lovely Windows laptop to spend time with. In fact, my only real criticisms on the laptop front come down to connectivity, which I'm not convinced Microsoft has got right. There are two USB 3 ports, an SD card reader, a mini-DisplayPort output and the same magnetic power connector as found on the Surface Pro 4. Add in 802.11ac Wi-Fi and Bluetooth 4.1 and that's your lot.
Of course, Microsoft's retort to such criticisms is its Surface Dock, a $299 (ouch) optional extra which connects to the magnetic power connector of the Surface Book (or Surface Pro 3 and Surface Pro 4) and uses it to provide a further four USB 3 ports, two mini-DisplayPort ports, Gigabit Ethernet, and an audio output.
For most people, that'll probably be more than enough, but for my money, a device of this calibre could really do with Thunderbolt 3. High-end video and audio hardware is increasingly using Thunderbolt as the go-to standard, and the ability to add a desktop-class GPU via an external Thunderbolt chassis would have added a welcome dash of future-proofing.
Microsoft Surface Book: Performance & specifications
In its cheapest incarnation, the Surface Book partners a Core i5 Skylake processor, 8GB of DDR4 RAM and a 128GB NVMe SSD, a combination that will set you back $2999. However, it's not until you move up to the$3299 i7 model that you also get an Nvidia discrete GPU hidden in the keyboard. Set your sights on the top-tier Core i7, 16GB RAM, 512GB SSD model I'm writing this review on, and you'll need to come up with a wallet-melting $4200.
To reiterate, the only thing in the keyboard base is a GPU and a large battery. The tablet is a fully-functional, self-contained Core i7 powerhouse. The 2.6GHz Core i7-6600U is a dual-core CPU, and on paper just a whisker faster than the 2.5GHz Core i7-6500U in the Dell XPS 13. In our tests, however, it was just a whisker behind the Dell, scoring 43 to the Dell's 46.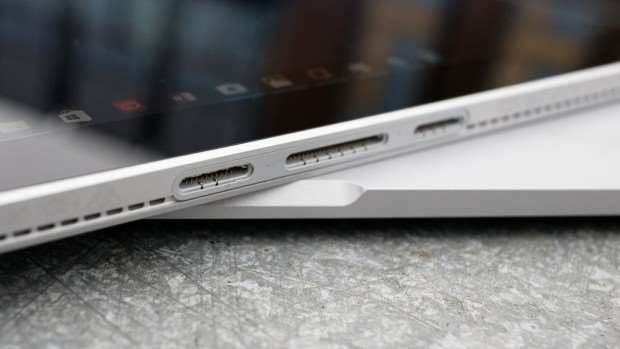 This disparity isn't worth getting worked up about, however. While the Dell is a touch faster in the image and video conversion tests, the Surface Book nudged ahead in the multitasking tests – a result that suggests it deals with better with heavy, extended workloads than the XPS 13. Given the Surface Book's major components are all effectively located in the lid, which has plenty of airflow around it, this result isn't at all surprising.
Microsoft has ponied up for some seriously fast NVMe SSDs in the Surface Book, too. In the AS SSD benchmark, the 512GB Samsung drive racked up sequential read and write speeds of 1,157MB/sec and 168MB/sec. The write speeds aren't up with even the best SATA SSDs, but it's the blazingly fast read speeds that have the biggest impact. Boot speed from cold is impressively quick, and loading up sequences of huge RAW photographs is a pleasingly speedy experience.
Microsoft Surface Book: Gaming performance & battery life
One area where the Surface Book comprehensively trounces its 13in rivals is graphics performance. In fairness, Microsoft intended the GPU primarily as a way of boosting performance in GPU-accelerated apps such as Adobe Premiere CC, but it also has the added benefit of giving the Surface Book some welcome gaming credentials.
Microsoft has opted for an unnamed Nvidia GPU, but a closer look at the specifications and some basic detective work suggests it's a GeForce GT 940M with upgraded GDDR5 memory. The result is some pretty heartening results in our usual gaming benchmarks, with Dirt Showdown cranking along at 60fps at Full HD resolution and Medium detail, and more demanding games such as Metro: Last Light Redux ticking along at a playable framerate at similar settings, too.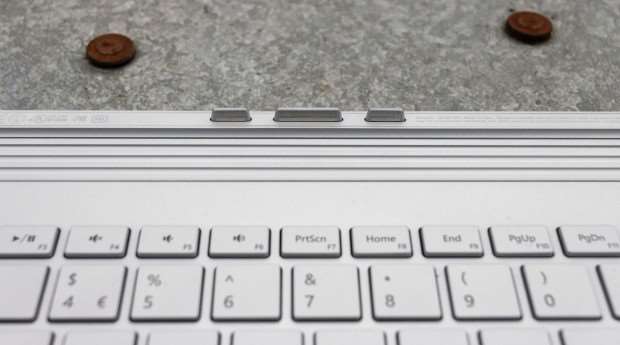 It's also heartening to see that battery life doesn't suffer as a result of the discrete GPU. Indeed, there clearly is some benefit to divvying up the battery capacity between the tablet and keyboard sections: in laptop mode the Surface Book lasted for an impressive 9hrs 40mins in our video rundown test. Considering that this test cranks the screen to a relatively high brightness of 170cd/m2, this is a highly impressive result. By comparison, the Surface Book lasted more than four hours longer than the Dell XPS 13.
On its own, however, the tablet has to make do with around a third of the available battery capacity, and the result is a significantly reduced runtime. In the same video rundown test, the Surface Book lasted 2hrs 39mins.
Try playing even lightweight games, such as Civilisation V, and you'll be lucky to get anywhere near two hours. In everyday use – and by that I mean sitting on the sofa, watching videos and web browsing. That translates to regularly having to reach for the charging cable, which for reasons we cannot figure out, is weirdly short.
Microsoft Surface Book: Verdict
Read Microsoft's bullish marketing material for the Surface Book, and you'll recognise a company that has got its confidence back, and for good reason. This is yet another slick, impressive addition to the Surface family.
But, just like we saw with the Surface tablets, it's going to take at least one more revision before Microsoft completely nails the design. Even now, it is tantalisingly close to my idea of a perfect Windows laptop, but on a device this good the flaws stick out like a sore thumb. Personally, I'd want Thunderbolt 3, a better GPU, a faster quad-core CPU, and although battery life is superb in laptop mode, I definitely want better battery life from the tablet. I'm a hard task-master.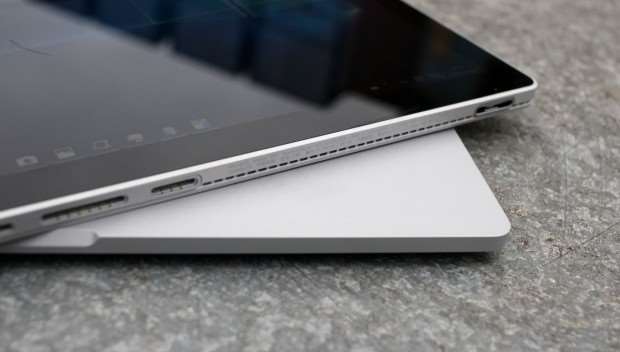 One thing that I absolutely, definitely do not want, though, is to spend the kind of money Microsoft is asking here. Let's do the maths. For not much more than the price of the cheapest Surface Book with the discrete GPU ($3200, in case you're wondering), you've already got a lot of alternate options.
True, the Surface Book is a superb laptop, and a great tablet in one package. Whether or not it's right for you comes down to two crucial points: if you've been waiting for a device that puts the laptop experience first, but which doubles as a very capable tablet, and you have $3000+ you need to get rid of for some reason we totally do not want to know about, then the Surface Book is in a league of its own. If not, you're better off looking elsewhere.