Tired of Facebook and under 25? Yubl could be the social network for you, at least that's what this British startup is hoping
When it comes to social networking, Facebook is the default. So much so that David Fincher's 2010 film 'The Social Network' didn't need to name it in the title – the film just used the font.
Scratch beneath the surface though, and certain smaller networks are thriving. The likes of Pinterest, Vine and Snapchat have managed to carve their own networking niche, and a new platform intends to emulate their success: Yubl.
Aimed at the disinterested youth that's quickly hemorrhaging from the mainstream Facebook, Yubl is a completely mobile social networking platform. And, despite the graveyard of failed social networking apps and websites – we're looking at you MSN Spaces – Yubl looks poised to capture the fleeting attentions of young Brits with ease.
What's in a Yubl?
I've spent far too long mulling the name Yubl over in my head. Where does it come from? After all, Snapchat is a conversation through 'snapping' photos, Twitter has flocks of people chirping their opinions into the ether, but what's a Yubl?
As an app, Yubl could be described as an amalgamation of WhatsApp, Vine, Snapchat and Instagram. You can have private chats with friends or groups, share posts publicly in a timeline a la Twitter or see what's happening on Yubl as a whole by viewing trending yubls from influencers, brands and publications.
While it may be hard to figure out what really sets Yubl apart from its peers, having used Yubl for the last week or so, it's clear that its creativity and simplicity is its key differentiator. Speaking to Yubl's product designers Ben Copping and James Parker, it's clear this ethos has been part of Yubl from day one.
"We really took a user-first approach rather than 'the tech guys' trying to think up a new piece of tech and then find a use for it later on", explained Copping. "We've tried to consider something you can use in many different ways from the first day."
That flexibility is one of Yubl's key appeals. For the younger, digital-savvy audience Yubl is aiming for, creativity and expression are cornerstones of social networking. It's an app that isn't afraid to disrupt traditional usability tropes, and it's telling that when you decide to start a new Yubl you aren't presented with a blank text box, a camera capture button or an uploading tool, but a completely blank canvas for you to create upon.
"It's up to you, we're not making you use these canvases, but they're there when you want to make something cool."
You could take or upload a photo, resize or rotate it, throw down stickers or some text on top and even include Yubl's intriguing interactive buttons too. "It's a square canvas, and I call it a canvas because it's essentially a square area onto which you put stuff. It can be pictures, video, you're essentially collaging", explains Copping. Of course, that's only if you want to. "If you just want to send out at text, graphics or a feature then you can do that as well. It's up to you, we're not making you use these canvases, but they're there when you want to make something cool."
One example of Yubl's streamlined appeal comes in the form of organising your typical post-work pub trip. Instead of all those messy back-and-forth group messages trying to mobilise the troops, you can simply drop in a message saying "Hey, anyone want to come to the pub? Same place as last time!" throwing in an A/B poll to gauge a time to meet and sit back and watch the results. Instead of replying with a text, your friends could send over a charming selfie complete with stickers, confirming their attendance with a press of a button on your poll.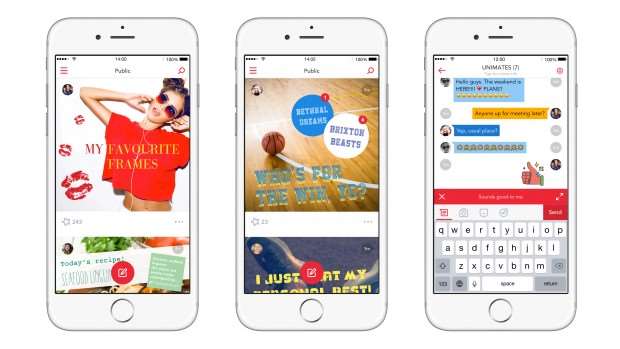 So far, so standard messaging app. However, unlike other social platforms, Yubl's chats exist as a live unified space. When one person interacts with a yubl, such as tapping an animation or playing a video, it happens on everyone's device at the same time. It's combining aspects of in-person socialising with online interactions.
This technology also lends itself to the various buttons users can drop into their yubls, ranging from simple polls with real-time results to a weblink button that gives verified users an indication of how often it's been clicked. You can also share your location via a Yubl button, and even discover where friends are if you're planning to meet somewhere – a perfect fit should you not remember exactly how to get to the aforementioned pub from last week.
Will people want to Yubl?
Despite Yubl's slick design, impressive technology and near-limitless potential for expansion, it is still going up against the might of Facebook. But the team isn't fazed. "Our focused marketing audience is 18 to 24 and we know that their satisfaction [with Facebook] is dropping," explains Yubl COO Simon Gunning. "[Facebook] Messenger is a brilliant business, but we think we do something really unique."
Early feedback suggests that Yubl is gunning for the right market, too, with initial impressions from users being positive. "It does resonate when we show it to our focus groups," Copping adds. "This is something new, we describe it as social networking and messaging, but we expect it to grow its own cultural identity once we've launched and people are using it and start defining what it is."
"This is something new... we expect it to grow its own cultural identity once we've launched and people are using it and start defining what it is."
Another feather into Yubl's cap is its simplicity. During the two-year development process, both Copping and Parker, along with other members of the 50-or-so strong Yubl team, went out to discover what people did and didn't like about social networking. Heading to universities and colleges provided them with a wide array of pain points people had about current social networks and so they could turn their hands to resolving these issues with Yubl.
While Yubl isn't just Copping and Parker, it's clear to see their expertise as fresh-faced product designers straight out of art school has had a huge impact on how Yubl looks and feels. It's telling that they both learned their craft with physical products rather than digital ones: everything about Yubl feels tactile. There's a sense of pleasing physicality to everything that you do, and in the process it manages to make online interactions, be it with a group of friends, strangers or even a brand, that much more intimate.
As with any new social platform Yubl will still have that initial struggle to get itself off the ground. Thankfully it's already making itself known in the circles it intends to frequent on launch (such as university campuses), ensuring it has already done a lot of the legwork ahead of its release.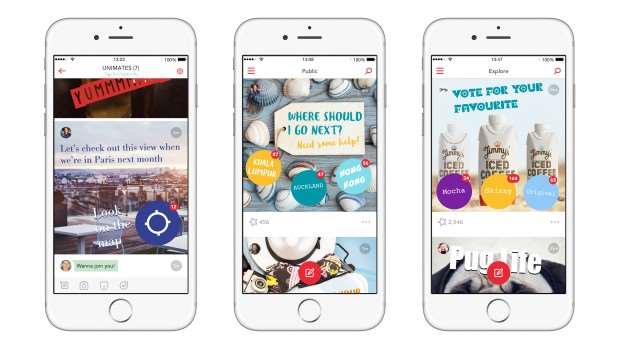 Of course, this doesn't guarantee it Snapchat levels of growth within its first few years, but that's fine. Yubl has a smart plan to grow alongside its users' wants and needs to become an indispensable part of their social lives.
Making your yubl go further
One way Yubl plans to bring more people into the fold is through influencers. It's not a one-way exchange either, as influencers and brands have access to a deeper level of Yubl's features than your standard user. Not only is all the data from polls, comments and interactions fed back to the influencer in question, but they can also post yubls from an online-only portal or directly from Drupal via a smart custom plugin.
While this level of interaction is great for publications, noteworthy individuals and brands, Yubl is determined to make sure it's content that enriches the platform rather than invades it. "We found that working with people in their thirties at advertising agencies resulted in people essentially talking different languages," explains Gunning. "So, we've hired a load of people in their twenties who know how to talk with our audience. A part of their role is to sit down with influencers, celebrities, publishers and creative agencies etc. and show them how to Yubl."
Surely that's an excessive step to take to ensure media agencies 'get' Yubl, but as Gunning points out they "need the platform to be vibrant and exciting at launch." If advertisers, influencers and content creators don't grasp the platform, it's not going to be somewhere people want to spend time.
Thankfully that doesn't seem to be the case. In the weeks leading up to Yubl's launch, the platform has been bustling with content from its focus group users, employees and the various journalists like myself who have been busy posting content and playing around with its features. If that momentum continues past launch, then Yubl has little to worry about.
Yubl also has a plan to ensure its users are always getting what they want from the platform. While they're keeping its button functionality in-house for the moment – although Gunning never says never to opening it up to third-parties if there's enough interest – Yubl's engineers can deliver new buttons with new functionality speedily.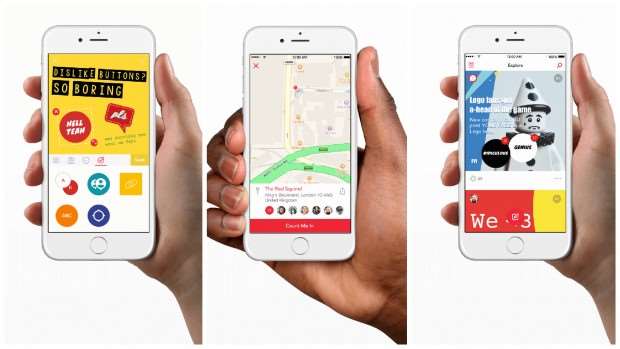 At the moment the team is working on bringing API functionality to Yubl. This means that soon you'll be able to drop YouTube videos into your yubls, allowing you to resize, rotate and layer up YouTube content just like you can do with anything else in Yubl. Another example Parker shows me is the addition of Soundcloud, allowing a verified musician to share her latest track with her Yubl followers directly within the mobile app.
Later on he also shows me how StubHub integration allows users to buy gig tickets without leaving Yubl, sharing the link with their friends by simply holding and dragging the StubHub icon into a private chat. Copping even mentions the potential for a "bomb" button to creep its way into Yubl, essentially turning yubls into Snapchat-like self-destructing moments. Essentially, if you can think of something you'd like Yubl to do, it can do it through its ever-expanding feature set.
After my initial confusion around Yubl's name, having used the platform for the last week or so, everything has become far clearer. Yubl's onomatopoeic name mirrors its own ethos, it can really mean whatever you want it to mean. Yubl is yours to explore, create and define as you wish. To put it simply, you use Yubl to, well, yubl.