Not upgrading to the last iPhone might have been a smart move, with the new iPhone 5 sporting more major improvements. Click to see our list of the biggest changes.
[Update 17/9/12: Telstra has announced that has stopped taking pre-orders for the iPhone 5 "for now" as it has run out of stock. Read the article here.]
You might be feeling a little bit smug right now if you saved your cash while your colleagues snapped up the iPhone 4S.
Want to compare iPhone 5 plans? See plans from Optus, Telstra, Vodafone, Virgin Mobile here
The new iPhone 5, announced overnight, is arguably a bigger upgrade than the 4S, with a faster chip, bigger screen and faster Internet thanks to LTE (or "4G"), if you have 4G reception and a 4G service. The phone goes on sale in Australia on September 21, and you can pre-order if from September 14. Click our photos below to see the iPhone 5 up close.
Some things haven't changed: notably the price. Starting at $799 for the 16GB model, it's the same price that the 4S went on sale. If you want more storage, you can step up to 32GB for $899, or for those with big pockets, the 64GB model is $999.
The iPhone 5 will be available on 4G Optus, Telstra and Virgin Mobile (in 4G coverage areas). If you are on Vodafone you will also be able to get the iPhone 5, but not on 4G.
So what makes this a worthy upgrade? Here are four major improvements:
The iPhone 5 has LTE (otherwise referred to as 4G)
People will tell you that with millions of iPhone users jumping onto 4G networks, the fantastic speeds of 4G will suffer. That's likely to be true, but it still doesn't take away from the fact that 4G is inherently faster than the existing 3G networks – we hesitate to put speed figures on this (Telstra refers to "typical" peak download speeds up to 40Mbps, but that's in ideal conditions), but when you get a good signal, it can be a heck of a lot faster.
If you are sending or downloading large files, logging into your office systems, anything that needs fast Internet, then 4G could be very useful.
Of course, it means you need to be careful about who your provider is – Optus has launched 4G, but it's not everywhere (Sydney, Peth, Newcastle, with Melbourne on the way), while Telstra has the best coverage including capital cities and some other areas.


Bigger screen
We think Apple has made a smart move here – the new iPhone 5 has a 4in screen, which is noticeably bigger than the 4S, but not as big as the competition, which includes frankly huge phones like the Galaxy S III and Galaxy Note.
Apple points out that the iPhone 5 is thinner and lighter than the last iPhone. Our advice is to check how it feels in the hand and your pocket, if you're particularly keen on your phone being small and compact.
Faster wireless
This is a no-brainer, though you need to be aware of a couple of things. The iPhone 5 is a "dual-band" Wi-Fi phone – without getting too technical, it means it works on two wireless bands, unlike the previous iPhone, which only worked on one wireless band. Having access to two bands means potentially faster and more reliable speed. You router needs to be compatible though.
There is also an emerging standard called 802.11ac. The iPhone 5 doesn't support this, though to be fair, not many devices do, so it's not something you can do much with right now.
A faster chip
The iPhone 4S upped the performance of the iPhone with dual core, now the iPhone 5 introduces the A6 chip, which Apple claims will mean web pages, apps and various day to day things you use the phone for will respond faster. In the case of Web pages, we'll point out that will also depend on your mobile connection.
The tradeoff for faster performance can sometimes be battery life, though Apple claims up to eight hours of talk time or Web browsing. We'll be interested to see how accurate this is.
On the downside: The US$30 connector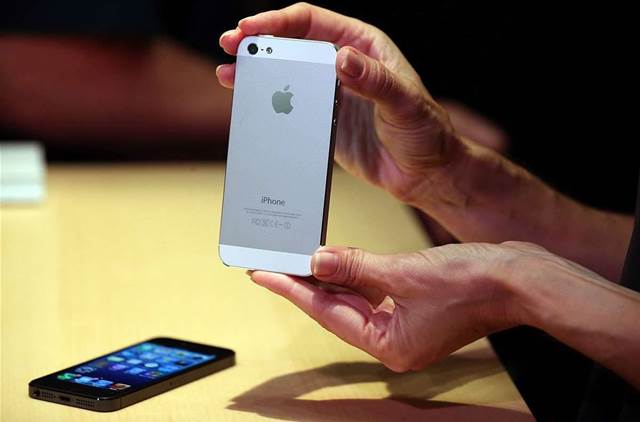 Apple's claiming that a thinner iPhone 5 design required a thinner connection port for plugging in your charger or other accessories. That may be so, but it means that to use your old iPhone accessories that plug in via that connector port, you'll need to buy an adaptor. The adaptor reportedly costs US$30.