The initial purchase price of a printer can be difficult to see past when you're making a buying decision, and it's tempting to simply go for the cheapest available - but inkjet printing can be deceptive.
In the long-run, you could be letting yourself in for more expenditure than you bargained for. Every one of this month's all-in-ones has its own array of cartridges and official page yields, and knowing their individual costs and capacities could prevent you from lumbering yourself with a model that will soon prove more costly than you'd imagined.

Much will depend on the size and quality of the paper you choose to use - for the best quality and print permanence we'd recommend pairing genuine inks with genuine manufacturer paper for photographs, despite the savings that third-party consumables may offer. And you may be surprised at how cheap the genuine article is if you shop around online.
Home
It's no surprise that the dearest four all-in-ones to run are home devices, while the office models make up four of the six most economical. The first thing that jumps out is that those models that accept high-yield cartridges - which contain more ink than a standard tank - are much cheaper to run.

Brother's DCP-585CW comes with four separate inks but, if you pair your colour tanks with a high-yield black when replacing them, it will print standard A4 colour pages at a very reasonable 10.5c each.

The two best home printers, the Canon MP620 and HP Photosmart C6580, measure in at a slightly dearer 17c and 18.3c respectively, largely due to the fact that they both have more tanks to replace - two blacks in the Canon's case and an extra light cyan and light magenta for the HP.

They're not dear to buy, though, and if you don't print many photos you'll find it's still the core black and colours that you'll largely be replacing. Either way, the 17c mark is perfectly acceptable for a home device, and those extra inks are what really pushes the print quality to such a high level.

From here things become dearer, with the Epson costing 23.7 per A4 colour page. That's the primary reason why a device such as the Canon Pixma MP190 is ideal for a low-usage environment and not so suitable if you print large quantities.

The same applies to an even greater extent to the budget Brother DCP-165C, which costs even more to buy and run than the superior Canon.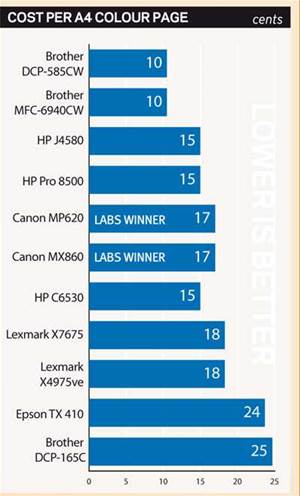 Comparison chart: click on image to enlarge
Office
The office devices this month are generally more economical than their home cousins, due to larger cartridges and a wider array of high-yield options.

The clear winner in the economy stakes is the HP Officejet Pro 8500, whose capacious XL tanks all last for more than 1000 standard A4 pages. Although they aren't cheap to buy, an overall cost per page of 15c goes a long way towards making up for the printer's reasonably high $349 price tag.

The other main beneficiary of high-yield cartridges is the Brother MFC-6490CW, whose large-capacity black and separate colour tanks make for an incredibly reasonable 10.5 per standard A4 page. How that figure will stand up if you print a lot of A3 photos is a different question, but you can be sure you'll need deep pockets.

And it's the availability of high-yield cartridges that helps the little HP Officejet J4580 to a still reasonable 15c - it may look like a cheap home device but it has the necessary office credentials.

Canon is one of the few inkjet manufacturers not to offer high-yield cartridge options for its business devices, and a 17c cost per page is a little higher than we'd like as a result. For very heavy users the HP may therefore appeal, but when the Canon Pixma MX860 offers so much quality and so many features for a reasonable $237 we can just about forgive this small weakness.

At the bottom of the office group, but nowhere near as dear as the four worst home devices, are the two Lexmarks. With high-yield black and colour cartridges, the X4975ve and X7675 work out at 18.3p per A4 colour page, which would be a decent figure if it weren't for their poor quality prints.