Amazon's new, and completely free, app store could make Amazon king of the apps
In a move that has almost everyone confused, Amazon has announced Amazon Underground: an app store where everything is completely free. Yes, that's right, completely and utterly free.
Installed as a separate app through Amazon's own Amazon Appstore or Amazon Shopping app, Amazon Underground offers up apps, games and in-app purchases completely for free. This means you can enjoy all your favourite games without having to pay a penny to the developers or cough up for extra crystals/gems/in-game currency to continue playing them.
Pitched as some sort of uprising against free-to-play games chock-full of in-app purchases (IAPs) – albeit one fuelled by a monolithic e-commerce corporation – Amazon Underground wants to make clear that everything it's giving you is completely free.
"Many apps and games that are marked as "free" turn out not to be completely free," reads a letter designed like a secret telegram on the Amazon Underground website. "They use in-app payments to charge you for special items or to unlock features or levels. In Underground, you will find 100% free versions of popular premium titles…"
The appeal of Amazon Underground to consumers is obvious: great premium apps for diddly-squat, alongside some excellent free-to-play titles, without the chokehold of IAPs. What's less clear is how Amazon is actually planning to fund this new venture – which it claims "is a long-term program rather than a one-off promotion". Amazon has promised developers they'll be paid US$0.0020 per minute played in their app. While that's not the greatest money around, it might actually work out better for some bigger app developers who see a drop off on IAP spending compared to an apps total number of users.
When those users start browsing Amazon Underground, Amazon has made it incredibly easy to see that everything is free. Almost everything is labelled with "Actually Free", for example charts are titled "Actually Free Kids Games" and all of the banner ads contain "#ActuallyFree" somewhere on them. These screen-dominating banners will be turned into general advertising, helping to generate money to pump back into the service to keep it going.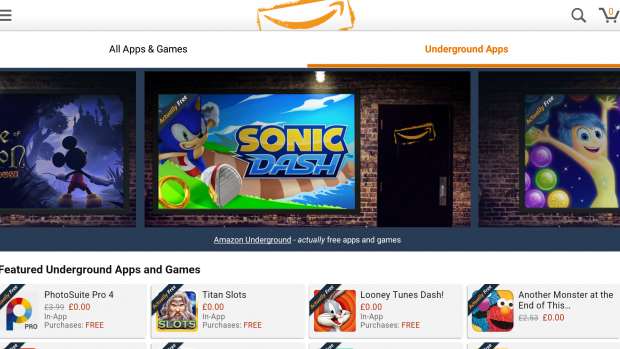 Not that Amazon doesn't have the deep pockets to pay developers included in the service, but it's worth asking why it wants, or feels, the need to. A clue to Amazon's motives can be found in the second paragraph of the aforementioned online letter.
"Normally you'd go to Google Play to download an Android app onto your phone," it reads. "But Google's rules don't allow an app that offers apps or games to be included in Google Play."
While that particular sentence is clearly referencing the fact the Amazon Appstore app is banned from Google Play, its wording suggests a deeper distaste towards the platform. Perhaps Underground is Amazon's way to lure people from Play and have them use its own app store instead?
Google's own Play Store sees a billion active users per day, amounting to over 50 billion app installs a year, and pulling in a tidy sum of money at the end of it. The same goes for Apple who, earlier this year, saw its App Store surpass 100 billion downloads and 1.4 billion users since launch. While neither company discloses sole revenue from its services, Apple gave back US$10 billion to developers after taking a cut of the profits – US$3 billion more than Google – showing that getting into the app store business is good money.
Yet, Amazon is a long way behind in the app download marketplace. If Amazon Underground can help get more people using its App store, and improve general mobile sales of Amazon goods, that can only be a good thing. Suddenly paying US$0.12 an hour to developers so it can serve up free apps seems like a worthwhile expense for the extra money Amazon will receive through improved sales, ad revenue and data collection.
Interestingly, Amazon may have also inadvertently hit upon a way for Android developers to skirt around the rampant piracy issues plaguing the platform. If Amazon can facilitate users' discovery of a developer's app, pay the developer so the user can play for free, and increase the sales of said developer's other paid apps, that's certainly not a bad thing to have happen to the mobile app industry.