Huawei's new flagship phones now have a quad-antenna design to go with their dual-lens cameras. We give our first impressions.
After much anticipation, the Huawei P10 and P10 Plus are finally here – well, at the Mobile World Congress 2017 anyway. Huawei's new flagship smartphones follow the successful P9 and P9 Plus that sported dual-lens 12-megapixel cameras with Leica optics to produce stunning shots.
It's therefore no surprise that the Chinese manufacturer decided to maintain its relationship with Leica optics in order to bring a new 20 + 12-megapixel dual-lens camera to the P10 and P10 Plus.
The phones have dual-SIM capabilities, a fingerprint reader at the front, an octa-core processor and run on Android 7 Nougat out-the-box. Here's our initial impressions of the P10 and P10 Plus based on our hands-on first look at the phones.
Key specifications
For 2017 smartphones, the Huawei P10 and P10 Plus do not disappoint. The P10 has a 5.1-inch Full HD (1,080 x 1,920-pixel) screen, while the P10 Plus has a 5.5in, 1,440 x 2,560-pixel IPS display. This gives them an impressive 423ppi and 535ppi, marking an increase over the P9 Plus' 401ppi.
Their chipset, main processor and graphics processor all received a healthy update, with the P10 and P10 Plus coming with a HiSilicon Kirin 960 chipset that combines with the octa-core (4x2.4 GHz Cortex-A73 & 4x1.8 GHz Cortex-A53) processors to make the phone fly through intensive tasks.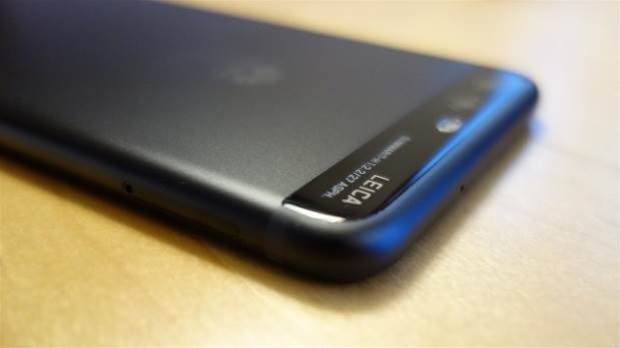 The P10 has 4GB of RAM and 64GB of internal storage, while the P10 Plus will be available with either 4GB and 64GB, or 6GB and 128GB. If you're willing to sacrifice your second SIM slot, both phones have expandable storage slots, allowing you to add an extra 256GB of space.
Just as with the P9 and P9 Plus, the 2017 flagship comes with an impressive dual-lens Leica optics camera. Huawei have upped the ante, by going from a 12-megapixels dual-lens camera, to a Leica SUMMILUX-H dual-lens, which is a dual-lens 20-megapixel mono + 12-megapixel RGB camera.
However, there is a difference between the P10 and P10's camera, where the P10 has a F2.2 aperture, while the P10 Plus has an incredible F1.8 aperture, allowing more light to come into the lens and for you to take even better pictures.
There's also an improvement on the front-facing camera over the P9 and P9 Plus, as it comes with a 8-megapixel camera at a F1.9 aperture using Leica optics. That's Leica optics for the front and back cameras!
Video is now better, as the P10 and P10 Plus can now both shoot 30fps at 4K, and 60fps at 1080p. Upon first impressions, the cameras are extremely impressive and it's a welcome improvement over the P9 and P9 Plus.
The P10 has a slightly larger battery over the P9, with a non-removable 3,200 mAh battery, where Huawei has increased the capacity by 200 mAh. We'll have to wait to see how it compares to the P9's 11 hours 24 minutes battery life in our testing. The P10 Plus has a larger 3,750 mAh battery.
Huawei also says the handsets are the "world's first 4.5G smartphones", which basically means they use a quad-antenna design to increase download speeds on compatible networks. The company claims a 2x increase in network speeds over the dual-antenna P9 and P9 Plus.
Design, key features and first impressions
The P10 brings several design changes over the P9, starting with its large array of colours on offer: Ceramic White, Graphite Black, Dazzling Gold, Rose Gold, Prestige Gold, Greenery, Dazzling Blue and Mystic Silver.
The most notable design change is the location of the fingerprint sensor. It's now disappeared from the back and is now located at the front. The reason behind this change is to add extra functions to it, where a long-press or double tap allows you to go back and view your recent apps. It's a welcome addition to the home button.
The P10 and P10 Plus have a USB-C charging port and a 3.5mm headphone jack. Unfortunately, the P10 doesn't have a separate digital-to-analogue converter (DAC), so you'll have to rely on the Kirin 960's system-on-chip (SoC) audio chip for music.
On the right-hand side of the phone, there a volume rocker and power button, and a single downward-firing speaker at the bottom. The SIM and microSD card tray is on the left-hand side of the phone.
The 2017 flagship phones come with Android 7 Nougat and Huawei's Emotion UI 5.1. Upon first impressions the software is smooth and doesn't have any major hiccups. Games run smoothly thanks to its octa-core processor and Mali-G71 MP8 GPU; be sure to check back for benchmarks, as I'll look to compare it to the P9.
Early verdict
The Huawei P10 and P10 Plus both look like they're going to follow in the P9 and P9 Plus' footsteps in becoming a highly respected and sought out smartphone. Both phones have their selling points, with the P10 Plus' 1440p display making it beautiful to look at, and the regular P10 improving on the P9's specs.
Overall, our first impressions are positive and we look forward to benchmarking the handsets to see how they perform.
According to Huawei the two new handsets will be shipped "beginning in March" in a number of countries, including Australia. Local pricing and carrier availability have yet to be announced, but at the MWC it was announced the phones would could from €649 (around A$892) to €799 (A$1,099).
Specs at a glance
| | |
| --- | --- |
| Huawei P10 | Huawei P10 Plus |
| 5.1in, 1,080 x 1,920 IPS display | 5.5in, 1,440 x 2,560 IPS display |
| HiSilicon Kirin 960 octa-core (4x2.4 GHz Cortex-A73 & 4x1.8 GHz Cortex-A53) processor | HiSilicon Kirin 960 octa-core (4x2.4 GHz Cortex-A73 & 4x1.8 GHz Cortex-A53) processor |
| 4GB RAM | 4GB or 6GB RAM |
| 64GB storage | 64GB or 128GB storage |
| Dual 20 +12-megapixel rear, 8-megapixel front-facing camera | Dual 20 + 12-megapixel rear, 8-megapixel front-facing camera |
| €649 (around A$892) | €699 (around A$961) with 4GB RAM and 64GB storage or €799 (A$1,099) with 6GB and 128GB |
| Android 7 Nougat | Android 7 Nougat |