If you're torn between HTC's smart new handset and LG's clever modular phone, here are a series of tiebreakers.
We're in Android flagship release season! In the space of a few weeks, we've seen new top-of-the-range models from Samsung, HTC and LG. Sony, if you're wondering, have historically released their handsets in later in the year, so we aren't expecting a sudden arrival.
The latest – the HTC 10 – was due for imminent release in Australia at the time of writing, but you can expect it to be offered by the major carriers with pricing comparable to other flagship phones.
How does it rate? In this article, we compare the HTC 10 with LG's impressive G5 to help you reach an informed decision.
Appearance
Comparing top-of-the-range smartphones on appearance is a bit of a mug's game to be honest: at the premium end of the market, everything is pretty stylish looking, and it comes down to personal preference. Both devices offer metallic unibody designs with large screens, and there's not much between them at all.
The LG G5 is 0.1in bigger, and with a slightly lower screen-to-body ratio (70.15% vs 71.13%), but it really is a marginal difference. The HTC 10 is a fair bit thicker, however, at 9mm thick to the LG G5's 7.3mm.
Take a look at both in store before you buy, but my guess is you'll reach the same conclusion I have: an admiring shrug.
Winner: Draw
Screen
So, let's talk screens. As mentioned above, the LG G5 has an extra 0.1in in its frame, which translates into a slightly larger viewable area, but given both handsets display at the same resolution, a slightly lower number of pixels per inch: 565ppi vs 554ppi.
That's basically a negligible difference though, and there's plenty of debate as to whether the eye can even detect the difference, so we have to go a little bit deeper into our screen tests to reach a conclusion.
The HTC 10 is significantly brighter than the LG G5, reaching a maximum rate of 449.22cd/m2 in our tests, while the LG G5 managed just 354.05cd/m2. It also covered more of the sRGB gamut (99.8% vs 97.1%) and had a sharper level of contrast at 1793:1 compared to the LG G5's 1621:1. All of which makes the HTC 10 the clear winner in this round.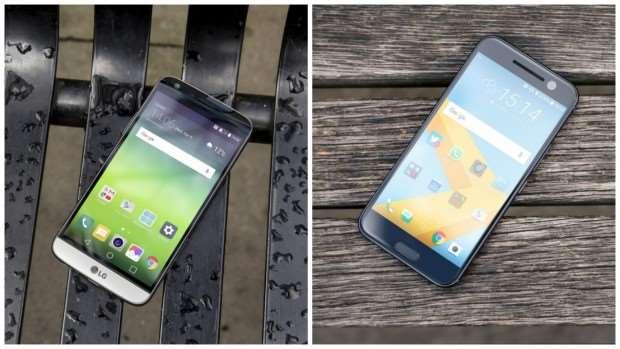 Winner: HTC 10
Performance and features
On paper there is nothing at all between the HTC 10 and LG G5 in the performance stakes, given both use the Snapdragon 820 chipset backed by 4GB RAM. We don't rely on paper for our tests though, trusting Geekbench 3 and GFXbench to give us an idea of handsets relative merits in processing and graphical output.
In both of these, the LG G5 was the winner, and by a surprising margin, given the identical specs. In Geekbench 3 single-core, the LG G5 scored 2,325 to the HTC 10's 2,022, and there was an even greater margin when the test switched to multi-core performance, with the LG G5 scoring 5,422 to the HTC 10's 5,091. The GFXbench scores were closer, with the LG G5 performing 3 frames per second faster than HTC 10 in the onscreen test (28 against 31), but 2fps behind in the offscreen analysis (46 against 48).
If there were any doubt that this round was going resoundingly to LG, a look at the features tips the balance. HTC has introduced a fingerprint scanner this time, but so has LG. In addition, LG has brought in a modular format, a first for the word of smartphones. With the G5, you can add in different modules, be it a smarter camera or an upgrade to the sound. That's a killer feature, and genuinely game changing if LG come to offer enough modules.
Winner: LG G5
Battery life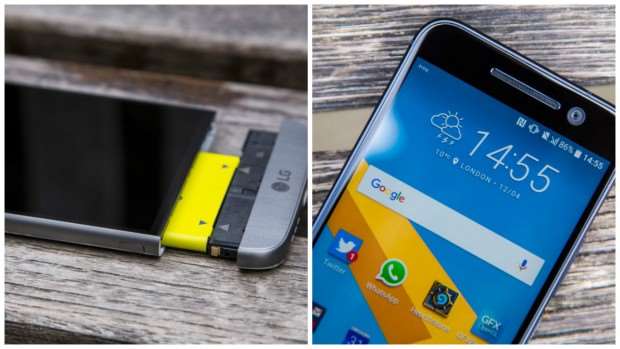 A nice easy one here. We measure battery life at the same screen brightness (170 cd/m2) to ensure a level playing field, and on this one the HTC 10 wins it by a nose, clocking in 12 hours and eight minutes to the LG G5's 11 hours and ten minutes.
However, it's not quite as simple as that. The LG G5 also allows you to replace the battery, meaning that there's no need to worry about the inevitable deterioration that comes from charging and recharging batteries over time. Another point to LG.
Winner: LG G5
Camera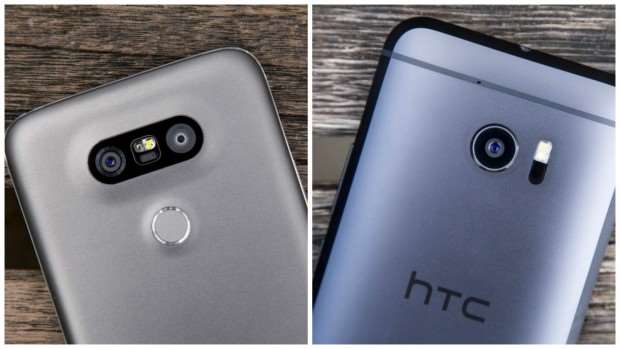 This one isn't quite as straightforward as it seems. The HTC 10 is a brilliant camera out of the box, and edges it in terms of raw performance, but there's two advantages the LG G5 has. The first is that one of the add-ons for the modular phone is the CAM Plus, which adds a comfortable grip and DSLR style controls to the camera. We haven't had one in for test, so can't comment on how much it adds, but is almost certainly worth considering for serious photography fans.
The second is that the LG G5 actually comes with two cameras on the back: one standard snapper and a 135-degree wide-angle lens, which offers a much broader view of the subject.
Neither of these things can substitute for raw quality of the camera though, so the HTC 10 wins. Just.
Winner: HTC 10
Verdict
It's a close thing, but the LG G5 wins on performance and features, helped by its removable battery and its ground-breaking modular design. Is it the best flagship of the year though? You'll have to read how it stacks up against the Samsung Galaxy S7 to find out.