HP's new line of business laptops feature high definition displays and prices start from a budget-busting $919
HP has gone green with its new line of laptops for business. The ProBook, designed to complement the EliteBook range of laptops, is aimed at small and medium businesses and includes HD screens, a choice of designer colours and scrabble-tile keyboards.
The lineup also comes with EPEAT silver status - indicating a high commitment to recycling and reduction of hazardous chemicals. Energy smart adapters and power-saving options help reduce energy usage, too.
For small businesses looking to save money, the affordability of the new ProBook series may be thing that helps them stand out. Prices, depending on configuration, start at $919RRP, with models available now priced from $1249RRP.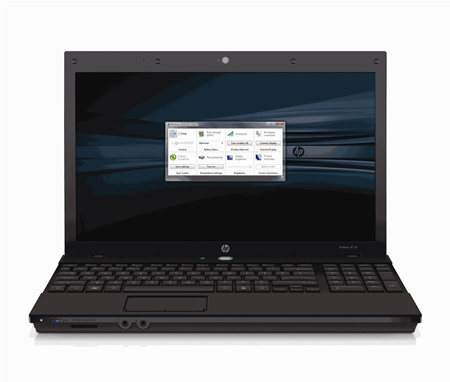 ProBook 4510s -- minimalist design, matte screen, good price.
They're not lacking for features, either, as HP's Janet Bradburn points out: "it's not just about good looks or low cost, the HP ProBooks deliver the right blend of features and Professional Innovations to provide a great user experience."
First up on that list of features is high-definition LED backlit displays in a choice of 14-inch, 15.6-inch and 17.3in widescreen.
The included Qualcomm/HP 3G mobile broadband modem means that you can add a mobile broadband plan from any vendor. It also allows for roaming and overseas connection, assuming you have a dataplan that allows it.
The new keyboards, in a scrabble-tile layout similar to Apple Macbook, Sony VAIO Z-series and P-series, are easier to clean and lower maintenance, according to HP. The 15.6in 4510s and 17.3in 4710s also have a full number pad alongside the keyboard.
ProBook 4710s and 4510s both include a numberpad with the scrabble-tile keyboard.
You can opt for SuSE Linux Enterprise Desktop 11, s well as standard Microsoft Widows operating systems, and HP is touting the benefits of its new Professional Innovations software. One we like is QuickLook 2, which allows easy access to email, calendar, task and contact information even when the system is in hibernation. This one-touch approach has been used for multimedia, and it's great to see a business application take advantage. A new password system -- which asks questions rather than asking you to remember a random series of numbers -- and a heavy-duty file-erase function round out the tools.
The models allow flexibility, giving options for Blu-ray (instead of a standard DVD-writer), BlueTooth module and mobile broadband.
The 14in HP ProBook 4410s features HDMI, optional Blu-ray drive, 16:9 LED display, optional BlueTooth.
15.6in HP ProBook 4510s and HP ProBook 4515s feature 16:9 LED display, optional mobile broadband, optional BlueTooth, integrated numberpad, AMD (4515s) or Intel (4510s) processor and choice of embedded graphics or discrete graphics.
HP ProBook 4710s features a 17.3in HD+ widescreen, ATI Mobility Radeon HD 4330 with up to 512MB GDDR2, Intel CoreTM 2 Duo processors, optional Bluetooth, HDMI, and integrated numberpad.