We give our first impressions of Apple's new lineup of smartphones.
Apple has unveiled its new smartphones, with the iPhone 8 and iPhone 8 Plus boasting a host of improvements. The headline act, however, is an all-new model, the iPhone X, which brings facial recognition and an end-to-end screen to its flagship series.
All the new iPhones will have the new version of Apple's mobile operating system, iOS 11, and the company also announced that iOS 11 will be available to all Apple users with compatible devices from 19 September. (See our feature for more details on what's new in iOS 11 and which Apple devices will get the upgrade.)
At its launch event, Apple lifted the lid on the premium handset that's intended to shake up its approach to smartphone design. Apple boss Tim Cook said he wanted the iPhone X to "set the path of technology for the next decade".
We had the opportunity to get our hands on all three new iPhones at the event. Here are our early impressions.
Hands-on with the iPhone X
Apple has deliberately saved its high-end features for the iPhone X and it's unlike anything the company has done before. It has the largest screen of any iPhone, at 5.8in, stretching from edge to edge, similar to the display on the Samsung Galaxy Note 8, the Galaxy S8 and S8+.
The iPhone X has ditched the home button; has brought the iPhone 7 Plus' Portrait Mode to the improved 7-megapixel, front-facing camera; and added Face ID, Apple's latest biometric authentication system. All impressive specs that help the phone stand out from its predecessors, as well as many of its rivals.
Display and design
There are obvious similarities between Apple's iPhone X display and the screen on Samsung's Galaxy devices, but Samsung's showcases videos, for example, much better because of the way it sweeps over the edge rather than running up to it.
That said, we do prefer iPhone X's bezel-less screen over Apple's previous displays, and the 5.8in Super Retina Display is, overall, stunning.
Design-wise, the iPhone X is made predominantly from glass reinforced with steel and has a Qi wireless charging panel built into the back – a much-needed addition. Despite the fact it picks up fingerprints ridiculously easily, this glass panelling makes a vast difference to how expensive the phone feels. It doesn't feel as cold as the metal handsets of yore and there's something reassuring about how its warmth adds to how attached you feel to it, even after a couple of minutes of use.
The iPhone X is lighter (174g) than the iPhone 7 Plus (188g) and iPhone 8 Plus (202g), yet feels heavier – in a good way – giving weight, excuse the pun, to its impression of luxury. We were also surprised that, despite the fact it's made from glass, the iPhone X feels more sturdy and less likely to slip from our hands than the iPhone 7 range does.
No home button?
The most immediately noticeable thing to be removed to make way for the screen is the iPhone's home button. Swiping up from the bottom of the display now takes you to the homescreen, and the same gesture can be used to jump into multitasking. The iPhone X's side button can be held to bring up Siri.
The lack of the home button isn't as jarring as you might think. It took no time at all to get used to opening apps and returning to the home screen by swiping up, and a small white bar at the bottom of the display is a nice visual touch to remind you to swipe. This also helps locate where you need to swipe. That said, it didn't work as well as pressing a physical home button does and we often ended up simply scrolling whatever was on the page rather than clearing it.
Face ID and TrueDepth
The iPhone X uses a new Face ID facial-recognition system to unlock your device. To support the Face ID, a so-called TrueDepth camera system has been added to the top of the display and the dual-camera setup on the rear of the device now sits vertically rather than horizontally. Given how sophisticated this TrueDepth system seems, it's small enough to blend in and doesn't distract from the edge-to-edge display.
Powering Face ID is a machine learning "neural engine", which has a dual-core design and can apparently manage 600 billion operations per second. According to Apple, Face ID learns your face, "even if you decide to change your hairstyle".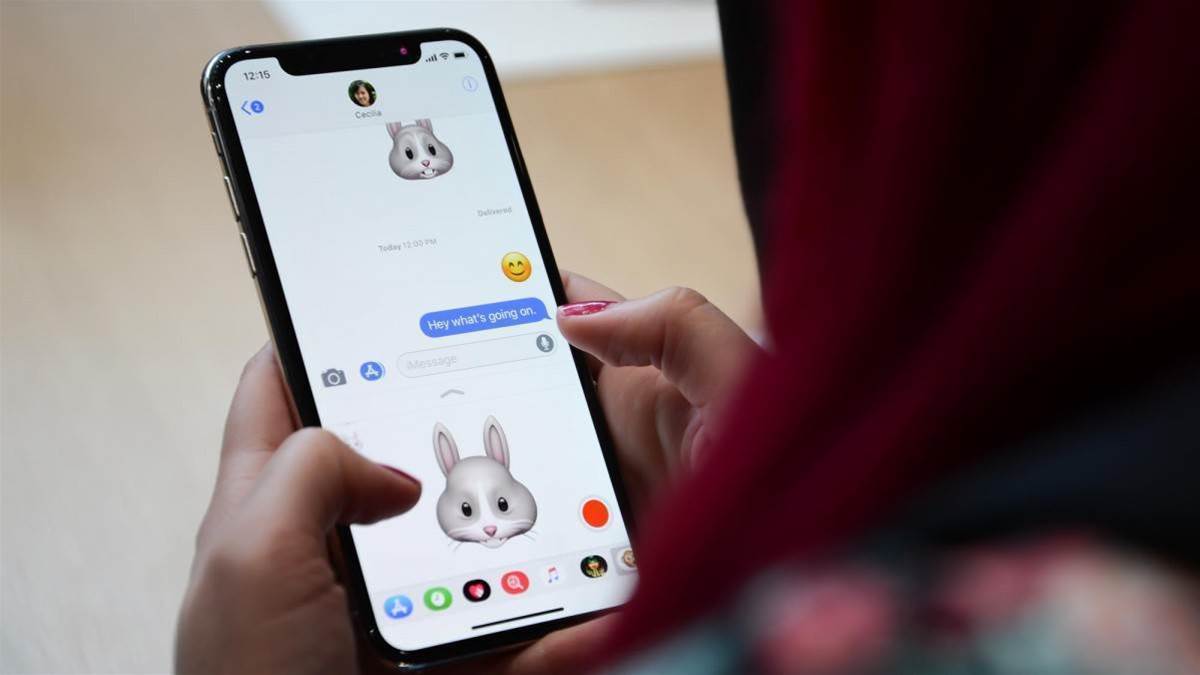 Face ID also works with payments, which Apple says is "fast, intuitive and simple", but could potentially be super awkward – imagine gurning every time you buy a coffee. You can also use facial tracking to record animated Emojis, called Animojis, to pretend you're a panda or a talking poo.
Camera and specs
For the camera, the iPhone X has a 12-megapixel dual camera on the rear (f/1.8 and f/2.4 respectively), with quad-LED True Tone flash. The front TrueDepth camera is 7-megapixel, and can now do portrait mode selfies. Those front sensors also include a dot projector, microphone, speaker, ambient light sensor, flood illuminator, proximity sensor and infrared camera.
Powering the device is an A11 bionic chip, the same as the iPhone 8 (see below). The upgrades to power consumption mean the battery life is apparently two hours longer than the iPhone 7. iPhone X also works with wireless charging, via the AirPower charging matt – which can also charge the Series 3 Apple Watch and AirPods.
Early verdict
At first glance and feel, the iPhone X doesn't feel like an iPhone at all, and that's not a criticism. It feels luxurious, sturdy and expensive – which it certainly is. Coming in 64GB and 256GB configurations, the iPhone X will set you back a whopping A$1,579 with 64GB and A$1,829 with 256GB.
All three new iPhones offer plenty of improvements, including a faster processor, improved cameras and built-in support for augmented reality. That said, there are enough new features and differences in the iPhone X to make a buyer consider upgrading from the iPhone 7, and forsaking the iPhone 8 range – but that price is a major sticking point.
We'll reserve our final judgement until after we've spent more time with the iPhone X, but at these outright prices, it's hard to see how we'd recommend it above, say, the Galaxy S8 or iPhone 8 Plus.
In any case, you'll have plenty of time to make up your mind. Apple won't start taking orders for the iPhone X until 27 October and shipping until 3 November.
Next: hands-on the iPhone 8 and iPhone 8 Plus