Samsung has upped the ante in taking on Microsoft, but how does its new hybrid tablet really shape up?
Hybrid tablets/laptops are becoming the de rigueur portable computer for many executives who want something useful in the workplace and on the road, while also being great for home use. With that in mind, is Samsung's new Galaxy Book the ultimate portable for home and business?
We gave the Galaxy Book a spin at this year's Mobile World Congress to find out.
It's an iPad Pro-like tablet with either a 10.6-inch or 12in screen, along with a detachable keyboard and a bundled S Pen. It's running Intel's latest seventh-generation (Kaby Lake) processors: a dual-core 2.6GHz Core m3 on the 10.6in one, and a 3.1GHz Core i5 with the larger model. The 10.6in version comes with 4GB of memory and either 64GB or 128GB of eMMC storage, while the larger one has either 4GB or 8GB of RAM and a 128GB or 256GB SSD.
The global release of both is expected later in March, with the Australian release and pricing yet to be confirmed.
The displays on both models are 1,920 x 1,260 pixels, but there's one big difference between them. While the Book 10 is an LCD, the Book 12 features a Super AMOLED display that supports high dynamic range (HDR), which means offers plenty of brightness while maintaining a decent black level.
There's an updated S Pen, too, with a more accurate inking experience and more precise sensitivity. We've never been completely sold on writing onscreen, but based on our initial experience with the Galaxy Book, it could be the perfect companion for meetings or lectures. Even better, this year's S Pen doesn't need a battery to work.
The keyboard cover is interesting. Even after its most recent iteration, Microsoft's Surface Type Cover was always a bit too shallow for our liking, as was Apple's Smart Keyboard, but Samsung has really nailed it with this one. The touchpad is big, with plenty of room for multi-touch flourishes. And the keyboard itself has a surprising amount of depth given its thinness, with each key giving a good amount of feedback with every press.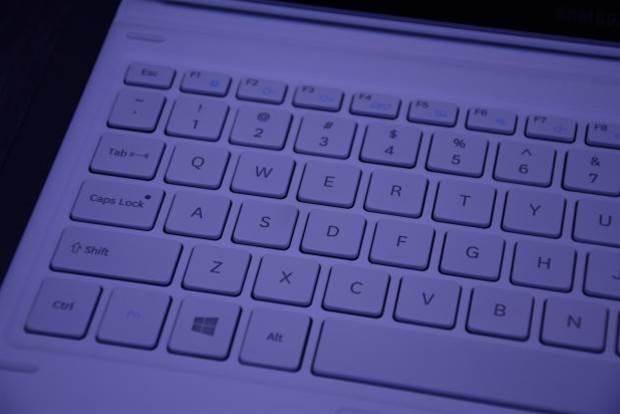 Of course this is a Windows 10 tablet, not Android. We know what you might be thinking at this point: "Windows 10 just still isn't a great tablet operating system". And you have a point, but while Windows 10 still doesn't have a lot of apps that really make the most of touch and a pen, if you're primarily an Office user then Microsoft has made a good job of integrating support into its products.
The early verdict
The big issue at present is the price, something Samsung failed to share with us at MWC 2017. The Microsoft Surface Pro 4 currently starts at $899 (albeit with a sixth-generation Intel Core m3). If Samsung can match or better this with its entry-level 10.6in model, then the Galaxy Book being the go-to laptop/tablet hybrid for the next generation.
Until we get official pricing, we'll remain cautiously optimistic.