Google's vision stretches beyond Wi-Fi - the OnHub lays the foundations for the Internet of Things
Google surprised everyone this week with its latest device – the OnHub is Google's first Wi-Fi router.
As ever, though, Google has decided to do things a little differently. The OnHub is one of the first routers to look to the future of connectivity, ushering in support for more than just high-speed Wi-Fi. In fact, OnHub is ready to become a hub for the connected home; a conduit for the increasing number of devices that will form the Internet of Things.
Hang on, what about plain-old Wi-Fi?
Going by the specifications, the OnHub certainly has what it takes to make a fine home router. It supports 802.11ac, the latest and greatest type of Wi-Fi communication tech, and while it's not the fastest, it's no slouch. It's an AC1900 router, which means it supports wireless communications of up to 1,900Mbits/sec, with 600Mbits/sec supplied across the 2.4GHz spectrum and the remaining 1,300Mbits/sec delivered over 5GHz.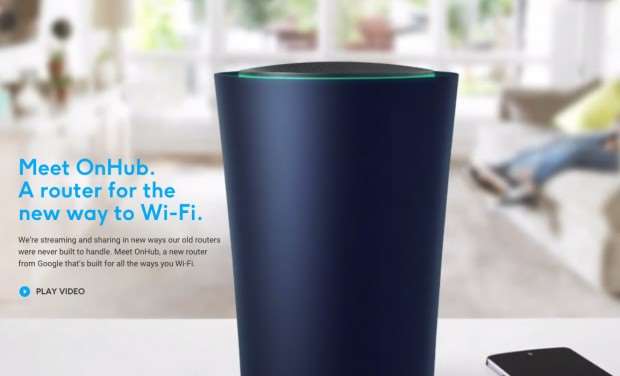 To achieve those speeds, the OnHub uses six antennas in a 3x3 stream arrangement, and also uses MIMO, or smart antenna technology, to dynamically optimise how those antennas are used. Depending on the amount of interference nearby, the OnHub chooses the ideal beam patterns to broadcast to each connected device, which should, in theory, improve performance.
Another feature that may improve the OnHub's performance is much less high-tech: it's just that bit prettier than your average Wi-Fi router. To put it simply, you're more likely to get away with positioning the OnHub in plain sight, rather than hidden away in a cupboard somewhere. As ever, the best engineering ideas are often the simplest.
Okay, but is it better than existing 802.11ac routers?
In some ways, yes. It won't be the fastest, though: the best routers now tout AC3200 connection speeds, which is some way ahead of Google OnHub.
That really isn't worth losing sleep over, though: very few devices are capable of communicating at those top-end speeds. Currently, tablets, smartphones and laptops struggle to take advantage of a 1,900Mbits/sec 802.11ac connection; you almost certainly need a dedicated PCI Express card in a desktop PC to get anywhere near that kind of performance, let alone 3,200Mbits/sec.
In other areas, however, the OnHub leaves rival routers for dust. For instance, peruse the specifications of a flagship 802.11ac router from another major manufacturer, and you'll see that it's powered by a dual-core 1GHz processor, 256MB of RAM and equipped with 128MB of flash storage. The OnHub is altogether beefier: it partners a Qualcomm IPQ8064 dual-core 1.4GHz processor with 1GB of DDR3L memory and 4GB of eMMC flash storage.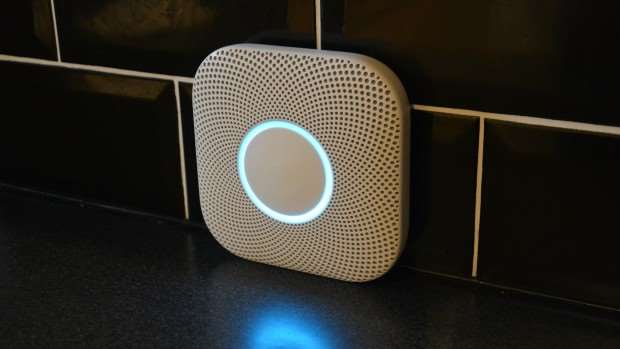 With Google proudly touting that the OnHub will be able to support 128 devices at a time, it's clear this is a router that's ready to play its part in the smartest of smart homes.
Does that mean it will connect to my fridge/washing machine/toaster?
Theoretically, yes. Once Wi-Fi-equipped home appliances start to hit the market, the OnHub will be ready and waiting. In addition to 802.11ac Wi-Fi, the OnHub supports a handful of new technologies that are designed to provide connectivity to devices around the home, and uses a bare minimum of bandwidth and power in the process.
The first of these is Weave. Announced alongside Google's Project Brillo, its embedded operating system designed specifically for IoT devices, Weave is the protocol by which Google wants all the devices around your home to communicate. It's also the communication method used by Google's Nest range of smart products, which currently includes cameras, smoke detectors and smart thermostats. This is ostensibly based on the IEEE 802.15.4 standard, which is designed to provide a low-power, low-speed (around 250Kbits/sec) network connecting devices around the home over the internet.
Bluetooth 4 and Bluetooth Smart support also make the grade. This, again, is a low-power version of the Bluetooth technology designed to allow tiny, smart devices to run off battery power for weeks, months – perhaps even years.
Is there anything else to get excited about?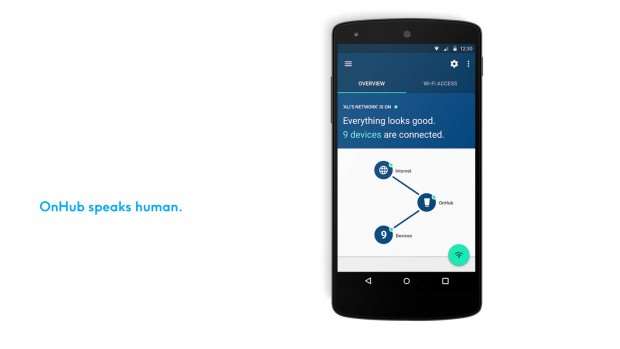 Definitely. Perhaps the most thrilling prospect for anyone who's ever spent any time wrangling with a Wi-Fi router will be the prospect of a hassle-free setup process. Conducted entirely from an Android or iOS smartphone via the dedicated Google On app, it should banish the memories of confusing, web-based interfaces – hopefully, anyway. In all honesty, Google don't have to try hard to improve on the user experience provided by many routers currently on the market.
There are a number of features that sound cool straight from the off, too. The Google On app allows you to quickly and easily prioritise network traffic for certain devices for set time periods – say, if you want to optimise your Xbox connection for gaming, or Netflix for streaming 4K. Even the update process sounds like a step forward, as Google claims that the OnHub updates automatically without ever interrupting your internet connection.
The OnHub also includes technologies that look beyond the needs of conventional Wi-Fi routing. In addition to new wireless communications standards, the OnHub also has an on-chip Trusted Platform Module, something more commonly found in business laptops and security-focused devices. This is immensely reassuring: once smart devices across the home take control of everything from your heating to your hot water, and your air conditioning to your oven, the potential for hackers to cause havoc increases dramatically. Security will be a big issue with the Internet of Things, and it's good to see that Google is taking the problem seriously from the off.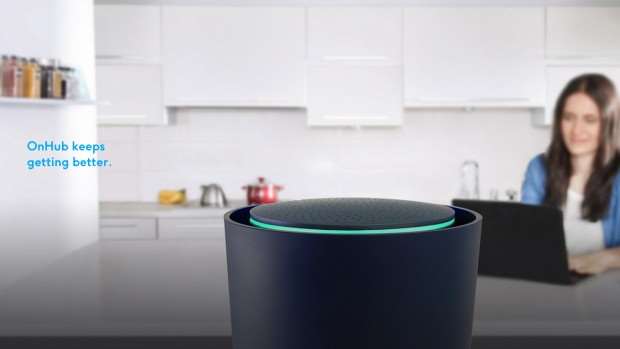 So what's the catch?
I had a feeling you'd ask that. As it's necessary to have a Google account to use the OnHub, cynical minds might suggest that the OnHub is just yet another way for Google to collect even more data about our lives. Reading Google's article on the OnHub's Help Center suggests that there's nothing to worry about, however.
"Importantly, the Google On app and your OnHub do not track the websites you visit or collect the content of any traffic on your network. However, OnHub does collect data such as Wi-Fi channel, signal strength, and device types that are relevant to optimise your Wi-Fi performance."
Sure, Google, we believe you.
Anything else?
How could I forget? The OnHub has six tri-colour LED arrays, which provide at-a-glance status updates by displaying different colours and/or pulsing at different rates.
Flashing disco lights? Superfast Wi-Fi? Looks like a vase? Shut up and take our money, Google.