An ugly duckling of a smartphone, but the rest is pure brilliance. The Nexus is back with a bang
The Nexus 5X is at the vanguard of a new wave of smartphones. First established by Google with the hugely popular Nexus 5, and followed by phones such as the OnePlus One and OnePlus 2, this new breed of phone sits neatly between the low-cost Moto Gs and the flagship iPhones of this world in an attempt to offer the best of both - a smartphone that aims to have everything you need, but none of what you don't.
That, in short, is precisely what the Google Nexus 5X delivers. It's a welcome return to form for Google, after the Motorola-manufactured Nexus 6 last year, which failed to recapture the success of its predecessor. While that phone was too big and too expensive to be truly popular, the $659 16GB Nexus 5X is anything but.
Google Nexus 5X review: Design
Given the price, it shouldn't surprise you to discover, that the Nexus 5X is no supermodel. Available in black, white and light blue, it has a smooth, eggshell finish to its coloured plastic back, and although this feels pleasant in the hand, it makes an ugly contrast with the phone's all-black frontage.
In terms of its shape, the 5X moves away from the Nexus 6's extensive curves and chiseled edges, instead preferring a flat rear panel with only short radius curves at the sides. It's a more practical design than the Nexus 6 - you can place the phone on a table and tap away without it wobbling annoyingly - but it's far less pretty. The autofocus sensor and flash above the camera, the placement of the LG and Nexus logos alongside each other look as if they've been thrown on randomly rather than thoughtfully placed.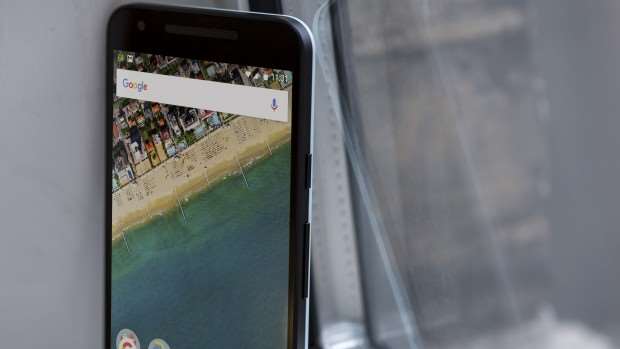 More seriously, perhaps, the cheap feel also extends to the mechanical aspects of the design. The power and volume rocker on the right edge feel plasticky and insubstantial. The nano-SIM drawer doesn't close with a positive click. Overall, it's a far cry from the Nexus 6; the only advantage the Nexus 5X holds from a physical perspective is that it's is extremely light for a phone of its size, weighing a mere 136g, and it's very comfortable to hold and slide into a pocket.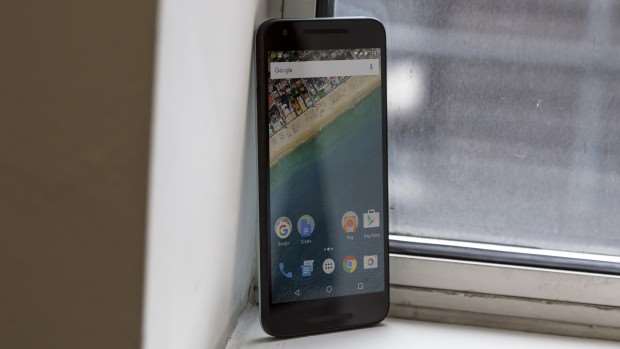 The front is less of a design disaster, mainly because it's pretty featureless. Flanking the 5.2in screen top and bottom, is a pair of stereo speakers - a design decision carried over from the Nexus 6, and one I heartily approve of. I'm sick and tired of having to be careful how I hold a phone like the Apple iPhone 6s for fear of blocking the grille and muting the audio.
Google Nexus 5X review: USB Type-C and fingerprint reader
You can probably tell that the Nexus 5X is not for the fashion conscious user - it's a jeans and T-shirt smartphone to the Samsung Galaxy S6's white Armani suit. One thing it does deliver, however, is all the latest in smartphone technologies.
There are two aspects of this you'll notice right away. First, the Nexus 5X has a USB Type-C socket, a new type of charging and data transfer port, located on the bottom edge of the phone. Second, it has a fingerprint reader, which sits on the rear of the phone, just below the slightly-protruding camera housing.
From a design perspective, the decision on Google's part to implement both technologies is to be applauded. I much prefer Type-C's physical design to the ubiquitous micro-USB. It's reversible so can't be forced in the wrong way, and it engages with a more positive click than most micro-USB ports do. You'll need to budget for spare cables, though, and you'll need to purchase an adapter straight away if you want to plug it into a laptop or your car charger. Bizarrely, the cable in the box is a double-ended Type-C cable, which can't be connected to most modern chargers and computers.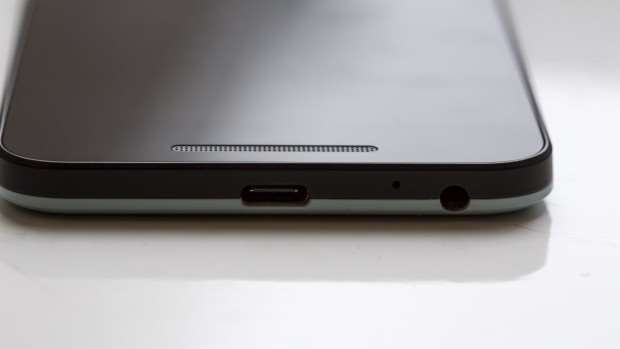 The fingerprint reader (dubbed Nexus Imprint) works beautifully, however, and allows you to purchase Google Play content quickly and simply, without having to type in a password. Its position on the rear means it falls naturally under your index finger as you pick up the phone, it's quick and easy to register your fingerprints, and - so Google claims - it will also learn and become more accurate as you use it.
Frankly, I'm not sure it needs to. The only time the Nexus 5X failed to recognise my fingerprint was when I placed my finger half-on and half-off the sensor, and even then it worked most of the time anyway. On every other occasion it worked flawlessly, and quickly too. For reference, it's roughly on a par with the iPhone 6s' Touch ID sensor in terms of how quickly you can unlock the phone with it.
Given all this cutting edge technology, it's a touch disappointing that Google continues to omit one of the more humdrum elements - expandable storage - from its Nexus handsets. Once you've bought your 16GB or 32GB Nexus 5X you'll be stuck with it, so choose carefully.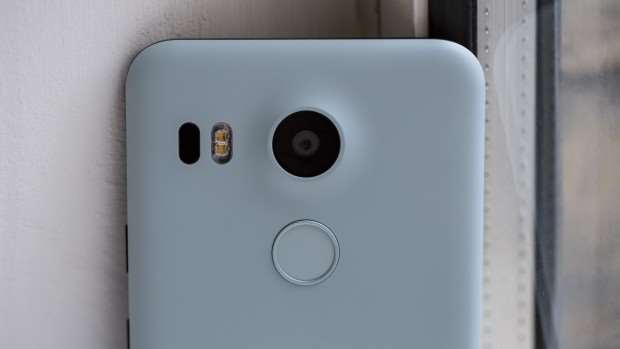 Google Nexus 5X review: Performance and battery life
Despite that, there's plenty else to like about the Nexus 5X's specification, and on this front it follows the template set by the original Nexus 5. Functional though the design of that handset was, it packed one heck of a punch, including the leading smartphone processor of the time.
The Nexus 5X dials that ambition back a little. Instead of going all out for the most powerful mobile chip on the market - that's left for the flagship Nexus 6P - it has a six-core 2GHz Qualcomm Snapdragon 808 processor inside, the same as found within the LG G4, and accompanies it with 2GB of RAM and an Adreno 418 GPU.
The performance figures, if you're interested in that kind of thing, show that the Nexus 5X doesn't hit the heights of the most expensive phones on the market (see table below). But in real terms it'll be fast enough for most people. The only complaint I have is that the camera app is occasionally a little sluggish to launch, and stutters when you swipe from stills to video mode and back again.
| | | | |
| --- | --- | --- | --- |
| Benchmarks | Google Nexus 5 | OnePlus 2 | Samsung Galaxy S6 |
| Geekbench 3.1 - single-core | 1,235 | 1,206 | 1,485 |
| Geekbench 3.1 - multi-core | 3,489 | 4,508 | 5,282 |
| GFXBench 3.0 Manhattan onscreen | 14fps | 23fps | 15fps |
| GFXBench 3.0 Manhattan offscreen | 14fps | 23fps | 23fps |
One bonus of the slightly lower-spec processor, is that the 5X avoids the overheating issues that has afflicted some phones featuring the faster Snapdragon 810 CPU. Sure, it gets a bit warm when you fire up a demanding game such as Dustoff Heli Rescue, but it never gets uncomfortable to hold.
There's no payback in battery life, however. With moderate use - that is to say, not pounding the battery constantly with games and streaming over 4G - you'll get a day out of it, and nothing more. This is a phone you'll need to charge every day.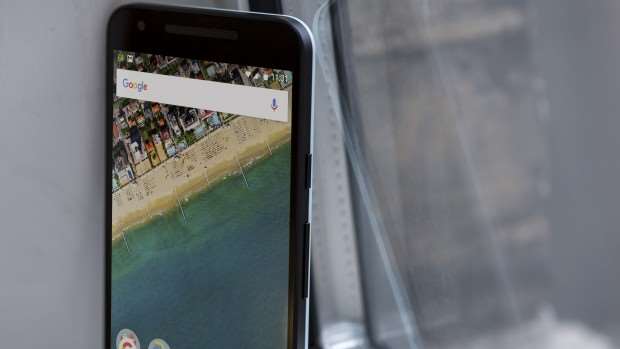 That perhaps isn't all that surprising given the comparatively middling 2,700mAh battery capacity, but to discover that it performed less well than the OnePlus 2 is more than a touch disappointing.
The positive news is that those moving up from a Nexus 5 will experience significantly better battery life, and it's also worth noting that the 5X charges supremely quickly. In my tests it hit 20% charge in the first ten minutes, which is seriously impressive. After half an hour the level of charge rose to 48%, an hour saw it reach 84% and the phone was fully topped up in 1hr 40mins.
Google Nexus 5X review: Cameras
The one area that let down the last two Nexus smartphones was the quality of its camera, so it's good to see a bit more attention lavished on that this time around. In fact, that's underselling somewhat; the new camera is an absolute beast.
It matches the iPhone 6s for resolution, and its sensor beats it for size. Each of the Nexus 5X's pixels are 1.55μm (microns) in size (the iPhone 6s' pixels are 1.22μm), and this allows them to capture more light at a given shutter speed.
Elsewhere, the aperture is a wide f/2, this time matching the iPhone 6s, it can shoot 4K video, and slow motion 720p footage at 120fps, it's equipped with "laser detect" autofocus, and it has optical image stabilisation as well. In short, it's equipped to compete on an equal footing with the best smartphone cameras in the business.
The hardware, however, is only part of the story; if the software isn't good enough to set the focus, exposure, white balance and ISO sensitivity at the correct level, you'll get horrible pictures, no matter how potent the optics and sensor.
The good news is that the software and hardware on the Nexus 5X work perfectly in tandem and the result is amazing photographs. The laser autofocus system locks onto subjects quickly and securely, with very little of the annoying hunting back and forth that so plagued the Nexus 6. And the camera proved incredibly reliable in all conditions. In good light, low light and under the steely grey sky of a rainy London day, the Nexus 5X was able to produce photographs bursting with detail, realism and colour.
And, while the camera app isn't the most most comprehensive, its simplicity does at least allow you to focus on capturing the best image possible. Even video capture is top drawer, although I found that, despite the optical image stabilisation, handshake is all-too-readily transferred to footage. You'll need to ensure you stand still while recording home movies.
At the front, meanwhile, is a more run-of-the-mill 5-megapixel snapper for your selfies, which is equipped with an f/2.2 aperture but slightly smaller 1.4μm pixels. Despite the lesser specifications, however, don't underestimate this camera. It captures selfies with a scary amount of detail, and its wide-angle lens makes snapping group shots an absolute doddle.
Google Nexus 5X review: Android 6 Marshmallow
As always, the Nexus 5X comes with the latest version of Android out of the box, and this year it's the turn of Android 6 Marshmallow. It's also guaranteed - at least for the next three years or so - to get the next version of Android before any other phone, which is partly why Google's Nexus handsets are so popular.
You should be pretty pleased with the current version, though. I've been using Marshmallow on a Nexus 6 for some time now, and it's excellent, building on the visual overhaul introduced last year with a host of subtle improvements.
The most obvious change from a visual perspective is the redesigned app drawer. This changes from horizontal sliding pages to a vertically scrolling list of apps sorted by initial letter, and introduces a search box and a quick list of shortcuts to your most recently used apps at the top.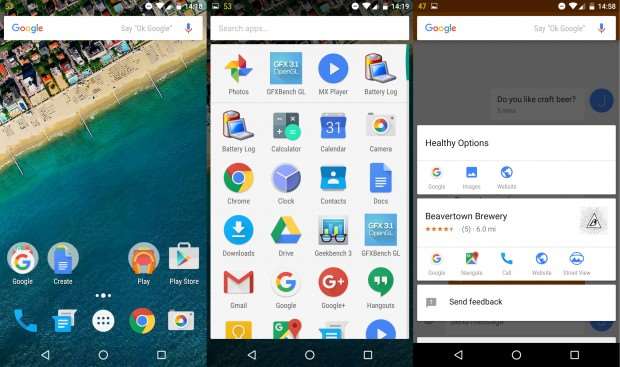 The next big upgrade is Google's new Now on Tap feature, which offers contextual search and suggestions based on what's displayed on-screen. It works anywhere, whether you're in an app, browsing a website or conversing with a mate over SMS or Whatsapp. All you do is hold the home button down for a second or two, the software grabs what's on screen, sends it up to the servers where it's read, and Google returns a few seconds later with a panel of results on a pop-up layer at the bottom of the screen.
It's clever stuff - a text conversation about craft beer generated a useful link to the Beavertown Brewery website, as well as a map, phone number and street view images. I'm just not convinced how much difference it will make to my life in the long run.
The new Doze mode is of more obvious benefit. This is designed to help extend battery life, by putting the phone into sleep mode when you leave it on a surface for an extended period of time - on your bedside table, for instance.
And there's a handful of other nice touches, too. I particularly like the indicator on the lockscreen that shows whether you're in quick charge mode or not, and Google has also streamlined the number preinstalled apps.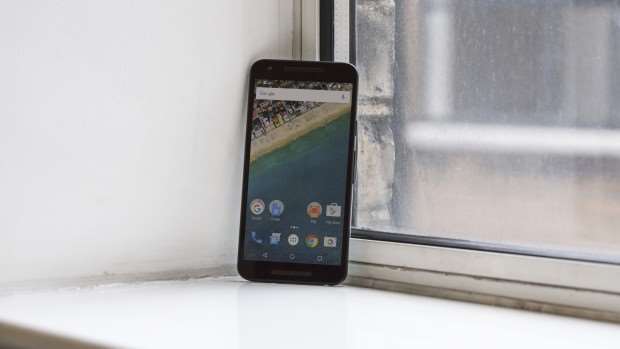 Nexus 5X review: Verdict
It goes without saying that if the way your phone looks matters to you, the Google Nexus 5X is not the smartphone for you. It's awkward and ugly to look at, especially in the powder blue pictured here, and feels rather cheap.
If you don't give a hoot about that, however - and, hey, you can always pop it in a case - the Nexus 5X is hugely appealing. The camera is simply stonking, the performance is fast and it doesn't overheat, the software is clean and simple, and Google and LG have squeezed in most of the components a modern smartphone needs, the one exception being the missing storage expansion.
Its main rival - the OnePlus 2 - offers a better bargain still, with a nicer design, even faster performance and fractionally better battery life for less, but the fact that you need an invitation to buy one rules that out as an option for many. Plus, the camera isn't nearly as good.
In short, unless you're the shallow type with more money to throw around than I have, I'd advise you consider the Nexus 5X as a serious option for your next smartphone. It's no beauty, but the reasonable cost and all-round competence all-but demands it.