Cyberduck 5 makes it easy to manage files stored on services ranging from Google Drive to Amazon S3 and hosted web servers.
The likes of Dropbox and Google Drive make it easy to use cloud storage but only if you use that provider exclusively. Things get more complicated if you use multiple providers or if you want a more scalable business solution such as Amazon Web Services.
Cyberduck is a free tool for Windows and Mac that provides a friendly front-end for browsing and managing files on a variety of cloud and online storage services. The latest release, Cyberduck 5, offers a number of enhancements, including support for Google Drive and a facelift for the Mac version.
The Swiss open source tool now works with Amazon S3, Google Cloud storage, Rackspace Cloud files, Backblaze B2, Microsoft Azure Blob storage and Google Drive, as well as any server that supports WebDAV (Web-based Distributed Authoring and Versioning), FTP (File Transfer Protocol) or SFTP (SSH Secure File Transfer). The latter means you can use it with just about any standard web hosting service.
While Amazon dominates the cloud market, strong competition from Microsoft Azure, Google Cloud and others has resulted in enterprise-grade cloud storage services becoming more affordable for small business.
The advantage of using one of these enterprise services is that they are highly scalable, so you can add easily increase (or decrease) storage or add a wide range additional services such as virtual servers or particular platforms for running applications such as web and email hosting.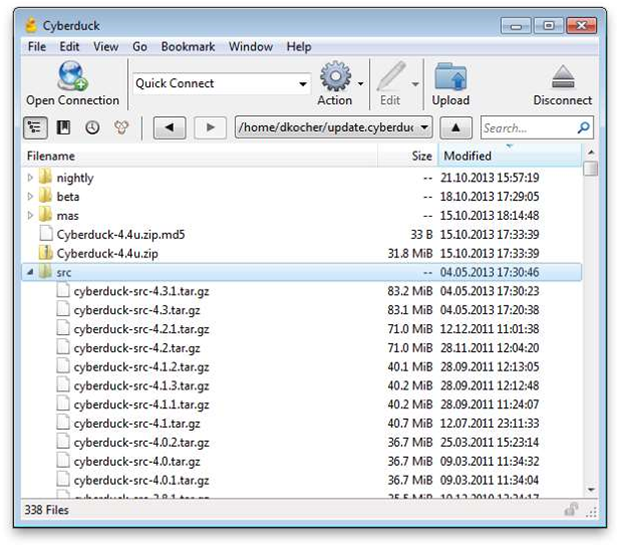 The disadvantage is they're a lot more complicated to use than Dropbox or Google Drive. That's where Cyberduck helps, by making it easy to browse, manage, transfer and even launch the cloud-based files from a Windows PC or Mac.
What's new in Cyberduck 5
Mac users will notice a significant change to the program's interface, with the main toolbar shrunk and icons rendered in monochrome rather than colour. It fits in better with later versions of OS X and provides a more professional look.
Support for Google Drive has also been added – users will need to obtain an authorisation code from Google to gain access, which is handled when attempting to log in for the first time.
Version 5.0 also adds support for connecting to Spectra S3 accounts via the Spectra BlackPearl Deep Storage Gateway. Other S3 account changes see the default signature version of authentication switched to AWS4, while users gain an option to use AWS KWS-Managed Keys (SSE-KMS) for server side encryption.
Cyberduck also gains the ability to repeat failed transfers for single segments of multipart large files when using S3, OpenStack Swift or Backblaze B2 storage. Backblaze B2 support was added in version 4.9.
The latest version also includes a number of bug fixes, including one that saw no prompt appear on Windows PCs when attempting to import WinSCP bookmarks.
Cyberduck 5.0 is available now as a free download for Windows (Vista or later) and Mac (OS X 10.7 64-bit or later). Users are encouraged to donate to the continued development of the software, or can alternatively purchase it for $37.99 through the Mac App Store.
Additional reporting by softwarecrew.co.uk.