Here's an argument for putting top end smartphones in the hands of your team (if you're a team member who is stinging for an upgrade, forward this to your boss).
In my opinion, there's just no excuse for under-equipping your sales team and key staff in the mobile phone / tablet department. The cost / benefit equation has tilted so far in favour of these devices, there is no doubt that you'll get positive ROI. Get a monthly contract of $60 per month and you able to get the hottest devices around. Get a contract for $100+ and you'll get unlimited calls and your choice of the hottest devices around.
Here's how I see it. Businesses are in the business of selling a product / service proposition that puts the customer at ease and makes the customer open their wallet.
Communication is a key part of that proposition and smartphones / tablets facilitate better communication (way beyond the phone calls which we are all used to).
When talking about smartphones, many people refer to productivity. That is such a nebulous term and rather than say the same thing, here are the things that I can guarantee when you have the best communications tools in your hands.
You will win more business if you are fast to respond. Use your smartphone to quickly respond to email questions from prospective customers. The speed of the reply will let the customer know that you are on top of things and want their business.
You will win trust if you are correct, transparent and helpful in your responses. With a new smartphone with big screen, big web browser, fast mobile internet capacity, apps etc. you will have a better chance of quickly fact checking and being fast, accurate and helpful in your responses.
You will save customers time if you send back documents / or links to help customers find what they need. There's so much that a prospective customer needs to know and much of it has been already done before. Rather than writing me a 30 minute email on how something works, find the manual on your website and email it. Getting the right information to the right people at the right time is essential in good business relationships.
You will win business if you differentiate yourself. Take pictures in the field of successful uses of your product (your product, the one YOU sold and not the catalogue). Take little profile videos of your product in use and collect testimonials. A small case study video about how you helped an existing client is not going to win awards, but it shows you care.
Think about how to help your smartphone enabled customers get more from your business. No-one with an old Motorola flip phone from 2002 is thinking how to improve their customer's mobile information flow from your business as they are not thinking about what is possible.
You will win respect when you research more, read and be inspired on the road.
You will win more business if you use downtime to keep going harder with customer contacts than your competitors. Use the downtime between meetings to go bananas with customer contacts and keep fishing. Contact more prospects more often, a phone call here and an email there. When you follow up more prospects on your smartphone or Tablet than your competitors you will win business.
When you think of customers opening their wallets to pay for your products and services, they are buying more than just the actual good - they are buying quality, trust and an overall image. It does not cost much more than $60 or $70 per month to have a top end phone plan. Go for the best models you can afford. Be prepared to recycle your phones in 24 months. Don't be precious, these are tools of the trade in the modern age and not designed to last like some of the other tools you have in your business.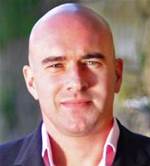 Cameron Craig is a co-founder of the comparison site WhistleOut which offers easy to use technology to compare millions of online deals and prices in telecommunications, finance and insurance. Cameron has experience in book publishing, marketing and now digital media with WhistleOut.