The BlackBerry Priv isn't a bad phone, and it has a lot of interesting features. But is it too late?
BlackBerry's smartphone business has, to put it kindly, been rapidly disappearing down a black hole. Things briefly looked up with the Passport, which was released around this time last year, but it really felt like it might be the company's last hurrah. Now, though, we have the BlackBerry Priv and it's turned my world upside down again.
BlackBerry Priv review: Design and screen
But can the design persuade the doubters? It certainly makes a good start. After indulging its sense of the absurd with last year's Passport, the Priv takes things back to basics – in terms of its shape, at least. It's a rectangular smartphone, just like all the rest, and sports a large, sharp 5.4in 2,560 x 1,440 AMOLED display that's curved at the edges.
Switch it on and the screen makes a great first impression. It's AMOLED, so you know it's going to be at least decent, but the contrast is incredible and the colours vibrant and intensely saturated. Its brightness isn't the best I've seen, only reaching a maximum of 344cd/m2, where Samsung has found a way to boost its AMOLED screens up far above the 500cd/m2 mark. However, most of the time you'll have little complaint – you might only find the screen tricky to read in really bright conditions. So if you work in a desert, this isn't the phone for you.
With the screen switched off, the Priv doesn't look too bad, either. The screen's curved edges lend the phone an exotic look akin to the Samsung Galaxy S6 Edge, and the rear is clad in rubberised plastic with a carbon-weave finish.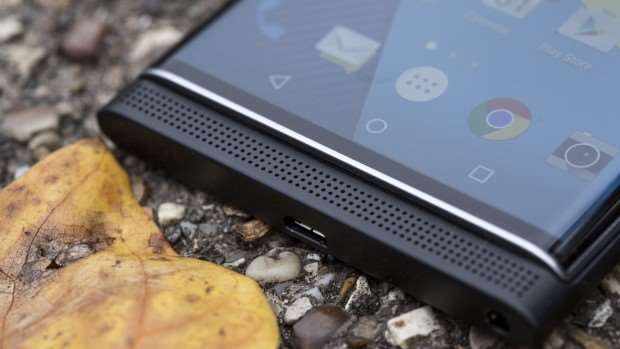 However, it's a very big phone for the screen size. It feels large and unwieldy in the hand, is thicker than most at 9.4mm (without taking into account the camera bulge) and is very, very heavy. At 192g, in fact, the Priv nearly as heavy as the gigantic Passport, and that's saying something. I'm also not keen on the sharp corners, which I found had a tendency to catch awkwardly on the lining of my pockets – not a problem if you keep yours in an inside jacket pocket, but it's certainly a point to bear in mind if you stow yours in a jeans front pocket.
BlackBerry Priv review: The keyboard
There is a reason for the Priv's bulk, of course, and that's the hardware keyboard, which slides out from beneath the screen with a satisfying thwack. The design of this is classic BlackBerry: asymmetrical sculpted keys help you locate each one with the tip of your thumb, ridges embedded between each horizontal row keep typos to a minimum and the key action is nice and positive. Plus, it's backlit, so you can see what you're typing in the dark.
I've always admired BlackBerry's keyboard designs and I like this one, too, but I wonder if it's entirely needed on a phone this large. BlackBerry's excellent touchscreen keyboard, which appears as an alternative when you have the hardware keyboard tucked away, actually has larger keys and I found it easier to type on.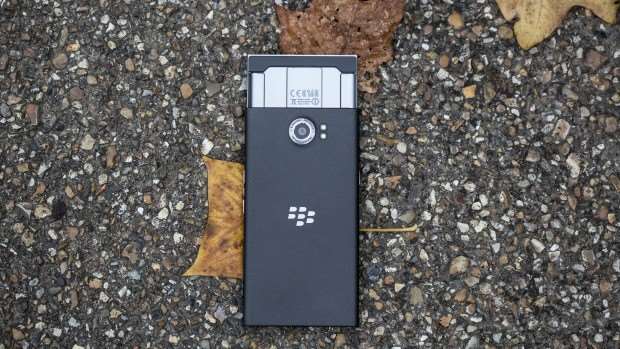 And the placement of the hardware keyboard is all wrong. With so many of Android's text fields located at the top of the screen, I found it a terribly uncomfortable stretch to reach up and tap to locate the cursor and then back down to the keyboard at the bottom. It's about 13cm to reach up from a comfortable typing position on the hardware keyboard up to Google's search box, which means this is a phone for people with really long fingers.
Still, the keyboard does come into its own in some situations. If you're editing a long email or document, for instance, it's nice to be able to see a whole screen of text all at once without a great slab of keyboard obscuring most of the text. And the Priv's keyboard has a hidden talent: just like the Passport before it, it's able to double as a touchpad.
Swipe your finger up or down, and you can use it to scroll through documents, emails and web pages. Swipe left and right and you can switch between homescreens or pan around zoomed web pages.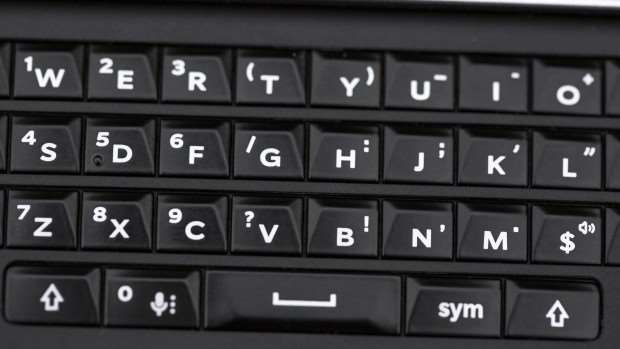 But there are problems here. The scrolling and panning doesn't work absolutely everywhere: it would be useful in Google Maps and Photos, but doesn't function in either. And you need to be careful about leaving your finger resting on the keyboard while you tap and manipulate the touchscreen above it. Occasionally, I found the touchscreen would lock up until I removed my fingers from both the keyboard and screen.
It should be something fixable in software, but BlackBerry needs to sort it out sooner rather than later.
BlackBerry Priv review: Software
So the keyboard is a bit of a mixed bag. How about the software? It's Android, of course, in this case Android 5.1.1, and that means you can install any app or game on it from Google Play. And this is no cut-down Android experience. You get the full gamut of official Google apps, including Gmail, Calendar, Maps, Drive, Music and Movies & TV.
What BlackBerry has done here is to introduce its own skin. This doesn't look vastly different from stock Android, but it does bring with it a host of extra features and customisations. The first thing you'll notice, once you start receiving messages and notifications, will be the famous BlackBerry "splat", used to indicate anything new, which appears at the top-right corner of apps on your homescreen and app drawer. There's also a row of notification icons that appear at the top of the pull-down notifications menu that indicate which core apps have unread items.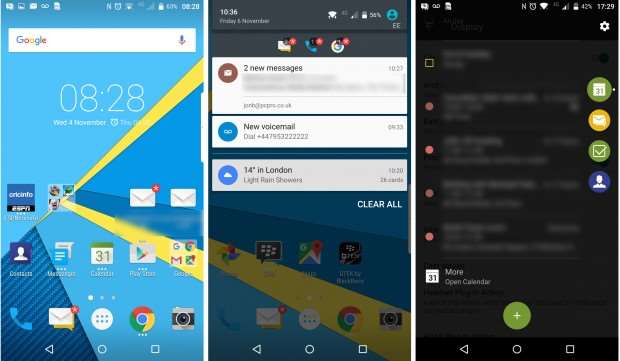 There's the BlackBerry Hub, brought across its BlackBerry OS smartphones, which aggregates messages from all sorts of different messaging services into one, homogenous list.
And you get a whole host of other ingenious features to play around with: pop-up widgets generate app previews directly on the homescreen with a quick flick up of a finger; holding the homescreen button down generates a couple of extra, customisable shortcuts in addition to the usual Google Now; and delving into the settings menu reveals a scattering of useful extras, including the ability to mute the phone and save power by flipping it over, and keep the screen on longer when you're holding it.
What makes the Priv the Priv, though, are the extra security features. In an attempt to keep business users and privacy-obsessives on side, full device encryption is activated by default, while the pre-loaded DTEK app monitors and provides advice on your security status. Within the DTEK app, it's also possible to see which apps are accessing which features on your phone, so you can see if a game is accessing your location when it shouldn't be, and even drill down to look at when and where that information was accessed. What you can't do is revoke permissions on an individual basis – if you don't like what an app is doing, you'll have to uninstall it.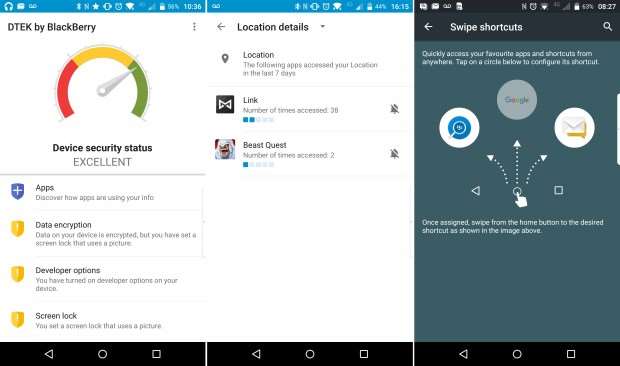 The BlackBerry software team has clearly been very hard at work here, and some of the features are genuinely useful. The BlackBerry Hub's snooze feature is brilliant: don't want to deal with an email right now? You can schedule it to go away and reappear in 30 minutes, or tomorrow. You can also set it to pop up once you get to a certain location, or even when you connect to a preset Wi-Fi network. And, since it's the BlackBerry Hub, you can apply that across all your messaging accounts.
Mostly, that's good, but the irritating thing is that there's almost too much going on here. Extra dots, icons and tabs litter the homescreen, the icons at the top of the notifications menu just look wrong, and when you add this to all of Android's usual notifications, it's a bit of a mess.
BlackBerry Priv review: Performance and other specifications
In the rush to squeeze all of these extra features into the Priv, it also feels as if there wasn't quite enough time devoted to software optimisation. The Priv has the same hardware inside it as the Nexus 5X and the LG G4, so it ought to feel smooth and slick. Alas, it isn't quite as instantaneous and slick as it should be. BlackBerry Hub feels a little sticky, there's a sense of lag when scrolling up and down web pages, and in general the phone feels off the pace.
That's disappointing, because the six-core Qualcomm Snapdragon 808 chip inside is perfectly powerful, is backed up by 3GB of RAM, which is a decent dollop, and it benchmarks just as well as the Nexus 5X. (Note, the lower Manhattan onscreen score is due to the Priv's higher resolution display.)
| | | | |
| --- | --- | --- | --- |
| Benchmark results | BlackBerry Priv | Nexus 5X | Samsung Galaxy S6 |
| Geekbench 3.1 - single-core | 1,155 | 1,235 | 1,427 |
| Geekbench 3.1 - multi-core | 3,433 | 3,489 | 4,501 |
| GFXBench 3 - Manhattan onscreen | 9.5fps | 16fps | 15fps |
| GFXBench 3 - Manhattan offscreen | 15fps | 16fps | 23fps |
The Priv will play most current Android games smoothly at all detail levels and, since it's an 808, it doesn't get hugely overheated like some 810-based phones.
The rest of the specification isn't bad either. Wireless connectivity runs to 4G, 802.11ac Wi-Fi, Bluetooth 4.1 LE, and NFC. There's 32GB of storage, with a microSD slot for expansion up to a theoretical 2TB, and the battery has a large 3,410mAh capacity, delivering 11hrs 10mins in our looping video test. That result puts the Priv in the same ballpark as the LG G4 and OnePlus 2 – good, but not brilliant – and behind the Samsung Galaxy S6 and Note 4. That translates to a solid day with moderate use, but not much longer.
The only major thing missing from the Priv is – surprisingly, given the focus on privacy and ecurity – a fingerprint reader
BlackBerry Priv review: Camera
The final aspect of performance – and one that BlackBerry hasn't performed particularly well in over the years – is the camera. The good news here is that the Priv's camera bucks the trend: it's very good indeed.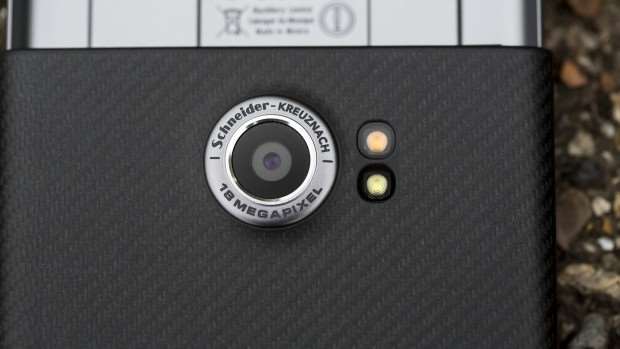 Branded and "certified" by pro-camera heavyweight, Schneider Kreuznach, the 18-megapixel snapper on the rear is capable of capturing crisp, detail-packed images in most situations, and is particularly good for close-ups. With optical image stabilisation, phase detect autofocus and a reasonably bright f/2.2 aperture, even low-light won't spell disaster for your shots.
It isn't the very best I've seen. When the ambient light isn't the best, the colours do tend to lose their vivacity, and the HDR mode takes an age to capture its images. However, with smartphone cameras reaching a bit of a plateau right now, you'll certainly not be disappointed with the results.
The front-facing camera is another story, however. At two megapixels, it lags behind most other modern smartphones, which have almost all moved up to five megapixels and beyond.
BlackBerry Priv review: Verdict
Despite my moans over the unnecessarily messy software and the weight and sheer bulk of the thing, there's something about the Priv that I find appealing. Perhaps it's seeing BlackBerry (at last) getting itself on the right track with its hardware and software, perhaps it's because the Priv attempts to do things differently, but this is a smartphone that I've enjoyed using in the time I've had it.
In a world of bland, homogenous smartphone design, the BlackBerry Priv stands out as a beacon of individuality, a smartphone that does everything a standard Android smartphone can, but without sinking into morass of mediocrity. It isn't the greatest phone around, but at least it's something different.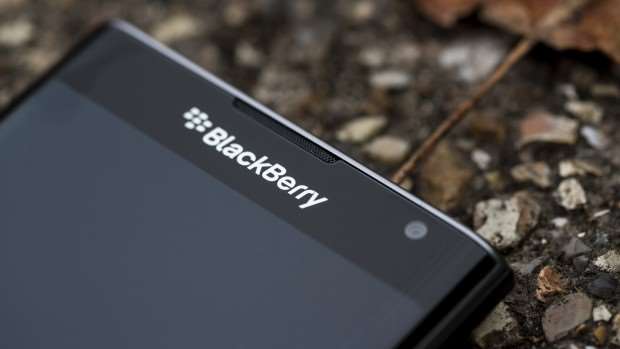 The problem for BlackBerry is that it will take an awful lot more than just one good phone to dig it out of the hole it's currently in. It's not so much a case of turning up to the party fashionably late, rather that BlackBerry has turned up the next day, after the police have turned up and arrested all the troublemakers.
Ultimately, however good the Blackberry Priv is, it faces an uphill battle in a crowded market to gain much attention. You might like it, you might not, but will it lead to greater things from BlackBerry in the future? Well, at least it's a start.