The biggest, fastest and, oh yes, priciest Apple iPad yet – but is this the best tablet for you?
This year, for the first time since 2010, Apple didn't update its flagship iPad. Except it did. Suddenly, the iPad Air 2 isn't Apple's classiest tablet any more. It's been overtaken by a more advanced, bigger brother.
The iPad Pro has just gone on sale, and I've been putting it through its paces it for more than a week to see if it lives up to the hype – and the price tag.
Apple iPad Pro review: Design
One glance tells you this is an Apple iPad, thanks to its glass front and aluminium rear, chamfered-edge front and all-over immaculate build quality. It has an identical design to the iPad Air 2 and iPad mini 4. The front is all display, surrounded by narrow bezels on the longer sides and wider ones at top and bottom. A camera lens peeps out from the centre at the top and the home button with Touch ID capabilities nestles at the bottom.
Every other detail, almost, is the same as on the smaller-screened Apple tablets. Power button on the top edge: check. Volume up and down buttons on the right edge: check. Whacking great Apple logo on the middle of the back: check. On the Wi-Fi and cellular model – plastic stripe on the back and SIM card slot on the right edge: check and check. Single loudspeaker on bottom edge: oh, hold on.
The iPad Pro, uniquely in Apple's iPad range, has four speakers, two on the top and two on the bottom edge. As you'd imagine, this design change seriously upgrades the tablet's audio capabilities.
There's one other difference: on the left edge, three small circles sit innocuously in the middle. These form the Smart Connector, which attaches Apple's Smart Keyboard or third-party accessories such as the Logitech Create keyboard case.
For all the similarities to previous iPads, the Pro has one major difference: its size. The 12.3in display may not sound much bigger than the previous iPad's 9.7in screen, but it looks huge in comparison.
It's much heavier than the iPad Air 2, but still lighter than the first iPad, weighing 713g for the Wi-Fi-only edition, and 723g for the Wi-Fi and 4G model. That's heavier than many rival tablets, but it still feels light relative to its size.
Apple iPad Pro review: Display
The 12.3in, 2,048 x 2,732 display has the same pixel density (264ppi) as the iPad Air 2. It's a Retina display so it's pin-sharp, and as with most Apple displays it's bright and vividly colourful.
As always with iPads this is an IPS LCD screen, not AMOLED, so colours aren't overblown or oversaturated, and it has the same anti-reflective coating as the iPad Air 2, which makes it readable, even in bright light.
What really stands out is the size of the screen. It's as wide as the iPad Air 2 is tall, so there's a lot more real estate on offer. When you're working on a video-editing app, this gives you a good-sized video window along with the editing timeline below. And if you choose the multitasking Split Screen view, where you can have two simultaneously active windows side by side, both windows are substantial and usable in their own right.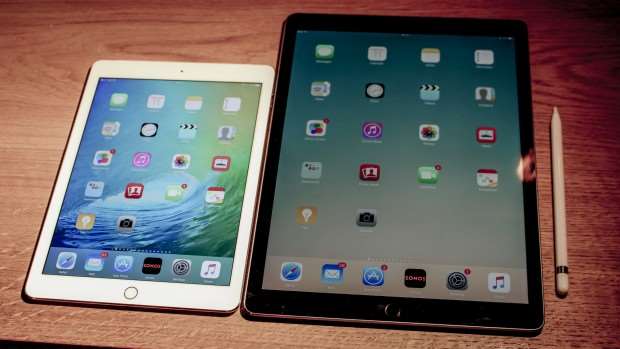 If you're using the iPad Pro to consume rather than produce content, it's a joy. Video playback is butter-smooth and really shines on this display. Plus, as mentioned above, the four speakers add a beefy sound that's better than any previous iPad. The tablet reaches high volumes and the stereo effect is clearly discernible.
Intriguingly, when you turn the tablet from landscape to portrait, the iPad detects this, switching the orientation of the speakers so the left channel continues to come from the two speakers on your left. The sound on this tablet, not something I have ever concerned myself on a device of this type before, is seriously impressive.
Apple iPad Pro review: Smart Keyboard
The Smart Keyboard is one of the two essential peripherals for the iPad Pro. Just as the Type Cover improves Microsoft Surface tablets massively, so the dedicated keyboard turns the iPad Pro into a successful laptop substitute. Tim Cook recently said that although he still loves his Mac, when he travels he just takes the iPad Pro as his computer.
In some ways this keyboard is better than Microsoft's Surface keyboard, because the keys (which at first glance look like they may not be up to much) are superb to use: firm but responsive and highly comfortable, even when used for long periods.
The base is solid enough for you to have it on your lap, too, but the big problem with it is that it can only prop up the iPad Pro at one angle. You may find this fits with your way of working, but there'll almost certainly be a situation in which the tablet doesn't quite work perfectly.
Apple iPad Pro review: Apple Pencil
The Apple Pencil is Apple's answer to the stylus. It's slim, perfectly weighted, and a quintessential Apple beauty: sleek, elegant and highly effective.
Unlike most capacitive styluses, it has a slender nib, which is firm rather than squashy to the touch. That's because the tip of the Pencil, like some styluses from Wacom and Ntrig, includes sensors that recognise pressure. Apple hasn't revealed how many levels of pressure the Pencil can spot, but it has a satisfyingly realistic feel to it. More than any other stylus I've used, it feels like using a real pencil on paper, with just the right amount of slide and friction. Tilt the Pencil on its side and you can even add shading as you draw.
It seems Apple has thought through the practicalities, as well. The top slides off to reveal an extended Lightning connector. This is used to pair the two and charge the Pencil - and it doesn't need long to deliver a useful amount of charge; in fact Apple says 15-seconds connected gives 30 minutes of use.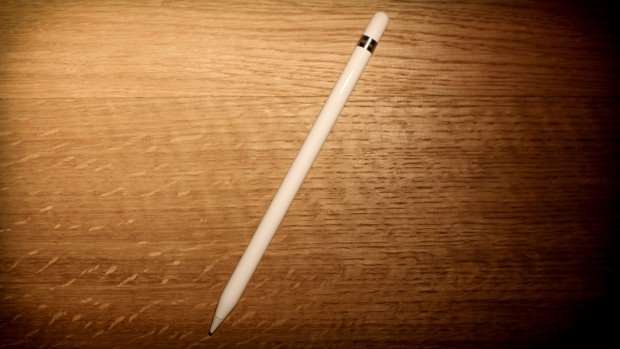 I can't vouch for the absolute accuracy of that statement, but it certainly seemed to have plenty of pep after the briefest of charges. And when it does eventually run flat, it's reassuring to be able to revitalise it in less time than it takes to make a cuppa.
One negative point here is that there's no sleeve or place in the iPad Pro or the Smart Keyboard to keep the Pencil, so mind you don't lose it. At $165 it's also far from cheap, but if you want to make the most of the Pro, it's a purchase worth considering.
Already plenty of apps have been optimised for the iPad Pro's bigger screen and the delicate Pencil. Apple's own Notes app is a joy to sketch on, especially with the virtual ruler, which offers spectacular precision.
Performance and battery life
Apple has included its most powerful processor to date in the iPad Pro. The A9 chip found in the latest iPhones has been beefed up with an X, and iPad Pro also has extra RAM.
Whatever the stats, this is a tablet that feels consistently nippy and responsive. Even when editing video, even at 4K resolution, the iPad Pro didn't slow down. Tasks from video playback to side-by-side email and web surfing were swift and easy to accomplish.
Apple has said it's faster than many portable PCs, including some of the MacBook range, and the benchmarks seem to bear this out. A Geekbench 3.1 single-core result of 3,192, and multi-core result of 5,413 are significant improvements over the iPad Air 2.
I also ran the GFXBench Manhattan tests which delivered results 33fps for the onscreen test and 79fps for the offscreen, test, run at 1080p. Again, these are seriously impressive results: faster than any Android or iOS tablet we've ever tested, and faster even than a mid-2014 MacBook Pro 13 equipped with Intel's integrated Iris Graphics 6100.
| | | | |
| --- | --- | --- | --- |
| Benchmark results | iPad Pro | iPad Air 2 | Samsung Galaxy Tab S2 9.7 |
| GeekBench 3 - single-core | 3192 | 1811 | 1230 |
| GeekBench 3 - multi-core | 5413 | 4516 | 4194 |
| GFX Bench GL 3.0 - Manhattan, onscreen | 33fps | 28fps | 12fps |
| GFX Bench GL 3.0 - Manhattan, offscreen | 79fps | 39fps | 15fps |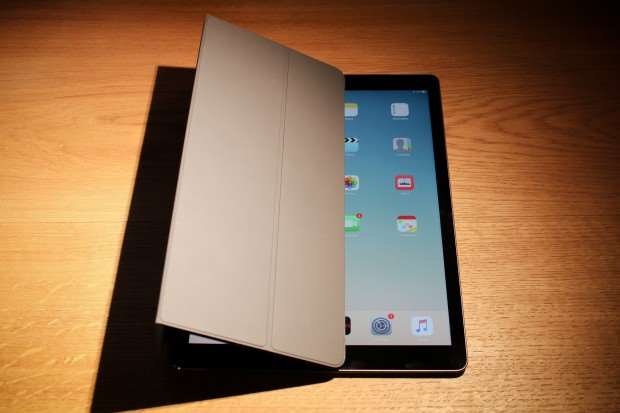 One of Apple's guiding principles has always been to avoid statistics, however, and focus on delivering a flawless user experience. And this is most certainly the case here.
The other critical component of performance is battery life, and that's an area in which Apple's iPads have always been consistently good. Anecdotally, Apple's 10-hour claim seems to be pretty much bang on.
Although there's a big, rich screen to service here, there one a heckuva big battery to power it - a 38.5Wh battery, to be precise.
Verdict
The Apple iPad Pro is a stunning machine. It looks fantastic and, once you get over just how big it is, the size becomes a benefit, with its immersive screen and a giant playground of real estate for apps to exploit.
Add the Smart Keyboard or a rival setup and you have a creditable laptop alternative with decent battery life and Apple's unparalleled choice of big-screen, touch-enable apps. The Pencil adds a whole new dimension of usability and is a wholly enjoyable peripheral to use.
It is expensive: add it all up and you're spending a lot of money - $2133 for a 128GB model with 4G, Pencil and Smart Keyboard. But despite this, the iPad Pro is not bad value at all. For your money you're getting a fast, capable laptop running on iOS, and an eye-poppingly good tablet with ear-tingling audio to boot.
Certainly, it's worth checking out the size and weight to see if they suit you. There are other iPads that are smaller, lighter and much cheaper. But if the size appeals, the new Apple flagship is hard not to like.