Arriving on April 27, the HTC Desire is earning praise as one of the best Android phones yet. Best thing of all, it has absolutely ridiculous levels of customisation
[UPDATE: We've now posted our HTC Smartphone Buyer's Guide, which includes the just-launched HTC Desire. Click through to see how the Desire compares with the rest of the range.]

[UPDATE: See how HTC Desire fared in our full review.]

[UPDATE: The iPhone 4 has been announced. See our top 5 reasons to buy, or not to buy the new iPhone 4]

There are many things to like about HTC's Desire, including Android 2.1, the ability to actually view Web sites with Flash, enough processing grunt to cope with screen scrolling and app-switching, and a beautifully bright AMOLED screen. Then there's the 5MP camera, the "polite ring" feature which dims the ringer when you pick up the phone, and...we'll stop there.
But that's not the only reason to care. For some, the appeal of Android is the ability to buck the popular brand for a device that's doesn't force you into one way of doing things. In the case of the HTC Desire, this means not being tied to iTunes, but it goes beyond that.

Pick up the Desire handset, and it's immediately apparent that you're going to be using this phone in a different way to an iPhone.

The Desire's 140 homescreens
The difference is customisation. Like having several desktops for your apps? The Desire lets you create seven different homescreens - you can view them using a "helicopter view". Not enough? These seven homescreens constitute one "scene". The Desire apparently lets you create a ridiculous 20 scenes, adding up to a total of 140 screens to play with.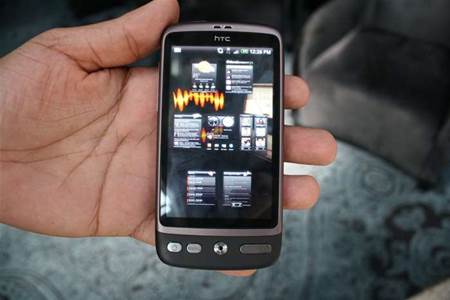 "Helicopter view" on the HTC Desire - it's possible to add 20 of these "scenes"
Why anyone would need 140 screens we're not sure, but it's a hallmark of the Android way of doing things.
In contrast, Apple's specs for the iPhone 3GS quote the ability to add up to 159 apps on 11 different home screens. Quite possibly enough to keep many users satisfied but still a very different experience to Android, which allows each screen to be customised and show refreshed data like Facebook updates.

The Desire also allows for advanced customisation of contact lists. For example, a dual scrolling list allows you to simultaneously browse separate lists of private and work related contacts.
Apps vs data feeds
Phone interfaces are now in several starkly different camps: on the one side, Apple's simple apps-approach, on the other, screens of customisable live data appearing in everything from Nokia's N900, to Android phones from the likes of Motorola and HTC.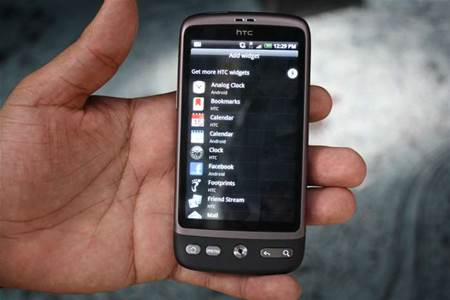 Add a widget - customising your homescreen.

This isn't the first time vendors have tried to nail an alternative to the iPhone interface. As we pointed out here, examples in recent years have included everything from panels to 3D rotating cubes.

In the past, attempts to offer this level of customisation have sometimes resulted in an ugly mess, with the homescreen a jumble of confusing menus and widgets. We were big fans of Nokia's E71, but the N97 is an example of this new style of touchscreen layout that just didn't work for us.

But the new crop of Android phones are getting slicker at this sort of thing. At first glance at the launch event, everything on the Desire seemed to work smoothly and slickly. We'll share more about our experience in our upcoming First Look.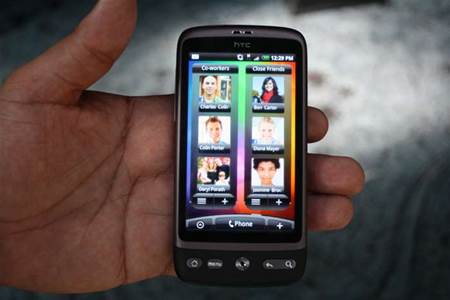 The Desire's customisable contact list. Dual sliders allow you to simultaneously brows lists of friends, workmates, teamates, worst enemies.
The next wave
As well as being an impressive phone, the HTC Desire confirms that the iPhone approach clearly isn't going to be the only way of doing things in 2010. Windows Phone 7 will also push the customised homescreen approach, and we've just got back from a Motorola launch that showed off the ability to add widgets to the home screen.
Stay tuned for our First Look on the HTC Desire.
This being a Telstra phone, Foxtel Mobile is also included