Notebooks
So you want a bigger screen and more processing oomph. Screen size, processing power and battery life might be the obvious specifications to pay attention to when purchasing a business notebook, but there's much more to it. What differentiates a business notebook from a consumer notebook are its integrated security features – key components that are often overlooked by buyers.
As with ultraportables, a notebook with a TPM will enable you to encrypt hard drives to prevent unauthorised access should the computer (or its hard drive) ever be lost or stolen. Business notebooks also often come with additional user authentication mechanisms, particularly smart card readers, fingerprint scanners and soft authentication keys.
A flash card reader and support for Bluetooth makes connecting to other mobility appliances – like phones and cameras – a lot easier, and a docking bay makes the transition from office to the road more bearable. A camera and microphone also makes VoIP calls and video conferencing possible from wherever the user may be.
Good business notebooks, especially those from the major vendors, also tend to come with a suite of security tools to manage drive encryption, smart card authentication, the creation of software security keys, password management, device lockdown and other features.
HOW TO Use Microsoft Remote Desktop
Microsoft's Remote Desktop, sometimes known as Windows Terminal Services has been a feature of certain versions of Windows since the heady days of Windows NT 4.0. In a nutshell, it allows another person to remotely control a PC, meaning businesses can offer tech support to their employees or clients, or administer each PC from a distance4.Both Windows Vista and Windows XP Professional have the capacity to act as either client (the controller) or server (the PC being controlled). Here's the process for setting up a simple connection Windows Vista: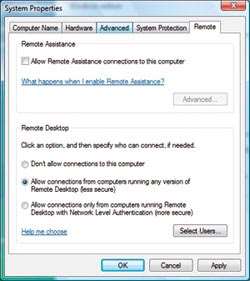 1.
Go to the PC you want to control remotely (the server). Open the Control Panel and double click the System icon. On the left hand side, click on 'remote settings'.
2.
Under the Remote Desktop section, select the second radio button: 'Allow connections from computers running any version of Remote Desktop.'
3.
Click Select Users. This is a list of the Windows Vista users that are allowed to access the PC via remote desktop. Administration accounts are automatically added to this list. When you're done, click OK and close the system properties.
4.
Now go to the client system (the one you want to use to do the remote controlling). Click on the Windows button | All Programs | Accessories | Remote Desktop Connection. In the Computer field, enter the IP address of the computer you want to control. If the PC is on the same local network as you, you may be able to browse for its Windows name instead.
5.
Click Connect. If it's working, a window should pop up asking you for a user name and password. This has to be one of the users you authorised on the PC you want to connect to. A new window will pop up then, and you'll see the desktop of the remote PC inside it. Use it as if you're sitting in front of it.
6.
If it's not working, it's probable that the remote PC is behind a firewall and it's blocking the TCP port 3389 (see Networking for mroe information on ports). If you're trying to remote control a PC over the Internet (rather than over a LAN), and you have a firewall router/modem, you have to set up port forwarding. On the router to which the server is connected, forward port 3389 to the IP address of the server.