We look at network attached storage devices for a range of small business needs – from basic file-sharing to advanced network features.
In part one of our feature series on network attached storage (NAS), we explained the benefits for small businesses of using one of these devices – and what to look for when buying one.
Here we look at a range of NAS devices on offer. We asked vendors to nominate their most appropriate products for three situations: basic file sharing for a small workgroup; for larger workgroups and offering the ability to run additional applications such as a web server; and for more advanced workloads such as virtualisation.
If you're not sure what the specifications mean, just refer to part one of the series.
Entry level
Price: from $159.95
This entry-level NAS from D-Link allows you to install one or two hard drives into the chassis – no tools required. If you have a pair of drives are installed, you can set them up in RAID1 configuration, so if one drive fails it can be replaced without loss of data and without shutting down the DNS-320L. A USB 2.0 port allows connection of an additional drive for more space or backup. Software is included for backing up PCs to the NAS and the NAS to the cloud. A four-bay version (DNS-340L) is also available, with support for RAID5 and 10.
Street price: from $440
Netgear's two-bay RN212 and four-bay RN214 are available with 2TB or 3TB drives, but can be fitted with up to 6TB drives for a total of 12TB or 24TB. Two Gigabyte Ethernet ports allow simultaneous access by more users without performance degradation, and the snapshot feature makes it possible to recover old versions of files. Anti-virus capability is included, and the 'bit rot protection' feature helps ensure file integrity. Backup from one ReadyNAS to another is a standard feature, along with online backup to ReadyNAS Vault or Dropbox.
Price: from $649
Qnap put forward a relatively high-spec NAS for this category, but the reasoning seems to be that the functionality is pretty much the same across the range and it's the hardware details that vary. So this four-bay model (the TS-251+ is the two-bay equivalent) includes advanced features such as running virtual machines (VMs) and containers. You can even plug in a keyboard, mouse and monitor for use with a VM. Returning to the basics, maximum capacity is 40TB (with up to 80TB more in an expansion chassis), and there are dual GbE ports plus two USB 3.0 and two USB 2.0 ports. ClamAV-based antivirus is included, with the McAfee scanner as an optional extra. Snapshots provide a convenient way to locally recover older versions of files, while backup to another NAS, FTP server or cloud storage is supported, along with file sync to services such as Google Drive and Dropbox.
Price: from $269
With two bays, Synology's DS216j can provide up to 20TB of storage. There's support for syncing with a wide variety of cloud storage services including Amazon Cloud Drive, Dropbox, Google Drive and Microsoft OneDrive. PCs can be backed up to the NAS, and the NAS can be backed up to another DiskStation, external drives or cloud services including Amazon Web Services S3 and Microsoft Azure. Synology's software includes some interesting and useful features such as a search engine to make finding files quicker and easier, and a variety of add-ons, including web systems WordPress, Magento and SugarCRM, have been packaged by Synology for ease of installation.
Street price: from $550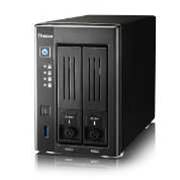 Like most devices in this category, the N2810 has two bays and supports drives up to 10TB. PC backup to NAS is included, along with NAS to cloud and NAS to external disk backup. An interesting aspect to Thecus's approach is the ability to set up a pair of NAS devices that are automatically kept in sync and if the primary goes out of action for any reason (deliberate or unintended shutdown, disconnected network cable and so on), the secondary automatically takes over. The N2810 also includes dual GbE ports with load balancing and failover to make the most of the network. The usual media server features are included, but notably there is an HDMI interface for direct connection to a screen for playback.
Price: from $349.99
See our recent review of the My Cloud EX2 Ultra.
Midrange
Street price: from $219.95
The DNS-327L is generally similar to the entry-level DNS-320L, but with a faster processor and more memory for better performance. It also sports a USB 3.0 port for faster backups to an external drive.
Street price: from $480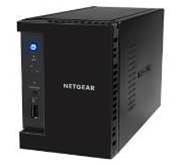 A more powerful processor than the RN200 series means the RN312 can handle more demanding workloads. Netgear says it is suitable for 1-16 concurrent users, up to twice that of the RN210 series. Maximum capacity is 12TB (two 6TB drives), but adding the EDA500 expansion unit increases that to 42TB. There's also the RN314 and RN316 with four and six drive bays, and all three come with a five-year warranty. Other features of the RN300 series are generally similar to those of the RN200.
Price: from $749
Qnap's TS-453A features four bays, four GbE ports, four USB 3.0 ports – and it almost doubles the read and write performance of the entry-level TS-451+. The same expansion enclosures are available, allowing the use of up to 12 drives in total. Software capabilities are generally similar to those of the TS-451+, but Qnap is positioning the TS-453A as being particularly suitable for developing or running Internet of Things (IoT) related software.
Street price: from $640
With four drive bays, Synology's DS916+ offers a maximum capacity of 40TB (90TB with the optional expansion chassis). Three USB 3.0 and one eSATA ports allow for the connection of external drives (for backup, for example). Dual GbE interfaces provide extra throughput and allow for failover. Unlike the entry-level DS216j, the DS916+ supports solid state drives. In addition, the limitation on the number of concurrent file transfers is increased from 128 to 512, and the number of supported surveillance cameras from 10 to 40. More advanced users can run software within Docker containers on the DS916+, as they can with the DS1515+ (see below).
Street price: from $940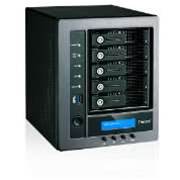 Two of the N5810PRO's features caught our attention: it has a built-in uninterruptible power supply (UPS) so there's very little chance of data corruption if the power fails, and there are five GbE ports to allow aggregate throughput of up to 500MBps (around five times that of the low-end models above). Five drive bays mean it can store up to 50TB, with hot-swappable drives and provision for a hot spare. Other features are generally similar to the N2810 as they share the same software.
Street price: $3500 (with 32TB of drives)
While the PR4100 has four bays, the maximum capacity drives certified by WD are 8TB, so the upper limit is currently 32TB. The usual backup features are included, but the PR4100 has a handy one-button feature for backing up external devices such as hard drives and cameras (three USB 3.0 ports are standard). Dual GbE ports boost network performance and availability, and the dual power supplies can be connected to different circuits to minimise the risk of outages (external UPS support is provided). As with the EX2 Ultra, a range of apps can be installed to provide additional functions.
High-end
Price: TBA
This six-bay NAS is available in various configurations with 18TB to 36TB of storage, or in diskless form that can be populated with up to 10TB drives for a total of 60TB. Optional expansion chassis boost the maximum to 110TB. With a relatively powerful processor and a generous amount of memory, Netgear says the RN526X is capable of supporting more than 20 users, and the inclusion of dual 10GbE interfaces makes this model especially suitable for use in conjunction with one or more servers (the RN526X is certified for use with VMware for virtualisation). The usual ReadyNAS features such as backup are naturally included, and three USB 3.0 and one eSATA ports allow connection of external disks.
Price: from $1920
The TVS-682's drive bays are out of the ordinary. There are four conventional bays for 3.5in hard drives, two for 2.5in SSDs, and a pair of M.2 SSD connectors. M.2 is a relatively new connector standard that can be used with various types of devices, but PCIe M.2 SSDs are significantly faster than regular SATA SSDs (which in turn are faster than traditional hard disk drives) – although regular PCIe NVMe SSDs can also be installed. The TVS-682 can automatically move the most frequently used data to the fastest storage, or you can manually create partitions on a particular type of storage. Additional capacity can be installed via an expansion chassis or external USB drives. The TVS-682 is said to be suitable for use in VMware, Citrix and Hyper-V environments, and four GbE ports provide the bandwidth to keep up with that fast storage and allow isolation of different types of traffic. The hardware design even allows the installation of a graphics card, which can be used for computationally heavy virtualised applications.
Price: from $979
Suggested by Synology for businesses that need lots of fast storage, the five-bay DS1515+ can provide up to 50TB – and with two optional expansion chassis that increases to 150TB. One or two SSDs can be installed in place of hard drive to maximise performance by caching frequently used files, but that comes at a cost of reduced total capacity. Four GbE ports help get the data on and off the network as quickly as possible, while four USB 3.0 and two eSATA ports provide speedy connection for external drives (for backup, for example). While the specs and features of the DS916+ and DS1515+ are fairly similar, the latter is more expandable and Synology says it is capable of handling a greater volume of emails and more email clients, as well as more Docker containers than an unexpanded DS916+.
Street price: from $1250
Seven bays (with a potential capacity of 70TB) and a fast CPU mean the N7710 should have enough performance for demanding small business applications. Twin GbE ports are standard, with one 10GbE as an option. Like Netgear's RN526X, the N7710 is VMware certified. Multiple RAID configurations are available simultaneously, so you can cater for applications that need different balances of performance and protection with one NAS. A generous eight USB ports – six USB 2.0, two 3.0 – make it easy to connect external drives, optical disk drives and other devices.
Note: Unless otherwise stated, the prices above don't include drives, so you will need to factor that cost in when weighing up your options. Most pricing was provided by the vendor, but where it wasn't provided, we used a typical street price. We have not reviewed or tested – and therefore do not necessarily endorse – any of the products listed here. The above list of NAS devices is by no means exhaustive. It's intended to be an introduction to products, prices and features on offer.
In part three of this feature series, we've provided some further tips for choosing, configuring and using a NAS.