Windows 8 is here, but what if you want to get Windows 7 and don't know where it is sold or how to find it? Read this article to find out how.
There are still plenty of options for buying Windows 7 PCs if your business isn't ready yet to make the leap to Windows 8.
Walk into your local electrical retail giant such as Harvey Norman or JB Hi-Fi and you'll probably see row upon row of shiny new Windows 8 machines, but Windows 7 is far from dead.
Even if you can't see Windows 7 on the shelves, look closely and you'll find that some computers running Windows 8 Professional offer the option to downgrade to Windows 7 Professional for free. It's also possible you might still find a few computers on the shelves with Windows 7 installed and a tag offering the option to upgrade to Windows 8 for a few dollars.
Meanwhile business-focused retail chains such as Harris Technology, or a dedicated computer store, are more likely to sell you a business machine with Windows 7 Pro installed. These computers often come with a Windows 8 Pro license, so it's free to upgrade to Windows 8 Pro when you're ready.
Yes, you can downgrade from Windows 8 Pro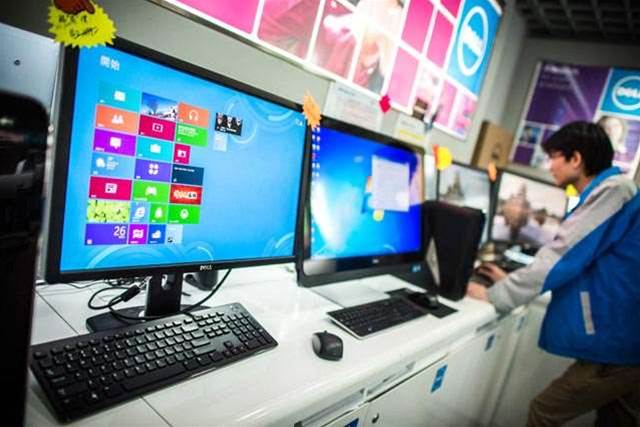 Under Microsoft's rules
, if you buy a computer with Windows 8 Pro installed you've the right to downgrade to Windows 7 Pro or Windows Vista Business for free. Business-focused computer stores will basically perform the downgrade for you, so your computer comes with Windows 7 Pro pre-installed but you've paid for Windows 8 Pro. Thankfully you don't need to be a business with an ABN to take advantage of this, anyone can buy a Windows 8 Pro machine and downgrade.
What if my computer has standard Windows 8?
Keep in mind that you can only downgrade Windows 8 Pro, not standard Windows 8.
If you want to downgrade a standard Windows 8 computer, you're first expected to pay around $60 to upgrade from Windows 8 to Windows 8 Pro. Sometimes you've the option to pay extra for Windows 8 Pro when you buy your computer, or you might do the upgrade yourself.
Is my computer compatible?
It's free to downgrade from Windows 8 Pro to Windows 7 Pro, but you'll need to check whether your exact make and model is actually compatible with Windows 7. Don't just buy any Windows 8 Pro computer and hope for the best.
If it's a new-model computer then it's possible that Windows 7 drivers simply aren't available for all the components, such as the touchpad, Wi-Fi card or graphics chip. Driver compatibility is particularly troublesome when it comes to laptops, so look before you leap.
If you're wondering whether a Windows 8 machine will run Windows 7, don't just take the word of the sales staff in the store (especially if they're selling home theatres and washing machines alongside their computers). Dell recommends asking a Dell sales rep via online Chat or the phone before making the purchase, or else checking the sales support page for driver availability. Going straight to the manufacturer for advice is a good tip whatever the brand.
Where can I find computers with Windows 7 already installed?
If you don't want to go through the hassle of performing a Windows 7 Pro downgrade but you can't find what you want in a store, check the websites of the major PC vendors. In particular, you'll find that many business models still come with Windows 7 Pro pre-installed by default.
For example:
Looking at Dell's computers designed for home users, your only options are Windows 8 or Windows 8 Pro. It's not until you get to the Alienware high-end gaming computers that you're offered a choice of Windows 7 Home Premium or Windows 8. But if you look to the business workstations, even the entry-level Vostro desktops come with Windows 7 Pro by default, with the option to upgrade to Windows 8 for free.
It's a similar story over at the business-focused Lenovo where even the budget workstations come with Windows 7 Home Premium by default.
Likewise Toshiba's consumer-focused notebooks such as the Satellite range come with Windows 8, but business-focused notebooks such as the Satellite Pro and Portege 9x range generally come with Windows 7 Professional and the option to upgrade. Others like the Portege 10x range only come with Windows 8 Pro.
What if I have to do the downgrade to Windows 7 myself?
Whichever model you choose, double-check Windows 7/8 compatibility with the vendor before handing over your money. If you'll need to perform the downgrade yourself, ask what your options are for obtaining a copy of Windows 7 Pro. Some vendors provide a code for downloading Windows 7 Pro from Microsoft, while others include a Windows 7 Pro disc in the box. Others might expect you to source your own copy of Windows 7 Pro and install it using your Windows 8 Pro product key.
What about buying Windows 7 without a new computer?
If you want to run Windows 7 then another option is to buy a retail copy of Windows 7 and install it yourself on a new computer. A full retail version of Windows 7 Home Premium will cost you around $300, while a full version of Windows 7 Pro sells for around $450. It's less if you're upgrading from an earlier version of Windows rather than performing a clean install.
You will need to hunt around for retail copies of Windows 7, but they are around. We couldn't find them on several well-known web sites, including Harris Technology and Dick Smith. But we did find Windows 7 copies listed on the
Officeworks web site
.
A cheaper option is to buy an Original Equipment Manufacturer (OEM) copy of Windows 7, which costs around $200 for Windows 7 Pro. If a systems builder or computer shop is building a computer for you then you're entitled to buy an OEM version of Windows 7.
Even if you're going to build your own computer, some computer stores are happy to classify you as a systems builder and sell you an OEM copy of Windows 7 to install on your own computer. In the past you were forced to buy a PC component to go with it, even something as simple as a mouse, but that shouldn't be necessary with an OEM copy of Windows 7.
It's important to understand
the difference between a retail and OEM copy of Windows 7
(although Microsoft has been accused of being deliberately vague as to the finer points). The main differences are that you can only perform a clean install with an OEM copy, and you can only install it on one computer. If you buy a new computer, you're not permitted to transfer your OEM copy of Windows 7 from your old computer to your new one. Instead you're expected to buy a new copy of Windows for the new computer.
Microsoft is yet to announce a cut-off date for selling retail and OEM copies of Windows 7, although looking at the
Windows product lifecycle
it seems to us that the very earliest Microsoft would stop selling OEM copies of Windows 7 is October 2014. Similar to Windows XP, the popularity of Windows 7 means it's likely to live on for a few years longer than that.
What about retail copies? Again, while the Microsoft site says that cutoff date is yet to be determined (at the time of writing), the site states that retailers will be allowed to keep selling a previous version of Windows "for a year" after the launch date of the new version. Based on the timeline at the link above, that would mean Windows 7 could in theory be sold up until October this year.
What if my business has five or more computers?
If your business is large enough that you have five or more computers and you're on a "volume" or "open" Windows license, then we understand that your license includes downgrade rights too.