We select the best-value camera drones, with features to suit everyone from business users to flying enthusiasts.
Flying drones is a fun and fast-growing hobby. And as we have previously reported, drones are also increasingly being used in business – for real estate advertising, for difficult or dangerous building inspections, to assess the health of crops on farms, for marketing landscapers and wineries, and for other businesses where aerial photos and video can be useful.
Whether you do it for fun or business, it's exciting to take to the air and with the high-quality cameras mounted on most modern drones, you can capture stunning aerial footage, too.
It's important to choose the right drone, though. The hardware isn't cheap, and if you're a beginner, you want a model that's easy to fly, with plenty of safety features to ensure you don't crash your new toy – or accidentally fly it off into the blue yonder and lose it for good. Enthusiasts and business users, meanwhile, will value features like camera quality, speed and range.
Other considerations include battery life – these things don't fly forever – and video streaming capabilities, which can beam live footage straight to your smartphone or even a headset, offering a first-person view from your drone.
Finally, you need to be aware of the Civil Aviation Safety Authority's regulations for flying drones and comply with them because the fines for non-compliance can be very hefty. In particular, the regulations differ between recreational flying, commercially flying drones under 2kg and over 2kg, and flying one over your own property. CASA also points out there are potential privacy issues in operating camera drones.
With this in mind, here's our guide to five of the best sub-2kg drones, at prices ranging from around $400 to $1,900, with a range of features to suit everyone.
1. DJI Phantom 4: A fantastic high-end drone with an excellent camera
Price: $1,699
Flying a drone is fun, but there's a learning curve, and crashing can be expensive – and dangerous. The DJI Phantom 4 (pictured above) features automatic object-avoidance, thanks to a pair of small, front-facing cameras. If you're inexpertly flying it towards an obstacle, it will either stop in its flight path or neatly whizz around it.
Other smart features include Tap Fly, which lets you send the drone to a particular location by simply tapping your desired destination on the DJI smartphone app, and an optional Beginner mode, which prevents the drone from flying more than 30 metres away from you. The controls also feature a pause button to bring the Phantom 4 to an immediate stop if you've lost your bearings.
All of this makes the Phantom 4 ideal for novices, but there's plenty here to excite enthusiasts too. It's possible to fly at up to 72kmh, and the 5,350mAh battery promises 28 minutes of flight time. Add in a fantastic 4K camera for aerial photography and you have the best drone around. It isn't cheap, although at the time of writing its price had been marked down from $2,399 to $1,699, making the Phantom 4 very good value for such a high-quality done – and if its object-avoidance technology prevents a crash then it's probably paid for itself.
2. DJI Phantom 3: A high-quality drone that's now excellent value
Price: $689
Though technically superseded by the Phantom 4, the Phantom 3 is still on sale – and at a knock-down price that makes it well worth considering. With GPS, digital compass, altimeter and gyroscopic sensors, it's capable of hovering completely steady, all the while recording high-quality 2,704 x 1,524-pixel video footage – or 4K on the $1,399 Professional model. And since the camera is mounted on an active, motorised gimbal, the image remains steady as a rock, even in moderate winds or close to the ground, for seriously professional-looking results.
As with the Phantom 4, there's a Beginner mode that restricts range and altitude until you're comfortable with the flight controls. And the remote control lets you strap on a smartphone or tablet for a live drone's-eye view, streamed directly from the Phantom 3.
In all, the Phantom 3 is so competent and easy to pilot that your only question might be where to fly it: as with all such drones you need to be at least 50m away from people, buildings and roads, and 150m away from congested areas. But if you have somewhere to fly it and are keen to get aboard the drone bandwagon, the DJI Phantom 3 is a great and affordable place to start.
3. DJI Mavic Pro: A fully fledged drone that'll fit in a rucksack
Price: $1,699
The Mavic Pro is a highly portable drone: for transport, its rotor arms and blades fold away, and you can easily pick it up with one hand and stow it in a rucksack. Unfurl it and it's a top-class drone, with much in common with the DJI Phantom 4, including the stabilised 4K camera.
Getting airborne is simplicity itself. Once you've calibrated the compass, all you need do is tap the Take-off button in the DJI smartphone app. The drone leaps into the air then sits there, awaiting your next command. DJI's optional Beginner mode limits speed, and built-in sensors help the Mavic Pro avoid crashing into obstacles.
Like the Phantom 4, the Mavic Pro can be flown at high speed (up to 65kmh) – although you lose obstacle avoidance in this mode – and again Tap Fly lets you fly directly to points on the map. There's also a surveillance mode, in which the drone circles an object, pointing the camera at it the whole time.
With up to 27 minutes of flight time per charge and a promised range of an astonishing 7km, the Mavic Pro is a very impressive drone, and tremendously transportable to boot.
For more details, see our full DJI Mavic Pro review.
4. Parrot Disco: A fun and unusual drone that's great fun to fly
Price: $1,899
The Parrot Disco is an unusual sort of drone: it's not a quadcopter, but rather a fixed-wing remote-controlled aeroplane. The good news is it's just as easy to get started as a regular drone. You can launch it by simply turning on the motor and throwing it into the air, at which point it automatically flies into the sky and circle above you, awaiting your input.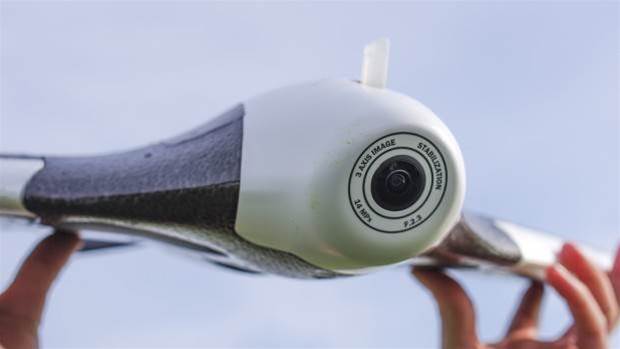 Once you're ready to take control, you'll find the Disco very responsive: you simply use the twin joysticks on the remote control to bank, dive and control speed. Like most drones, the Disco comes with a camera in the nose for recording your flights in 1080p resolution. More unusual is the smartphone-driven VR headset that streams live video to your eyes, for the ultimate first-person flying experience. There's even a heads-up display, so you know how fast you're going, how high you're flying and how much capacity the battery has remaining. Flight time is an impressive 45 minutes, with a range of 2km at speeds up to 80kmh.
All told, the Parrot Disco is extremely easy to get to grips with, and great fun to fly. The only caveat is that in order to land safely you'll need a wide open space: the Disco glides to the ground like a plane, rather than descending vertically like a helicopter. But if you're lucky enough to live near a suitable spot, it's a blast.
Like the Phantom 4, the Disco was also being discounted at the time of writing, down from $2,399 to $1,899, which also includes Parrot Skycontroller 2 and Cockpitglasses.
5. Propel Star Wars drones: Fun little flyers that let you battle your friends
Price: US$200 (plus shipping)
While other higher-end drones here are ideal for businesses or enthusiasts, Propel's Star Wars drones are obviously purely for fun. There are currently three models to choose from: a TIE fighter, an X-Wing and a Return of the Jedi speeder bike, with the Millennium Falcon joining the roster in the new year.
They're nippy little vehicles, going from 0 to 56km/h in just three seconds; beginners can activate a virtual ceiling and floor, and use the app-based training mode to sharpen up their flying skills.
The real point, however, is to battle with friends. Each drone is equipped with an infrared laser, allowing you to engage in aerial combat with up to 23 friends, with authentic sound effects emanating from the controllers. When your ship is hit by hostile fire, it rocks and the controller vibrates: get hit three times and your drone automatically spins to the floor.
Battery life and range are nowhere near what you'd expect from a "serious" drone: you can expect around eight minutes' flying time on a charge, and a range of up to five metres. But if you've ever fancied zooming around in a spaceship of your own – and, perhaps, firing off lasers at your enemies – these Star Wars drones are a fun and affordable way to live out the fantasy.
The only downside is the Star Wars drones don't seem to be readily available in Australia; you may have to buy from Propel's global website.