Total cost of ownership
Now that you have some idea about the types of technology and what your business needs, it's time to talk about running costs. It's a prime concern for any hardware or service, but it's in the controversial world of ink, paper, and consumables that where TCO makes the biggest impact.
Calculating TCO is simple if you factor in every component. Typically, this involves the initial cost of the printer, installation, paper and ink. However, such a simple equation won't yield an accurate TCO for every situation, so you'll need to probe deeper.
Starting with laser printers, such a simple TCO calculation would be particularly disastrous, due to its variety of consumable components.
All laser printers consume toner and paper, however, depending on the specific printer, you may need to factor in image drums, fuser units, waste toner containers and transfer belts – all of which may last for different lengths of time before needing a replacement. Fortunately, most manufacturers will supply these details (if not, insist on it or look elsewhere), though they may be buried among a cloud of specifications. You'll mostly find the relevant information under 'yield' or 'duty cycle', and most will be quoted at a total page coverage of five percent.
Now you can start painting a picture of how much of your printer might cost the business. After creating a list of how many pages each component can print before being replaced (as well as the price of each component), you can factor in your ballpark page count discussed earlier. Then, add in the cost of the printer and the paper, and you'll have your magic estimated TCO per year.
Inkjets might not be used as much as laser printers in the office, but TCO is just as important. Unlike laser printers, inkjets are often sold at low prices, with high margins on the ink cartridges. Further complicating the issue is the way different ink cartridges work – if you have a four-colour cartridge and one colour runs out, the entire ink cartridge may need to be replaced. Add in the vendor 'lock-in', where the printer will often work best with its official inks and paper, and you may find yourself sitting on a money sink. Note, however, that third-party inks and paper are available, but they vary in fade resistance and quality.
SAVE THE PLANET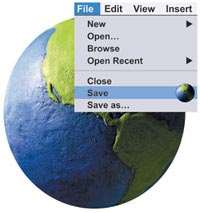 As the concept of recycling continues to approach the forefront of people's minds, it's important to turn that attention to PC equipment and printers. At worst, some components can leak toxic chemicals into the environment, and at the very least, thoughtless waste disposal lets those valuable resources fester in a landfill, rather than being reused. Fortunately, in regards to printing, many manufacturers offer ink and toner cartridge recycling, and some will even collect the consumables for you. Other components and peripherals can also be recycled, and we encourage you to visit your manufacturer's website for specifics. To find the nearest recycling centres, head to
http://recyclingnearyou.com.au
.
The key element in working out TCO is that it's far more complex than it may first seem -- two businesses running the same printer may have vastly different annual costs depending on how much they print. For example, a cheap laser printer may have relatively cheap toner, but its other components may be expensive to replace and have shorter life spans. On the other hand, that printer may be perfect for a business printing 4000 pages a year, compared to one printing 20,000.
Put simply, the impact of TCO on printing can't be overstated. Laser printers require a complicated analysis due to their range of consumables, however the inkjet business model of charging high margins on replacement inks and third-party alternatives makes it an equally thorny affair. Fortunately, much of the information you need to make an estimate is available, and publications like PC Authority regularly run independent printer tests to verify manufacturer claims and give the lowdown on TCO.
Business Startup Guide continues:
Networking