A complete package
It's now time to look at the printer as a unified whole. It could consist of page feeders, an interface panel, an Ethernet port, memory card readers, print drivers, and maybe even a scanner, copier and fax. In other words, printers can be much than printers.
Starting with how a printer connects, you'll have three options. The first is Ethernet, which means it can hang directly off your network, rather than being first connected to a PC. This has the primary advantage of being a dedicated, centralised printer which can be administered via the network – perfect for any networked business.
The second main type of connectivity is USB or USB 2, which must typically be connected to a PC or server. This can work in a small office, but it depends on the PC or server it's connected to be firstly switched on, and secondly to be capable of handling the printing queue. Finally, some printers still support the older parallel ports. Parallel ports are slower than USB, which may create a bottleneck for bigger print jobs. Finally, some printers will also accept USB drives, allowing you to print directly from the drive.
Next up, think about the printer as you would think about a PC. Every printer does some fairly heavy duty computing, and consequently needs a CPU, memory and user interface that suits its purpose. An underpowered printer with low internal memory will have trouble processing large print jobs, so look for a printer that runs at around 300MHz and includes at least 64MB of RAM (the latter can typically be upgraded). Rounding off the similarity to PCs, you'll discover that hard drives have found their way into printers recently. These can cut down on network bandwidth by storing large graphics for reuse.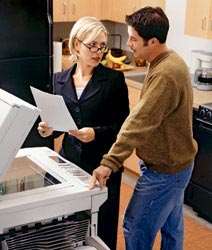 The interface should typically reflect the amount of services the printer (or multi-function device) offers. MFDs that offer copying should have a large LCD display, and straight up laser printers may simply have a two-line display, or none at all. Businesses not wanting sensitive documents falling in the wrong hands can also configure a PIN code for an extra layer of security.
Aside from the printer's user interface, higher-end models may sport their own built-in admin servers. These work by providing a browser-based Web interface, which can be accessed by opening up Internet Explorer or Firefox and putting the printer's IP into the address bar. This will take you to a custom web page, letting you update drivers, and check the status on paper and ink.
Finally, there's paper handling. The input and output trays can heavily impact a printers usefulness, requiring unnecessary paper changes and tray clearing, particularly for big jobs. Extra documents feeders, duplex printing (printing on both sides), staplers and other additions can all be used to save paper and time, making them important considerations.