Right for every business?
It might look like moving everything to a VM is a must for any IT environment. Be careful, it isn't. Traditional VMs have their own interface, use macros
for common key combinations and require user training.
Application virtualisation gets away from many of the problems of using VMs for end-user applications, but this is a technology in its infancy. Implementation takes time and thought, and you still need to plan your licensing program to ensure you don't run more copies than licences. Get it right, however, and virtualisation of your software assets provides resilience, makes backups simpler and will give you greater longevity for applications across multiple generations of hardware.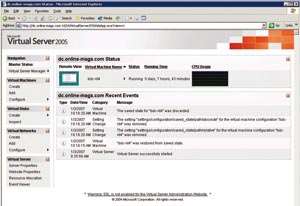 Virtual machines are managed through a browser in Microsoft Virtual Server 2005.
Application virtualisation
The concept of virtual applications has been given a boost with Microsoft's recent acquisition of
Softricity
. The company's SoftGrid works by breaking down applications into packages that don't need to be installed on users' desktops or servers.
Take Microsoft Visio, for example. The entire installation needs more than 150MB of hard disk space, yet the actual amount of code required to run the application is just over 18MB. With SoftGrid, it's possible to plug a computer into your network and run that 18MB to the user across the LAN, or even over the internet to a home user. As the package is lightweight, it can even be distributed to branch offices and streamed off local servers.
This saves IT departments time and money, and also helps with software management – SoftGrid allows IT managers to patch software when necessary, and
keep tabs on how many copies of each program you're running across a company. For organisations with a mobile workforce or with a significant investment in home workers, this solution allows the IT department to keep control of the software licence.
Microsoft claims that unlike thin-client solutions such as Terminal Services and Citrix, SoftGrid can support several hundred users per processor. At the time of writing, we were unable to validate this, but we'll be reviewing this over the coming months when Microsoft makes it more generally available.
Software vendor
Altiris
has its own approach to running multiple versions of an application on the same machine, Virtual Software Packages (VSPs). Applications are installed into a VSP, where they're independent of the OS and other applications. They're also lightweight, as there's no need for an operating system in the VM.
There are a couple of things that make VSPs very interesting. The first is that they can only be used if they're turned on. On computers that are shared by different users, applications can be kept "hidden" from people who don't need access. A second advantage is that you can have multiple versions of an application installed on a computer. This means users can have two versions of an application open side-by-side while they become comfortable with how an upgrade version works. Technical support can then "turn off" the older version when necessary.
This leads to a third advantage. Software migration is fraught with difficulties and when an upgrade fails, the uninstall program can cause even more problems. Contained within a VSP there's no clash, no incompatibility with other installed software and, when you tire of the software, you just turn it off.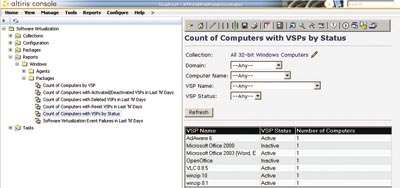 Altiris allows a machine to run multiple versions of an application.