A network is not a one-size-fits-all upgrade. Here's an introduction to finding the best network to suit your needs.

The backbone to any business is the network. At its simplest level, a network's core responsibility is to whip data packets to and fro, over wires or radio waves. However, for a business to give as much consideration to their network as that definition implies would be disastrous. Too often new businesses fail to understand their own business needs before implementing the network, and consequently end up with poor functionality, increased downtime, and eventually paying more to fix the problem.
Part of the problem with networking is the sheer variety in possible configurations and technologies. Due to the flexible, customised approach to networking, the best approach is to look beyond the technology and conduct some preliminary soul-searching on your business. Only after understanding which services you need, what upgrade paths you'll want to explore, and how you plan to grow, will you get the network you need.
To get you started, consider the following four questions. The first should be 'what will my business need to do?'. This is a big question, but if you've read through the four topics prior to this one, you should have some idea as to what kinds of services your network needs to support. Will you take the plunge with VOIP? How about a print server? Do you want to allow remote access? The answers will determine the kind of services your network will eventually support.
Next, consider the 'drain' on the network. Knowing what services the network should support is an important consideration, but you also need to understand how much it will be in use. For example, attaching a printer to the network is great, but if 20 employees are accessing it at the same time, you'll need to look at a print server, more printers, or even a change in policy. Likewise, if your business involves working with large files, you may find that a single person accessing them on a 100Mb/s Fast Ethernet connection is fine, but when you increase the number of users, the network grinds to a halt.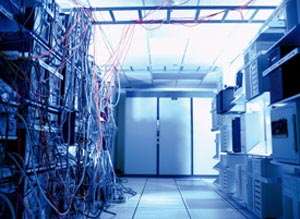 Once you know what kind of services you need and how much they'll be used, you'll need to consider one of the most overlooked elements in networking: 'What kind of space am I working with?'. You may think going wireless instead of wired will save you time and money, but if the signal quality between each office is poor, you'll experience dropouts and slow data throughput that may dramatically reduce productivity. Also, be sure to survey any existing infrastructure – why install wireless access points when every desk has an Ethernet port?
The final consideration is also one of the most difficult to answer: 'Where is my business going?'. Hopefully you should have some foresight into how your business will change in the next 12 months, however any additional planning you can do before you deploy the network will help. It could be something relatively minor, like knowing you'll have employees wanting remote access from home in the future; or it could be a much more significant detail, like a dramatic expansion (or reduction) in the number of staff. Just remember that you want to be as realistically predictive as possible, without restricting yourself to a certain path – which is just good business sense.