How to use the new Smart Replies, self-destruct emails, 'snoozing' and 'nudging' emails and more.
Gmail has looked more or less the same since its inception 14 years ago, and although Google made a bold attempt at rethinking the way email works with Inbox, it never really caught on. Now, after weeks of rumours, Google has introduced a brand new look and a number of new features to the Gmail web app.
Those improvements include AI-backed Smart Replies, self-destructing emails, offline support, better phishing protection, the ability to 'snooze' emails and for unattended emails to 'nudge' you. There's quicker access to other Google apps – and the changes go beyond Gmail, with the introduction of a Tasks web app.
In a blog post, Google said: "Email is a necessity for most of us. We use it to stay in touch with colleagues and friends, keep up with the latest news, manage to-dos at home or at work—we just can't live without it. Today we announced major improvements to Gmail on the web to help people be more productive at work."
Confidential mode
Gmail's new Confidential mode lets you remove the option to forward, copy, download or print messages you send to other people. Google explains this is useful for when you have to send sensitive information via email like a tax return, or personal banking info.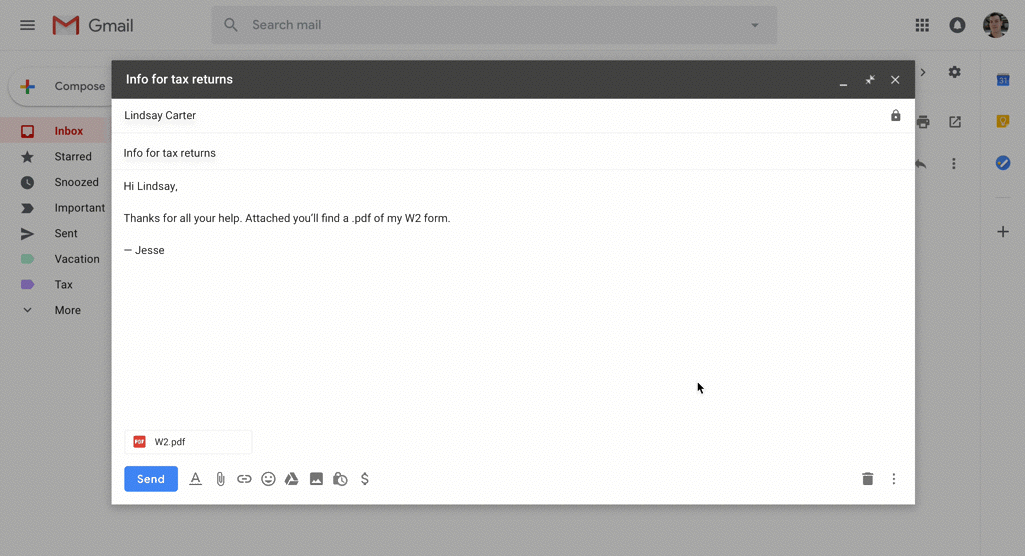 Confidential mode also lets you set an expiry date and time for an email, "to help you stay in control of your information." To use Confidential mode, click the small lock icon in the New Message window. It should be noted, however, that it is possible to screenshot an email and then forward the screenshot.
Snooze emails
If you don't have time to reply to an email straight away, the new Gmail will let you 'snooze' emails, using the new snooze button.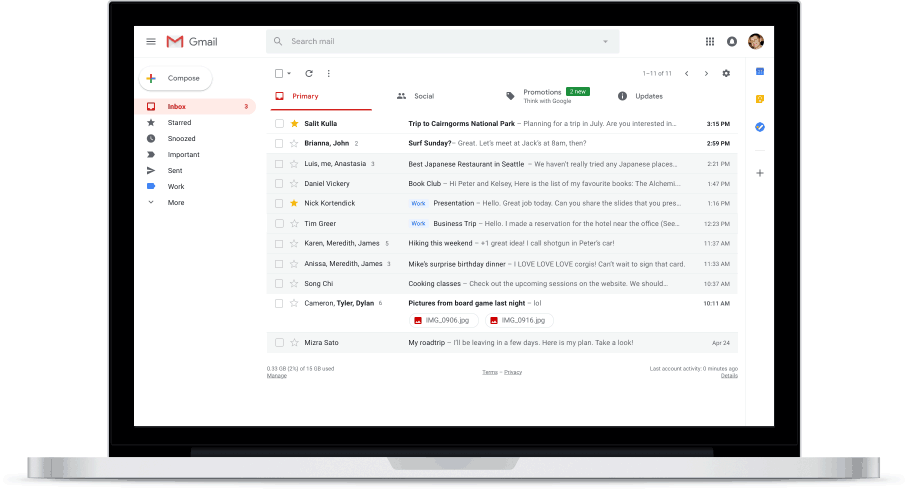 Snoozing emails – letting you set notifications for emails at a time when you want to be reminded about them – already exists in Inbox, so it appears that Google might have been using its alternative email service to hone experimental features before introducing them to its much larger population of Gmail users.
Gmail nudge
In addition to snoozing emails, the new Gmail will 'nudge' you to follow up and respond to messages with reminders that show up next to your email messages "to help make sure nothing slips through the cracks."
Smart Reply
Smart Reply was first introduced in 2015 on mobile apps and lets users hand over the emailing reigns to Google's contextual artificial intelligence. This AI will write a response for you and the more you use it, the more it learns how you typically reply to make such replies smarter.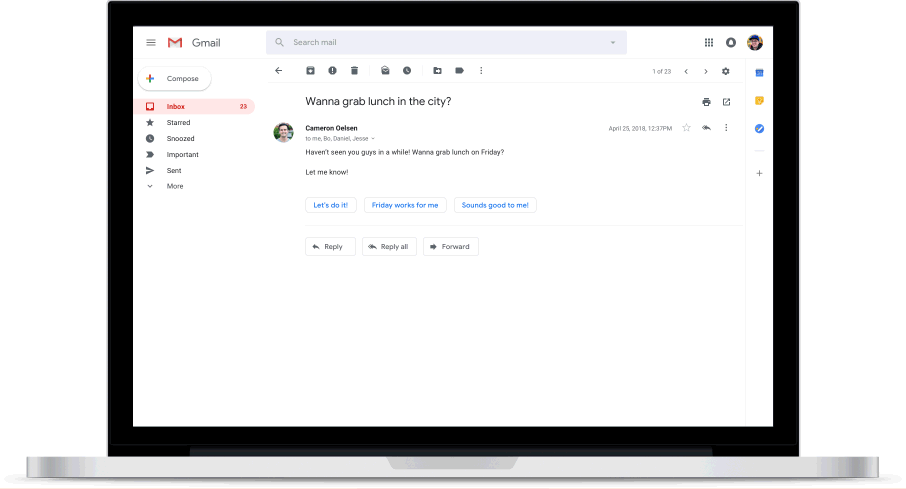 As part of the new Gmail, Smart Reply is coming to Gmail on the web to help you reply to messages faster. In February, Area 120, the experimental team inside Google, announced plans to bring its contextual replies to other chat-based platforms like Facebook Messenger and WhatsApp.
Smarter unsubscribe options
Other smart features coming to the mobile include high-priority notifications that will notify you of important messages "to help you stay focused without interruption".
Plus, Gmail will start suggesting when to unsubscribe from newsletters or offers you no longer care about based on how often you've opened those newsletters or interacted with them.
New security features
As part of the new Gmail, Google has added more security features to protect you against phishing. Using machine learning, Gmail will now flag dodgy emails and potential security threats more clearly.
Previously, Gmail would put a small warning on an email it thought was a phishing attempt. Now, a larger red warning, explaining the danger more simply, will appear to help people understand the risk.
Offline capability
For users trying to use their downtime to stay on top of their emails, a new offline mode will be a huge help.
It allows users to search their email, compose emails, respond to messages and archive up to 90 days of messages offline, syncing the changes when they're connected to the internet again.
Access other Google apps from within Gmail
"Gmail's new look helps you get more done," according to Google. This means you can click on attachments, like files or photos, without opening email threads or scrolling through conversations.
You can also access Google Calendar, Tasks and Keep apps from within Gmail and within email messages using a new panel on the side of your inbox.
Tasks
Google has also introduced a Tasks web app, a new tool that lets users create tasks (and sub-tasks within those), adding due dates for those tasks and notifications to remind you when the deadline is approaching.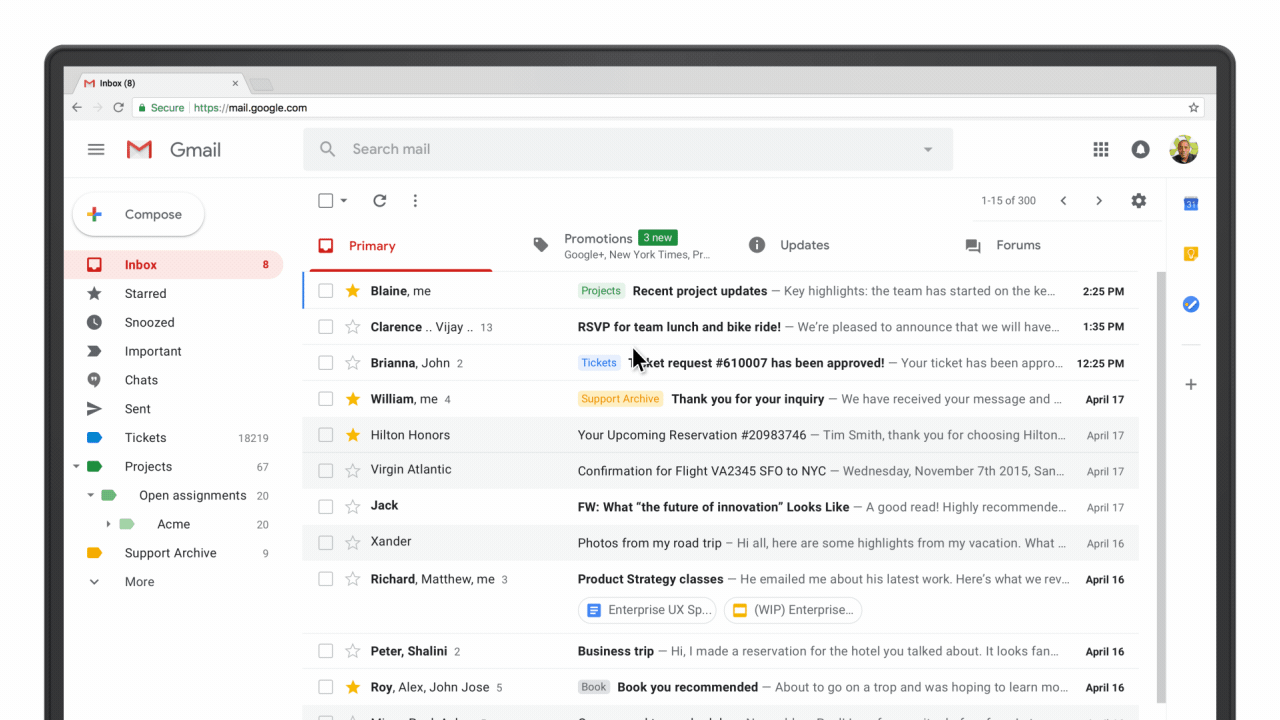 Just dragging an email from Gmail into Tasks creates a new to-do item, and once a due date's added it'll appear in Calendar.
How to get the new Gmail
The new-look Gmail is starting to roll out to personal and business accounts on the web today.
To enable the redesign, go to your inbox on a web browser (it won't work on the app), click the Settings cog icon in the top right-hand corner and select "Try the new Gmail". If you can't see this option yet, it's likely the update is yet to make its way to your account and should appear in the coming days.
Once you have the new look, you can return to the classic view at any time by going to Settings and choosing "Go back to classic Gmail".
This article includes content from alphr.com and IT Pro on the Gmail redesign.