Ever dreamt of taking your small business online? Here's the basics you need to know about finding the right software and getting your site noticed by Google
With a modest budget, a bit of technical skill and determination, it's possible to build your own web business. But some specific technical know-how could give you a crucial advantage over the thousands of entrepreneurs entering the Internet business from a standing start.

At the very least it could save you money on hiring dedicated web developers.
What type of business?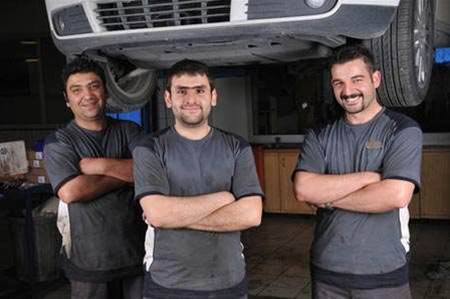 The classic mistake of the web entrepreneur is being over-ambitious. Focus on finding a potentially profitable niche. This might mean claiming a small part of an already well-established and lucrative market. There's little point in taking on dozens of big name clothing chains by selling replica shirts online, for example, but a site could prosper by selling smartly-designed or quirky clothing. Web businesses can also thrive by delivering an everyday service or product that's hard to come by elsewhere.
While the potential reach of a website is often a huge advantage, the benefits of localisation shouldn't be forgotten. Tradesmen such as builders, plumbers or electricians aren't going to turn a profit by chasing jobs from Parramatta to Perth, but a well-targeted local website (such as the as-yet non-existent www.canberradecorator.com.au) could drag in more business than advertising in local newspapers, for example, as we'll see when we look at search-engine optimisation.
Whatever type of web business you choose to run, the crucial factor is to demonstrate the company can turn a profit sooner rather than later. Banks, venture capitalists and angel investors are unwilling to take a punt on websites that can attract hordes of visitors without a clear method to wring cash from them.
Web businesses make money in one of three ways: selling goods or services, through advertising, or via subscriptions. Your business model could encompass one, two, or even all three of those, but it's vital to identify and accurately calculate those income streams beforehand.
How to build your site
The importance of an attractive, cleanly designed site can't be understated - both in terms of appearance to potential customers and search engine optimisation. Sites such as Freelance allow you to pitch your website requirements to freelance designers and have them tender for the job, which can be a cost-effective method of finding short-term design help.
Remember, however, that you'll need to update the content of your site frequently. Paying a freelance designer to change a photo could become both costly and time-consuming. Ensure that you know how to make basic changes to your site's content and that you retain full control of the domain registration and hosting, in case you need to move your site.
If you don't want a dedicated web designer, it's possible to go it alone. Microsoft's Office Live and Google Sites allow you to build rudimentary, template-driven sites. But they all look similar, offer little flexibility, and you can forget about e-commerce features. They're a quick way to get a web presence, but not an option for anyone looking to make a living online.


Site-builder services from hosting companies such as Web Central offer more advanced features, such as the option to include online stores, blogs, promotional tools and full visitor statistics. These, too, are usually template-driven, but are more elaborate than Microsoft and Google freebies.
Be aware that although SiteBuilder tool comes free with Web Central's shared hosting plans, extras such as an e-shop, forums and online voting tools cost extra, and transferring your website and store front to another provider may not be possible.
Another possibility is using a ready-made platform, such as WordPress. It's best suited to content-driven sites seeking ad revenue, but WordPress plug-ins allow you to add store fronts.

A Content Management System (CMS) offers the most flexibility to design a fully featured website. It needn't cost the earth either: free CMSes such as Drupal and Joomla power many commercial websites. The CMS stores all the website's text, photos and videos in its database, and provides forms for entering new articles on to the website, making it easier for employees who aren't fully versed in HTML to update the site.
Not all small businesses will want to take the trouble to set up a CMS, especially if they lack technical skills. Some ISPs provide a managed CMS service, but you'll still need to learn the ropes.
Software such as Mr Site Takeaway Website Pro can also be used to design a shop front .
Attracting search engines
Setting up a website is half the battle - the hard part is drawing people to your new site. Marketing and word-of-mouth will draw visitors, but attracting the attention of search engines is critical to the success of most web businesses. Google accounted for 87% of the searches that took place in Australia in February, which means you should focus your energy on improving your Google rank, and treat success on any other search engines as an added bonus.
Google offers plenty of advice on search engine optimisation (pdf), including the linked PDF starter guide that's essential reading before you start designing the structure and content of
your website.
There are some fundamentals to getting your site noticed by Google's spiders.

Submit to Google


Submit both your URL and sitemap to Google and the other search engines. If you rely on regional business, make sure they're registered in the Local Business Centre too.
This lists your company name, address, brief description and even basic promotional materials. Your site is then listed on Google Maps, ensuring your business appears on the map and listings at the top of the search results when someone searches your location or business type in Google.
Much of the good practice boils down to common sense. If your site is cleanly laid out and easily understood by human visitors, a search engine will have no problem. Pages should be clearly titled, with the <title> tag appearing within the <head> tag of the HTML, and each page uniquely titled.
Product pages
If you're selling goods on your site, you should give each product its own page. This allows you to get the product name in the <title> tag of the page, making it more likely that Google will rank the page when people search for that product name. Sites such as Amazon list the name of the product in the page's unique URL, too.
This makes the URL more digestible for visitors, and Google will bold the part of the URL that contains the searched-for keywords, making it more likely your site will stand out in a long list of search results (type "U2 achtung baby" into Google to see an example).
Also pay attention to the description metatags on your site. This gives you the opportunity to provide a brief description of the content of a page, and often appears beneath the page's title in Google's search results. You've got 160 characters to make the text concise and containing the keywords that describe that page.
Encourage linking
Also useful is encouraging other sites to link to your own. The more authoritative the site that links to you, the better, although trying to convince major media outlets to write about and link to your small business isn't exactly easy. Here it can pay to be creative: an entertaining blog that displays your expertise can not only gain a loyal readership, but attract links and drive traffic to your website.
Don't let your site become static
A regularly updated website with lots of interesting, well-written content will help boost your Google ranking. Think laterally: a website selling spare parts for vintage cars could provide an illustrated guide on how to change spark plugs, for example. Guides can attract traffic to the site, and give visitors confidence that the people they're dealing with are experts.
You may decide to seek professional help with your search engine optimisation (SEO). There are hundreds of so-called SEO experts out there. Some are genuine, but some could end up costing a naive website owner thousands of dollars for nothing more than a spot on Google's blacklist.
"Deciding to hire an SEO is a big decision that can potentially improve your site and save time, but you can also risk damage to your site and reputation," Google advises. "Make sure to research the potential advantages as well as the damage that an irresponsible SEO can do to your site."
Be wary of any SEO company that guarantees it can get you to the top of Google rankings for your chosen keyword, for instance. You can't buy your way to the top of Google's search rankings and, despite claims to the contrary, no SEO expert has "cracked the secret" search algorithm.
Steer clear too of any SEO firm that encourages you to swap links with other members of its client base - especially websites that have no direct relationship to your business. Google rewards sites that attract genuine links from other relevant businesses, but punishes sites that attempt to build artificial "link farms".
Google Analytics
Many of the tools used by the SEO experts can also be obtained for free. Google's own analytics tool provides a detailed breakdown of visitors to your site, tracking details such as which keywords they typed into search engines to arrive at your site, the pages they entered and left through, and which pages are the most popular.
Yahoo's Site Explorer also keeps an eye on which sites are linking to your own, allowing you to foster closer relationships with businesses in your field.
The money spent on an SEO expert could even be better spent on "buying" traffic using Google's AdWords service. These adverts can be regionally targeted, to stop an architect in Melbourne wasting money on clickthroughs from house owners in Cairns.
Google has a bevy of AdWords tools that can optimise your paid-for keywords based on your budget, and reveal the number of competitor sites also buying those keywords.