Confused by all the different cloud services available? We translate the jargon and help you understand the options.
You'll hear all sorts of claims from providers about the benefits of cloud services, but to really understand what they can do for your business, it may help to have a deeper understanding of what cloud actually is.
Chances are you already use a cloud service, such as Dropbox, Gmail or Xero, but the cloud offers a much broader range of services than just online storage or applications.
In this updated feature, we explain the jargon and options to help you decide the best strategy for your IT infrastructure and applications.
What is the cloud?
The US National Institute of Standards identified 'five essential characteristics' of cloud computing, and they still form the best definition we've seen:
On-demand self-service. A consumer can unilaterally provision computing capabilities, such as server time and network storage, as needed automatically without requiring human interaction with each service provider.
Translation: you can sign up at any time, and quickly and easily adjust your level of consumption as required. That might be as simple as adding a user to an online productivity suite such as Office 365, or spinning up 50 virtual servers on Amazon Web Services for a peak load.
Zoho: makes it easy to access a wide range of cloud applications.
Broad network access. Capabilities are available over the network and accessed through standard mechanisms that promote use by heterogeneous thin or thick client platforms (e.g. mobile phones, tablets, laptops and workstations).
Translation: you can work anywhere there is an internet connection, and in most cases it doesn't matter what type of device or operating system you are using.
Resource pooling. The provider's computing resources are pooled to serve multiple consumers using a multi-tenant model, with different physical and virtual resources dynamically assigned and reassigned according to consumer demand.
Translation: the provider balances your workload along with that of its other clients. This pooling of resources contributes to making cloud services so affordable - when you're not using the service, someone else – possibly on the other side of the world – is.
Rapid elasticity. Capabilities can be elastically provisioned and released, in some cases automatically, to scale rapidly outward and inward commensurate with demand. To the consumer, the capabilities available for provisioning often appear unlimited and can be appropriated in any quantity at any time.
Translation: you don't have to wait for new hardware to be ordered, delivered, installed and commissioned – it's all on tap.
Measured service. Cloud systems automatically control and optimise resource use by leveraging a metering capability at some level of abstraction appropriate to the type of service (e.g. storage, processing, bandwidth and active user accounts). Resource usage can be monitored, controlled, and reported, providing transparency for both the provider and consumer of the utilized service.
Translation: you only pay for what you use. That said, there might be contractual limitations. For example, you may be able to increase but not reduce the number employees using a cloud software product during a 12-month term. And you may need to explicitly 'switch off' cloud infrastructure resources when you have finished using them, otherwise the meter will keep running.
The benefits of cloud
As we have explained in another feature, there are valid reasons why some businesses don't move their IT infrastructure and applications to cloud. Nevertheless, there are compelling reasons why plenty of others do, including:
A shift from capital expenditure to operating costs. Instead of having to make a big purchase of new systems or software upgrades every five years or so, you can instead pay a predictable subscription cost – usually per user per month.
Up-to-date software. Instead of having to wait years for a software upgrade, cloud-based applications are continually updated. That can sometimes be an issue (training staff with a new feature, for example) but it's nowhere near the challenge of a major upgrade.
Greater flexibility. The 'rapid elasticity' of cloud services should allow you to scale up – or down – quickly. If not, it's time to look for another provider.
Access to advanced applications. As vendors shift their applications to the cloud to due customer demand, these apps often become more accessible for smaller businesses. That includes advanced applications like analytics and business intelligence, such as IBM Watson Analytics and Microsoft Power BI.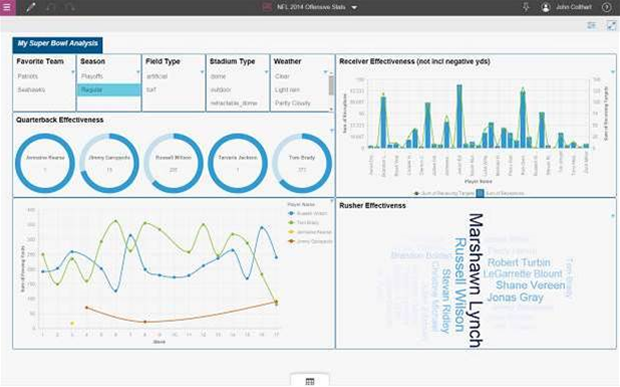 IBM Watson Analytics: advanced data tools that are affordable.
Improved security. It may be the thing that many people worry about, but as we explained in a previous feature, cloud services can be actually more secure than on-premises systems.
Reduced costs. This is a big promise of the cloud but whether it actually does reduce costs depends on a number of factors, such as how often you previously upgraded systems/software and how staff use cloud services (such as quickly shutting down services no longer needed). For those considering a move to the cloud, our tip is to focus on the other benefits and not to underestimate the costs of the cloud.
Agility. It may be an overused industry buzzword but no-one can deny it's important for an organisation to be able to move quickly, whether that be creating a mobile app or a changing a product line due to a market shift. The flexibility of cloud services can help organisations become more agile, though it's certainly not the only factor.
Types of cloud services
Within the above cloud definition, there's a lot of scope and providers are continually evolving and adding to their portfolio of IT 'as a service'. These can range from databases-as-a-service to business processes-as-a-service. But by far the most common are:
Software-as-a-service (SaaS)
SaaS is probably what most small business people think of when cloud is mentioned – complete applications that can be accessed via web browsers or mobile apps.
Examples of SaaS include office suites (Microsoft Office 365 and Google's G Suite), accounting systems (including Xero, MYOB and the others we compared earlier this year), customer relationship management (such as Salesforce and the other cloud CRM apps we recently compared), and many other types of applications.
Infrastructure-as-a-service (IaaS)
With IaaS, you essentially rent chunks of someone else's hardware as and when you need them. With few exceptions, what you get for your money is a share of the physical infrastructure that has been 'virtualised', so it feels like you have it to yourself.
Virtualisation is a technique of pooling physical systems and then dividing that pool into 'virtual machines' (VMs). What appears to you as a computer with a certain amount of memory is typically a share of a bigger pool of systems, with other customers using the rest of it. Similarly, your disk is actually an allocation of space on a much bigger storage system.
With IaaS, you need to do most of the software-related work yourself – including configuring, maintaining and updating the operating systems and applications you use – or pay someone to do this.
However, you don't have to worry about commissioning and maintaining hardware, and it's relatively easy and affordable to incrementally increase processing power, RAM and storage as your needs grow.
Examples of large IaaS providers include Amazon Web Services, Microsoft Azure, Google Cloud Platform and IBM Bluemix.
Amazon Web Services: offers a wide range of infrastructure services.
Platform-as-a-service (PaaS)
This represents the middle ground between SaaS and IaaS. The 'platform' generally refers to the software required to run applications, ranging from the operating system to application frameworks such as Java and PHP.
It means you don't have worry about installing, configuring, maintaining and updating the operating system and other platform software. If you want to run Windows software in the cloud, for example, Microsoft Azure can make that relatively easy (although Azure also offers other platforms, such as Linux).
Organisations often use PaaS to make it quicker and easier to develop software for the cloud. These include Amazon Web Services' Elastic Beanstalk, Google's App Engine, Oracle's Java Cloud, Salesforce's Force.com, among the many PaaS products these and other providers offer.
Desktop-as-a-service (DaaS)
Where PaaS is mostly about server software and SaaS is about individual applications, DaaS provides a complete desktop environment (most commonly but not necessarily Windows) that can be used remotely via most common smartphones, tablets, notebooks, desktops and thin clients.
Why would you use DaaS on a PC? It can decrease the frequency of hardware refreshes, and it provides a secure mechanism for allowing the use of personally-owned devices, especially by contractors or when employees are travelling or working from home.
DaaS offloads important but time-consuming tasks such as patching, updating and generally managing the operating system, backups, and providers often take care of managing the applications as well.
Local providers include BigAir, CloudCentral, HostedNetwork, Tastel and Zeara. AWS calls its Windows-oriented DaaS product WorkSpaces , but you'll need to look after your own provisioning.
Public, private and hybrid cloud
Each of above services is what's known as 'public cloud', meaning anyone can go online, sign up and buy a subscription to that service. It's simple, predictable and ideal for small businesses.
Another option, 'private cloud', is typically used by large enterprises but may be required by any organisation that needs to run its own systems – perhaps for an important legacy application or for compliance reasons.
Private cloud is about arranging IT resources so they can be consumed by users as if they were coming from a cloud provider. That is, users don't have to wait weeks or months while a new server is being set up, systems are available via the internet, the physical resources are shared with other internal users, consumption can be scaled up or down as required, and the actual resources used are charged back to the user department.
'Hybrid cloud' refers to when an organisation has a mix of both public and private clouds – an increasingly typical scenario in many large enterprises.
Why 'cloud'?
Where did the term 'cloud' come from?
When drawing IT or communications network diagrams, it's traditional to represent the part that's not under your control as a cloud – traffic leaves your systems, disappears into the cloud, and then either a response comes back or the traffic emerges at another location under your control.
So the work is said to be done 'in the cloud'.
Stay tuned for more in-depth guides comparing cloud storage and IaaS services.