Get paid more quickly, streamline processing, invoice on the spot and more with these tips for the accounting system.
Here are MYOB general manager of product management and user experience Ben Ross's top tips for getting the most out of the company's accounting software. At least some are also relevant to users of competing products.
1. Make sure you're paid quickly
Sending invoices by email means they arrive sooner and are less likely to be lost compared with paper invoices. MYOB's approach is to send a link to a web page that displays the invoice, as that lets the sender track whether (and how often) an invoice has been viewed by the customer.
These invoices can also use MYOB's PayDirect Online service – "the big green button" (pictured above) – that currently supports card payments and (if the invoice is received by compatible accounting software) direct debit via an ABA file. MYOB plans to add Bpay support, Ross said.
MYOB's research suggests credit and debit cards are being increasingly used for business-to-business payments.
2. Keep your data up to date by using bank feeds
If the data in your accounts is current, your reports will also be up to date and your accountant will be able to see where you stand. "We look at bank feeds as being at the heart of keeping up to date and accurate," said Ross, adding that they are probably the most valuable feature of an accounting product. Bank feeds can also reduce the time and effort needed for data entry.
3. Increase process efficiency
Keeping things digital saves time and effort. For example, MYOB's smart bills feature means you can ask suppliers to email their invoices to a certain address where they will be automatically processed (using OCR where necessary to 'read' the image) and loaded into your accounts. That way bills are visible in MYOB as soon as they arrive, allowing more accurate cashflow projections. Most people enter purchases when they pay the bill not when it arrives, said Ross, so any intervening reports are less accurate.
Ross also pointed out that smart bills is a standard MYOB feature whereas add-ons are needed to provide similar functionality in some other accounting systems. But if MYOB users need richer features (to handle cash receipts in a way that keeps accountants and bookkeepers happy, for example) they can use add-ons such as Shoeboxed or Receipt Bank.
4. Prepare a budget
MYOB's research shows that a business is more likely to be successful if it prepares and monitors a budget. Budgeting is a standard feature of AccountRight and Essentials, and using it in conjunction with bank feeds and smart bills makes it easy to see if the actual performance is on track.
5. Invoice on the spot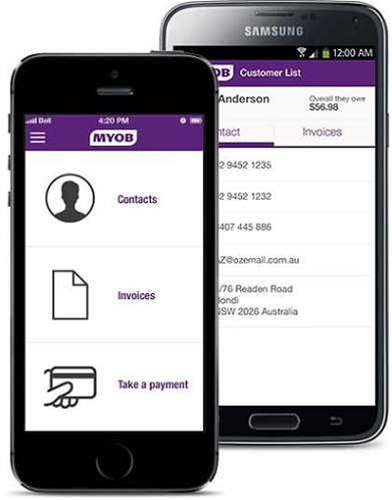 The MYOB On The Go app means customers can be invoiced at the point of delivery of the service or goods. So personal trainers and gardeners - to give just two examples - can bill a customer at the end of the session or job rather than waiting to the end of the month to send an aggregated invoice.
On The Go can be used in conjunction with PayDirect Mobile to receive the customer's payment on the spot.
6. Streamline payroll
Collecting timesheets and entering the data can be a real chore if you employ people on variable hours. YourPay (a feature of MYOB Essentials) lets employees record their hours on their smartphones, and then the data automatically flows into the payroll. After the pay run, the employee's pay slip is accessible from the app, along with all previous slips. At least one more major feature is planned to make life easier for employees, but company is not ready to spill the beans.