Need to send a survey or create another type of form? Google Forms is a free and surprisingly powerful tool.
There are many situations in business where you need to get information from your staff or customers.
Perhaps you want feedback from your clients about a recent event, or need to know when your staff are planning on taking some annual leave. In some cases, you might also want to create a spreadsheet based on these responses.
One way to do this is to send out either an email or a Word document, asked people to reply, and then copy and paste answers from those emails into a spreadsheet.
The problem with this process is that – aside from looking a little amateurish – the copying and pasting is both time consuming and prone to errors.
Meanwhile, getting someone to set up a form on your website can be time consuming and costly.
Google has a solution, and it's free. Even if you don't have a Google account or use Google Drive, it could be worth signing up to access its Google Forms app – which can both cut your workload and make your business look more professional.
Here's a guide to getting started with this tool, as well as tips for using it effectively:
1. Getting started
Obviously, this tip is for newcomers to Google Forms, so feel free to skip to next tip if you've used it before.
To get started with Google Forms, visit forms.google.com. If you're not already logged in with a Google account, you'll be asked to enter your login and password.
You should then be greeted with the home screen, which looks like this:
The dark grey box at the top is where the options are for creating a new form, while the forms you've previously created should appear underneath (if this is your first time using Google Forms, this area will be blank).
In the dark grey box near the top, either click on the white box with a purple cross on it with the word 'Blank' underneath to start a new form.
Alternatively, click the word 'More' at the top-right of the grey box to see a full list of templates, including forms for a range of common forms you might want to send out, including job applications, order forms and event feedback.
Now you've started creating a form, it's time to edit the questions and responses.
To edit any of the text on the form, just click on the text you want to edit. A black line should appear underneath the text you're editing, along with a blue line on the left-hand edge of the part of the form you're editing. A cursor should appear alongside the text you're editing.
When you're done editing a piece of text, just click on the next thing you want to change.
At the top of the form is the title. Just click and edit this text to rename your form.
Immediately below this is a space for you to enter a description of the form. Again, just click and type in any instructions you want to have on the form, along with perhaps your business contact details.
After you've named your form and entered a description, it's time to move on to setting up your questions.
To change the text of a question, just click on it and type in the question you want to ask.
Above the question you're editing, in the middle of the form, are six grey dots. Click and hold down on these dots to drag your question up or down the form.
Immediately to the right of the question, there should be a light grey box that has what type of question it is (it will say something like 'Multiple choice' or 'Dropdown').
To change the type of question you're asking – for example, if you want to have a short response answer instead of multiple choice answers – just click this grey box. A pull-down menu will appear with a number of options for what type of field will appear underneath the question.
If you choose multiple choice, checkboxes or drop down, just click to edit the text next to any of the options. To add an option, click the words 'add option' and type in the text you want to appear next to it. To delete an option, click the grey cross on to the right of the option you want to delete.
Underneath the list of options for each question, on the right, you should notice a series of icons.
The first, which looks like a piece of paper with a second one underneath, duplicates the question. The second, which looks like a rubbish bin, deletes the question.
Next to that is the word 'required' and a slider bar. If this is to the right, it means your respondent is required to fill in an answer to complete the form. Click this and it will slide to the left.
Furthest to the right is an icon with three dots. Clicking on this makes a pull-down menu for a number of other options for your form:
Click 'Description' to add a short description to your question.
Click 'Shuffle option order' to make the options appear in a random order for each person who responds.
Just to the right hand side of your form, there's a rectangular box with a number of icons in it:
The cross in it to adds another question to your form.
The two letter Ts allows you to add another title and question further down the form. This is handy if you want to introduce another group of questions.
The dark grey box with two triangles allows you to add a picture to your form.
For more advanced forms, the equal signs adds a section break to your form.
2. Change the background colour of your form
Once you've set up the questions on your form, you might want to change the background colour to better reflect your business branding.
At the top-right hand of the screen, you should notice four icons. One of the icons is a paintboard (it looks a bit like a speech bubble with four dots on it). Click on it and a selection of 16 colour choices will appear. Click any of the colours and the background colour of your form will change.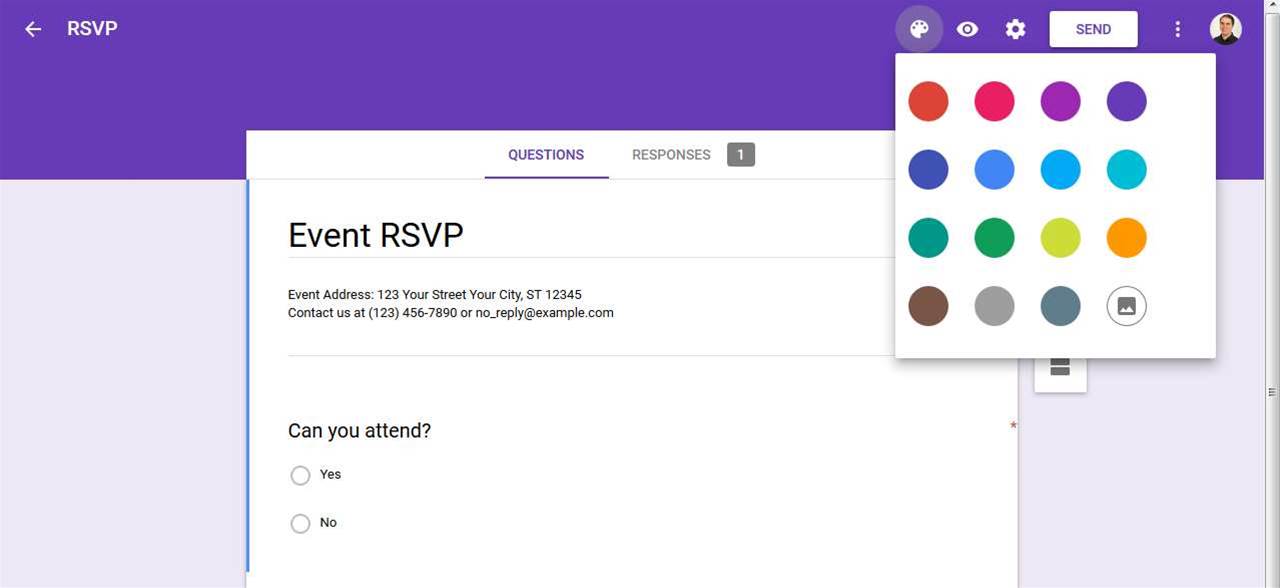 You can also choose a theme design for your form. You'll notice that the last of the colours has the square icon with two triangles in it.
Click this and a pop-up window will appear, with theme categories on the left (including 'Travel', 'Work and School' and 'Party') along with a number of designs on the right.
Alternatively, towards the bottom of the list, you'll notice an option titled 'Upload photos'. As long as your image is at least 800 by 200 pixels, you can use this image as the basis of your theme.
Click on the appropriate category, then a design you like, and click Select. Your form will be updated with the theme you've chosen.
3. Collaborate on designing a form
One of the great things about cloud-based online productivity tools, such as Google Docs, is that many of them allow multiple people to collaborate on a document at once.
These features are handy if you have more than one staff member who needs to work on a document at any given time.
The good news is this functionality is built into Google Forms.
At the top-right-hand corner of your form, the second icon from the right should be three dots. Click on this, and a number of advanced options appear.
Click on the option titled 'Add Collaborators'.
A dialog box will pop up titled 'Sharing settings'. Towards the bottom in an area shaded light grey is a field titled 'Invite people'. Below this is a blank field.
Type in the email address of the person you want to collaborate with on the form and click the Invite button (or Cancel if you change your mind).
Once you've invited everyone, click Done to go back to editing your Form.
4. Don't forget to preview before you send
So you've completed your form. But before you send it out to the world at large, it's a good idea to preview it first.
At the top-right-hand-side of the screen, next to the paint board (see tip three) is an icon that looks like an eye. Click on it.
This is exactly what your staff or customers will see when they open your form. It's always a good idea to carefully proofread everything before you send it out.
When you're done, just click the pencil icon at the top right of your screen.
5. Sending your form
Now the big moment has arrived – it's time to send out your form.
At the top-right of your screen, between the palette icon and the three dots icon is a big send button.
When you click it, a dialog box will appear that looks like this:
The first row of icons contains a number of options for sharing your form.
On the left, the envelope icon sends the form to someone by email, the chain icon pulls up a URL where your staff or customers can fill it out, and the two pointed brackets icon contains a code to embed the form into a HTML document.
One the right, there are icons to send your form directly to Twitter or Facebook.
If you click the mailbox, fill in the email address of the person you want to fill in the form where it says 'To'. If you want to send the form to multiple people, enter all their email addresses separated by commas.
Next to the word 'Subject', type in the subject line of the email.
Beside message, type in a few brief lines that will explain to them what the form is about.
There is also a checkbox that says 'Include form in email'. If you click on this box, the form will be embedded in the email you receive. Otherwise, your recipients will receive a link to the form in their email. When you're done, click send.
6. See how people have responded
Congratulations, you've sent your form. Now it's time to see how your staff or customers have responded.
To do this, just click on the word 'Responses'. (If you need to go back to editing your form later, click the word 'Questions'.)
You will be taken to a screen that looks like this:
If the word 'Summary' is highlighted, you will see a number of pie charts and other visual representations of how people have responded to your survey.
Clicking on the word 'Individual' will show you each individual form that has been filled out.
7. Automatically save all responses to a spreadsheet
Last but certainly not least, perhaps the best feature of Google Forms is you can automatically save all of the responses into a spreadsheet that updates itself automatically.
On the Responses screen, to the right of where it says 'Summary' and 'Individual' is a small green icon with an off-centre white cross.
Click it and a dialog box pops up asking you to enter a name for a spreadsheet where you want the results of your form or survey to go.
Enter a name, then click 'Create'.
Google will now create a spreadsheet in your Google Docs account where all of the responses from your form will go.
The great thing is this spreadsheet will be automatically updated as more responses come in. No more copying and pasting, and no more manually typing in survey responses.