Avaza
Avaza is a cloud-based system for managing expenses alongside projects, time and invoices.
Expenses can be entered via the web interface, mobile app (for Android or iOS) or via email. They can be allocated to specific projects whether or not they are billable, and when they are, they flow into the client's invoice with or without markup. Recurring expenses such as mobile phone or internet plans can be entered once to save time.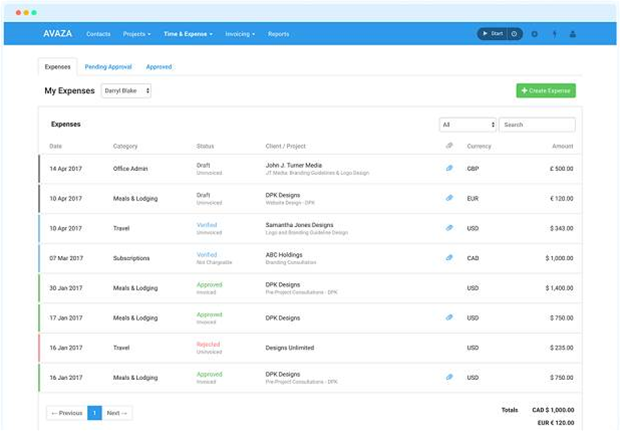 Avaza includes an approval mechanism, and digital and digitised receipts are stored for future reference.
Avaza is free for a single user, with up to 100MB of storage and other limits apply. Then it's $US9.95 per month for the first two users plus $US5 for each additional user. Other plans cost $US19.95 for the first five users or $39.95 for the first 10. The pricing is complicated slightly by the way Avaza differentiates between timesheet and expense access on one hand, and admin and invoicing access on the other.
The free tier can be used to trial the service.
Concur Expense
Concur Expense is positioned as an end-to-end expense management service.
Items can be entered by taking photos of receipts using the mobile app (Android, iOS, Windows and BlackBerry) or by loading e-receipts from airlines, hotels, restaurants and car companies. Concur Expense automates the submission and approval of expense claims, saving staff and management time.
Concur Expense integrates with NetSuite and QuickBooks, among other software, and third-party connectors to Xero and others are available.
As we recently mentioned, Concur is reluctant to reveal its prices unless it's talking directly to a prospective customer. But the indicated level of several dollars per claim suggests it is broadly in line with other services that charge according to the number of users or documents processed.
A free trial is available.
Expensify
With customers including Atlassian, Deputy, La Trobe University, Nando's, Swatch and Vend, as well as thousands of small businesses, Expensify recently opened an Australian office.
Expensify automatically extracts data from digital or digitised receipts (such as PDF files or photos taken the Expensify app for Android or iOS), and its Receiptburner feature automatically imports receipts from Uber and certain other providers. In addition, personal and company credit card transactions can be automatically imported, and provision is made for per-diem rates. Transactions are automatically coded, simplifying the preparation of expense reports.
Features to simplify expense management include duplicate detection, policy-based automatic approvals, and guidance for managers handling claims that require human approval. Multi-stage approvals and custom reporting are supported.
A couple of months ago the company announced that Expensify's reimbursement feature now works with major Australian banks including the big four, providing an alternative to reimbursements via payroll.
Expensify integrates with Netsuite, QuickBooks Online and Xero, among others.
A free tier is available for individual users. It only allows for 10 receipts to be automatically scanned per month, but there is no limit on the number of receipts stored. Paying $US5 per user per month covers the basic service including unlimited scans, single-tier approval, reimbursements, and integration with QuickBooks and Xero. The $US9 plan adds features including advanced policy enforcement, multi-stage approvals, custom reports, and integration with NetSuite and other business software.
A free trial is available.
Receipt Bank
Receipt Bank is designed to process receipts and invoices, and store them online.
Digital and digitised documents can be entered via email or uploaded via the web interface, or photographed using the Android or iOS apps. There's also provision for importing from other services including Dropbox and Tripcatcher. The data is automatically extracted, and there's provision for expense approvals and expense reporting.
Receipt Bank integrates with payroll software such as KeyPay as well as popular accounting systems including MYOB AccountRight, QuickBooks Online, Sage One and Xero.
Prices start at $21.95 for 50 items a month for a single user, and rise practically linearly – for example, 150 items costs $65.95. Multi-user plans are more expensive, but the average cost falls as the volume increases: 50 items a month costs $33, but you get 150 for $77.
The company has a 'fair use' rule that allows you to go over the limit during a month providing your three-month average remains within your plan. So, on a 50 plan, consecutive usage of 47, 47 and 55 would be acceptable. But in that situation you'd need to keep the next month's use to no more than 48 to avoid having to move to a more expensive plan.
A 14-day free trial is available.
Reckon Time & Expenses
Reckon Time & Expenses is a module of the Reckon One accounting system that we reviewed recently.
It's remarkably cheap at $3 a month for unlimited users, so it's hard to complain that it costs an extra $2 if you want time and expenses information to flow into invoices or projects, or for batch processing of multiple claims.
The Reckon One app for Android and iOS makes it easy to enter expenses as they are incurred, along with timesheet entry.
A 30-day free trial of the complete Reckon One system is available.
Rounded
Rounded is intended as a basic business suite for freelancers and sole traders. So along with invoicing it includes time tracking and billing along with expenses tracking.
Rounded uses a bank feed to save having to re-enter expenses, and it lets you add digital or digitised invoices and receipts via the web interface or by taking a photo with the iOS app. The ability to enter items on the go is important as it reduces the risk of forgetting. There's also provision for recurring expenses such as internet and mobile phone plans.
Expenses can be recharged to clients.
The basic plan costs $14.95 per month, but the $19.95 'pro' plan is needed if you want to use the bank feed or GST capabilities.
A 14-day free trial is available.
Squirrel Street
Squirrel Street (formerly Shoeboxed Australia) is designed to process receipts, invoices and other documents and keep them online.
You can scan or (using the Android or iOS apps) photograph the documents and upload them, or post the paperwork to Squirrel Street for processing.
Whichever you choose, the data is validated and processed by the company's people. It can then be transferred to MYOB, QuickBooks, Saasu, Sage One or Xero, or exported for use with other software.
Prices start at $26.95 a month for up to 50 documents per month. Other plans allow 100 ($49.95), 200 ($89.95), 300 ($129.95) or 600 ($249.95) documents a month, and the more you pay, the faster the service (two to five days on the cheapest plan, one day on the two most expensive).
A one-month free trial is available, but is limited to 50 documents.
Consider other options
Note that this feature is designed to give you an understanding of some of the cloud expenses tracking apps that are available and how they differ in features and pricing. While we have compared what each of these services offers here, we haven't tested them. And there are other expenses tracking applications available. We strongly advise doing your own research into a number of options and taking full advantage of free trial periods.