Accessing and sharing information is vital, but there are other tools that can help your business become more agile – such as apps to help your business become more mobile, increase cash flow, optimise ecommerce initiatives and complete projects on time.
Square
Mobile and sales come together in platforms like Square which have enabled even the smallest of businesses to grow and prosper on the move. The ability to easily and inexpensively accept payments anywhere in Australia has fuelled small business growth.
Don't believe it? Have you never walked away from an imminent impulse purchase because the merchant didn't accept cards? Or avoided a cafe because of the 'cash only' sign on the door?
"We're committed to bringing Australian business owners the best in payment innovation. Whether they're running a market stall, mobile business or a franchise, we want to empower them with all the tools they need to start, run and grow," said Square country manager Ben Pfisterer.
"Our research shows up to 80 percent of Square sellers in Australia had not accepted credit or debit cards before using Square. Our tools are helping to rapidly grow the market for card acceptance in one of the world's most innovative and increasingly cashless economies."
Square is more than just a card reader. Its in-built reporting functionalities, such as sales figures, customer information and inventory lists make life easier for business owners. The simplicity of this system and its integrations with accounting, POS, ecommerce and other software means often outsourced tasks such as bookkeeping and administration may be done internally.
The Square mobile card reader
Alternatives include PayPal Here and Vend (as part of a complete POS system). The MYOB PayDirect Mobile service is not currently available to new customers.
ezyCollect
Cash flow improvements don't of themselves make a business more agile, but a lack of cash can inhibit innovation. And chasing debtors can take up a lot of a small business owner's time, especially when it hasn't grown to the size needed to support an admin person. So automating the process of following-up invoices can be a smart move.
That's where ezyCollect comes in. This web-based solution can help automate and streamline the management of customer accounts, including polite, personalised and persistent reminders.
 Within 60 seconds, ezyCollect can be easily integrated into MYOB and Xero.
It allows businesses to automatically send personalised overdue invoice reminders and statements to customers, prompting them to pay their bills. SME owners can set up their own schedule for personalised reminders using email, SMS and post. ezyCollect includes the option of a Pay Now button in invoices, statements and emailed reminders, making it easier – and therefore more likely – for customers to pay.
"Small business owners can't afford to lose a day chasing money that is owed to them. ezyCollect gives small businesses an affordable solution that delivers what is most important to them, time and money," said ezyCollect managing director AJ Singh.
 "On average, businesses using ezyCollect are automating 110 reminders each month, realising a 60 percent reduction in staff management time and significant improvements in working capital as customers pay overdue invoices."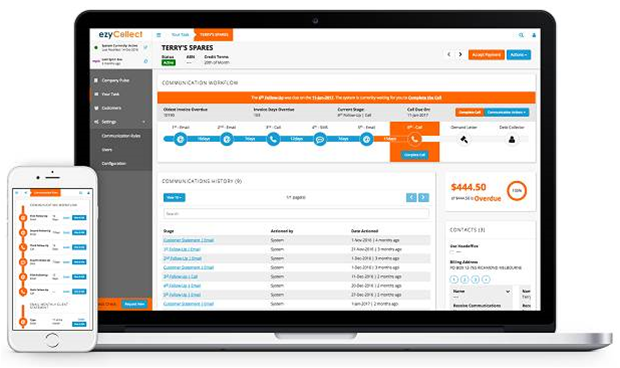 Alternatives to ezyCollect include Chaser and the admittedly simpler automated and escalating reminders provided by accounting systems such as Xero.
Optimizely
Google once tested the use of 40-odd shades of blue for advertising links and found that "a slightly purpler shade of blue" attracted more clicks. Switching to that colour improved ad revenue by $US200 million a year.
Few companies have the scale that allows tiny changes to yield big results, but if you had redesigned your ecommerce site or taken new product photos wouldn't it make sense to test the change on a small percentage of visitors to make sure it results in more rather than less revenue?
Conducting such experiments manually isn't as simple as it sounds, but Optimizely makes it possible to conduct experiments with purpose on websites, mobile apps and connected devices, hopefully resulting in better and faster decisions.
Optimizely encourages businesses to implement a culture of innovation. Experimentation means that they don't depend on the opinion of the 'hippo' – the highest paid person – but can instead test ideas from anywhere in the organisation.
"Today's fast-changing climate and increased digital economy requires SMEs to adapt more quickly and become more agile. The advantage of a smaller business is their nimbleness; instilling this culture throughout every aspect of their business will enable faster growth," said Optimizely ANZ managing director Dan Ross.
"Digital optimisation technologies will be paramount to driving innovation at speed while staying ahead of the competition. Testing and experimentation generates data-driven decisions for smaller companies to achieve high growth and develop a better customer experience to effectively prepare for impending digital disruption from giants like Amazon."
Trello
Project management is paramount to the efficiency of any business, whether that's a global corporation or a small business of ten people. Trello's boards, lists, and cards enable you to organise and prioritise your projects in a fun, flexible and rewarding way, according to Didier Elzinga, CEO and co-founder of Culture Amp.
Like the other services mentioned here, Trello has democratised its field by giving everyone the opportunity to become efficient project managers and run their teams and businesses with flair and precision.
There are plenty of other alternatives, however, including the agile and free project managers that we've covered previously.