"You don't have to be a technology expert anymore" to use readily available data analysis tools.
Small and mid-sized businesses are generally not taking full advantage of the data analysis tools that are available, Xero Australia managing director Trent Innes believes, even though "access to tools is better than it's ever been."
Most owners tend to make day-to-day decisions on the basis of "gut feel", he said, even though they may be sitting on large repositories of data.
A business's accountant or bookkeeper can help change this, Innes suggested, pointing out that 92 percent of Xero customers do use one or other of these professionals, who are often trying to reposition themselves as "growth advisors".
The Xero Marketplace lists a wide range of reporting apps such as Spotlight and Fathom that work with Xero. According to Innes, they provide SMBs with access to "better tools and technologies than big business has" because they are more easily used.
The marketplace is "all about choice", and it's up to SMBs to find the tool or tools that work for them. "Some of the Microsoft tools are fantastic," he added.
The upfront investment required is usually minimal, as a business can often try a particular tool for 30 days either on a free trial or by paying for a month's access, and then discard it if it hasn't proved valuable.
Even the Xero dashboard can provide insight to patterns such as seasonality, he observed.
While the areas of application will vary according to the type of business and the industry in which it operates, many will benefit from being able to make more informed decisions about stock levels, which products or services sell well, and if additional staff are needed, whether they should be casual, part-time or full-time.
A factor as basic and important as cashflow is often managed on a 'seat of the pants' basis instead of taking advantage of the near real-time data available from modern systems.
A business needs a plan, but planning requires an understanding of the business, and that understanding comes from using the data, said Innes.
"The data's there now" as Xero connects SMBs with banks, customers, suppliers, government and so on. "You've got access to all this rich data."
Taking advantage of it requires "a mindset change for small business," said Innes. The smart ones are already doing this, but they are in a minority.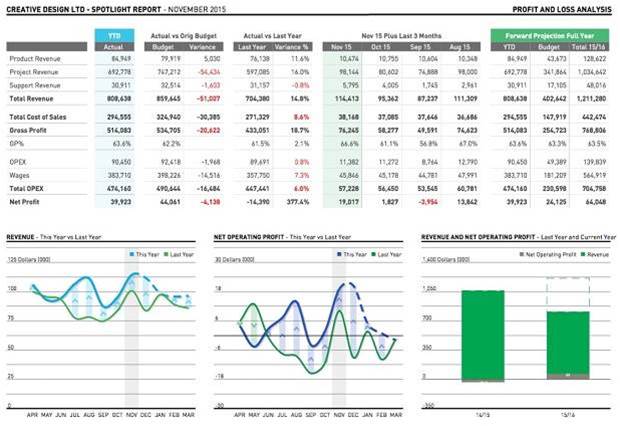 The Spotlight app for Xero
Xero provides a range of resources to help small business owners learn about these matters, including courses, videos and podcasts. "You don't have to be a technology expert anymore," he said.
Become a data-driven business, advises Innes, "the tools are there."