Samsung recently launched a new colour variant of its Galaxy S7 and S7+ Android tablets so we took the opportunity to reaquaint ourselves with this line of devices and run some brand new benchmarks on them.
The new Mystic Blue Samsung Galaxy S7+ recently turned up in our offices. It looks sharp in its resplendent blue but you wouldn't know due if you make use of the bookcase cover hiding/protectinhg the back.
The 11-inch S7 and 12.4-inch S7+ have stunning AMOLED screens upon which colours look resplendent and text looks crisp and sharp. Our review unit came with an optional "Book Cover" which connects to the base via a strong magnetic connection and provides an impressive Scrabble Tile keyboard that's robust, comfortable to type upon for extended periods and very accurate. Our only gripe is the reduced-sized arrow keys. The trackpad is accurate and comfortable to use. Meanwhile, a matching, magnetic cover on the rear provides a solid, hinged stand and doesn't come off easily. Our only concern is that if the device was dropped onto a corner, there's no protection and the lack of flex in the tablet's chassis would like cause a smash. In many ways the protective case and keyboard make it feel more like a fluu-blown Chromebook than an Android tablet with keyboard.
We found it offered a full day battery and enough power to breeze through office applications. Nonetheless, we took the opportunity to stretch the Adreno 650 GPU and run the latest UL benchmarks: 3DMark Wild Life Extreme and PCMark 3.0.
UL says of the former, "3DMark Wild Life Extreme is a new cross-platform benchmark for Apple, Android and Windows devices. Run Wild Life Extreme to test and compare the graphics performance of the latest Windows notebooks, Always Connected PCs powered by Windows 10 on Arm, Apple Mac computers powered by the M1 chip, and the next generation of smartphones and tablets.
3DMark Wild Life Extreme includes new effects, enhanced geometry and more particles, making it over three times more demanding than the Wild Life benchmark. The test uses a 3840 × 2160 (4K UHD) rendering resolution before scaling the content to the display."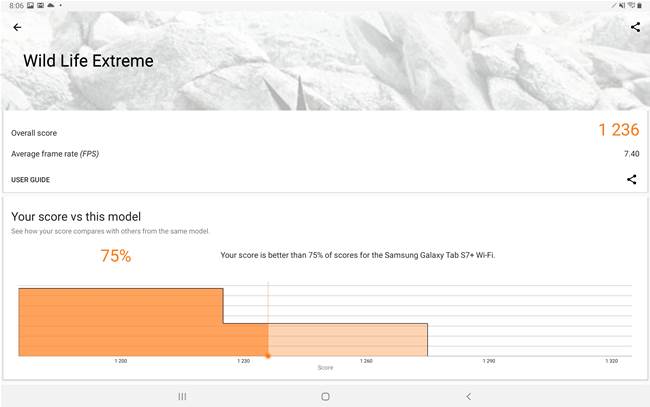 It's a tough test as the average framerate of 7.4fps illustrates, but that's still a high result for Android devices.
We also ran the original Wild Life test...
The average framerate of 25.4fps isn't great in true gaming terms (any drop under 30fps affects smoothness) but it's still good in the realm of Android.
PCMark for Android 3.0
UL also just released the new PCMark for Android 3.0. It says of it...
"The PCMark for Android Work 3.0 benchmark shows you how well your device handles common productivity tasks such as browsing the web, editing photos and videos, and working with documents and data. The test takes around 10 minutes on a typical smartphone.
Use the Work 3.0 battery life benchmark to measure battery life and performance. Measuring performance and battery life together provides a better view of the overall profile of a device than benchmarking performance alone."
The Samsung Galaxy S7+ recorded the following results...
The score of 13,241 is very high compared to all Android devices but few have run the test yet because it's so new. The test also recorded a score of 20,250 for the older Work 2.0 test and ran the built-in battery test for that older benchmark for 9hrs 28mins.
Pricing for the Mystic Blue Samsung Galaxy Tab S7 and S7+ variants are as follows:
Family

Variant

Memory

Colour

RRP

Galaxy Tab S7

Wi-Fi

6GB + 128GB

Mystic Navy

$1,149

Wi-Fi

6GB + 128GB

Mystic Bronze

$1,149

Wi-Fi

6GB + 128GB

Mystic Silver

$1,149

4G

6GB + 128GB

Mystic Silver

$1,349

Wi-Fi

8GB + 256GB

Mystic Silver

$1,349

4G

8GB + 256GB

Mystic Silver

$1,549

Galaxy Tab S7+

Wi-Fi

6GB + 128GB

Mystic Navy

$1,549

Wi-Fi

6GB + 128GB

Mystic Bronze

$1,549

Wi-Fi

6GB + 128GB

Mystic Silver

$1,549

4G

6GB + 128GB

Mystic Silver

$1,749

Wi-Fi

8GB + 256GB

Mystic Silver

$1,749

5G

8GB + 256GB

Mystic Silver

$2,049