We demonstrate a free service that reveals how visitors use your site, helping you to fine-tune it for usability and profitability.
If you've ever run a website, you've perhaps wished you could peer over the shoulder of a visitor. How valuable it would be to see which links they jump to, which pages they miss… and to watch as the mouse sweeps past the "buy now" button, to land instead on that distracting Facebook feed that seemed like such a good idea. Web analytics technology gives you almost this degree of visibility into how visitors use your site.
Analytics works by using JavaScript to record a unique cookie on each visitor's device (assigning a randomly generated tracking ID to preserve anonymity). As the visitor browses your site, this can be used to track exactly which pages they visit, which buttons and links they click, and how long they spend on each page. The main analytics application collates and analyses this information to give you, through a simple control panel, a complete overview of how visitors use your site.
MAKING SENSE OF ANALYTICS DATA
Dividing your data into segments means you can analyse exactly the data that matters to you.
Before the widespread adoption of analytics, website development was conducted largely in the dark. If you had a big budget, you might book usability lab sessions during development, but the data would be limited by the number of testers you could afford – and once the site went live, the information flow stopped. It was impossible to really know exactly what visitors to your site were doing. Today, we have the opposite problem: analytics provides us with so much data that it can be a challenge to filter the important information from the noise.
Some metrics are familiar from the good old days of the website hit counter. Your unique visitors and page views in a given period are good indicators of the general health of a site. However, analytics software can also provide dozens of more sophisticated measures.
A crucial one is the "bounce rate" – not least because Google takes it into account as part of its ranking algorithm. The bounce rate of a page is the percentage of visitors who leave at that point. A high bounce rate on any page – other than directly after a transaction – is bad news. A bounce rate of 75% or more on your homepage indicates visitors aren't seeing what they expect when they arrive following a search. This is bad business, and anathema to your Google ranking.
Analytics doesn't only tell you which pages people are visiting on your site, it can also reveal how they're accessing it. For example, you can discover what proportion of visits are made from mobile devices, and which OSes and browsers are most popular. You can see how many visiting devices are capable of playing Flash videos. Keeping an eye on questions such as these, and how they evolve over time, can guide your marketing and development strategy.
Installing Google Analytics
If you aren't already using analytics, you ought to be. Below, we'll walk through installing Google Analytics. This is by far the most popular free analytics package, although there are numerous others, and the process is much the same whichever package you choose.
To set up Analytics, you'll need a Google account. Use this to register with the service at http://analytics.google.com. Once you've done this you can build analytics into any number of websites. For each site, Google Analytics will generate a block of JavaScript code that uniquely identifies the site to its servers, using a proprietary JavaScript library called "ga. js". This code must be inserted within the HTML header of every page you want to track.
Exactly how you achieve this depends on how your site has been constructed and hosted. If you've created your site manually using PHP, then it's only a case of updating the appropriate template file. Similarly, if you've created your site using Dreamweaver's template system, you can paste the code immediately before the tag in the appropriate master file.
All popular content management systems including WordPress, Joomla and Drupal offer plugins for incorporating Analytics (see next page for a walkthrough). Moonfruit users can add Analytics from the Services menu, while Wix.com Premium users can find the setting in My Account | Manage Premium. For users of Serif's WebPlus X5 it's even easier: select File | Site Properties and click the Analytics option. Paste the code into the space provided and update the site.
For online shop owners, hosted shopping carts such as Volusion and BigCommerce can also be linked to Analytics by simply pasting in the tracking code. Of course, such services provide their own metrics, but Analytics offers a far more detailed set of statistics that can be combined with the other information it stores on your site.
Once Analytics is set up, go back to your control panel and verify the code is working correctly. Users of online site creation tools such as Moonfruit may need to wait a few hours before the update takes effect.
Learning about your visitors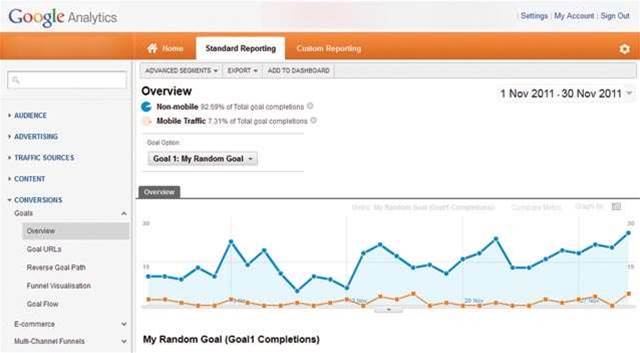 Google Analytics lets you compare different types of traffic according to user-defined goals.
Google Analytics begins gathering data as soon as the code is in place. To get to your site metrics, go to http:// analytics.google.com and select the appropriate website. This should load your Audience Overview; set a date range via the dropdown at the top right and use the calendar control.
This overview displays commonly used metrics: visits, unique visitors and page views. In isolation, however, these are pretty meaningless – they're sometimes called "vanity metrics". As a website owner, whether you have something to sell or not, your aim is to engage visitors, so you should be more concerned about the average time spent on the site by each visitor, the number of pages viewed per visit and the bounce rate of each page than raw visitor numbers. Quality before quantity is a key principle of successful web development – and Analytics lets you see how you're progressing.
Analytics also provides a way to monitor the success of your SEO efforts. Select the Traffic Sources menu, then Sources | All Traffic, and you'll see each traffic source in order of visits – including what proportion of your traffic comes from Google, with AdWords and organic search traffic listed separately. You can see whether the proportions are growing or falling by using the date dropdown set a period with a viable amount of data (usually a month or so). Click the "Compare to past" checkbox and Analytics will compare with the preceding period. Each source has two entries, one for each period, along with a value showing the percentage change and whether it's positive or negative.
Another useful metric is how quickly pages on your site appear. Select Content | Site Speed and you'll see a load time in seconds for each page, which helps to quantify the effect of that embedded Facebook stream! For the perfect overview of how your site is being used by your visitors, click Audience | Visitors Flow. This generates a useful infographic, which you can use to follow the paths people use through your site, making it obvious where you need to work on grabbing their attention.
NEXT PAGE: Connecting to AdWords & AdSense, Setting Goals, Segments...