In about twenty minutes and for only $20 you can setup your first Facebook advertising campaign. Here is a basic introduction showing you how.
Advertising used to be a big money bet for small businesses. Even a simple advertisement in a major city newspaper could set a business back over a thousand dollars, with no guarantee of success and no real way, beyond your gut feel, of knowing whether the money was well spent.
You can now get your message out to thousands of potential customers with plenty of change left over from a 50 dollar note. More importantly you can target you message to specific demographics, and modify your campaigns on to fly at no extra cost, all from your desktop...and increasingly from your mobile phone.
To show you how, we have set up an imaginary niche business called Widgets-R-Us with retail outlets in the CBDs of Sydney and Brisbane. (We'll have some real life data at the end of the story from one of my sites -
Which-50
- to demonstrate what you can achieve with small licks of cash) Our imaginary business specialises in selling gears and widgets to bicycle owners.
Most of Widgets-R-Us' customers come into the store to buy their equipment and we have noticed it's mostly men, often with young kids in tow who make up the bulk of the customer set. So naturally that is where we want to target our advertising.
A couple of assumptions first; Widgets-R-Us has a web site already, but not a Facebook business page, nor will it need one for this campaign. Our goal is to get people to visit our site to learn about the company, not to generate "likes" on Facebook.
STEP ONE, visit the Ad Centre
Login to Facebook and visit the Ad Centre. This is where you will plan and launch all your campaigns and check on the results.
In the top field you enter the address of the site you want to promote. Once you have filled out the fields, Facebook will show you a preview of your advertisement. And you can always change the copy even after you have launched the campaign - try doing that in a newspaper!
STEP TWO, write the text and choose an image
The next step is to write the headline, the text of the ad and finally to choose an image. The images are critical and help the advertisement stand out on the page. You will be offered the option of nominating a Facebook page to promote, but for this campaign we have deselected this option. If you do have a Facebook Business page it's worth taking this option - it doesn't cost any extra, although it often takes a big longer to get started.
STEP THREE, choose who will see it
Now it's time to start using the power of the advertising engine to precisely target your campaign. For Widgets-R-Us we chose men between the ages of 24 and 40 with young children who live within 10 km of the Sydney and Brisbane CBD. This gives us a potential audience of 6,400 people and with half of Facebook's audience logging in daily we are likely to hit a hit percentage of these people at least once during the campaign.
There are some other options available under advanced targeting that also let you tweak your audience by education level and relationship status, but since everyone loves widgets we have skipped this step.
STEP FOUR, decide how much you want to spend
It's time to get your credit out.
We have opted to spend $20 for the life of the campaign, which will run for one week. And we have optimised the campaign for clicks so that the system will take care of getting us the best results.
You can also budget on a daily basis but be careful to choose the right option or you might find yourself spending $20 a day every day of the campaign. Facebook also pre-populates the campaign budget with $350 so be sure to set your own budget. Don't be alarmed; you can modify the budget or cancel the campaign on the fly.
With advertising you get out what you put in
It is important to put some thought and effort into the words and images you use in your Facebook ads. Helpfully the company publishes the results of its research into the most effective ads. Here are some key points to consider from the Facebook research:
The best ads have an obvious focal point, in other words the eye is drawn to one element in the ad.
Good ads identify the advertiser
Smart ads have a tone which fits the brand's personality. If you're an Undertaker don't feature a picture of a clown, or vice versa
Ads that work reward you for seeing them. They might make you laugh, or give you useful information.
Good ads stand out.
And finally, make sure you get your point across!
Finally, what feedback will Facebook give you, and how do you interpret it? Here are the results of a campaign I ran recently to promote a specific report into digital disruption around the world. The goal of the campaign was to introduce the site via the story to senior digital executives and to assess how their reactions differed between creative messages. This campaign delivered a strong result.
For my site -
Which-50
- I find advertising a specific post works better than simply advertising the web site, since the specific post gives customers a useful piece of information that is valuable to them.
Generally a good campaign will get a click through rate of over .06 per cent. Anything over one per cent and you are on the winning team and anything north of two percent and you might want to consider a career in advertising.
Cost per click is a little more nuanced since it depends on the type of product you are selling and the type of audience you trying to reach.
BOTTOM LINE
The point of the advertising is to attract an audience and to sell. I have been spending $20 to $30 per week for four weeks and testing different approaches and different creatives.
The Facebook campaigns have helped attracted new customers and helped to grow the audience during the campaign period.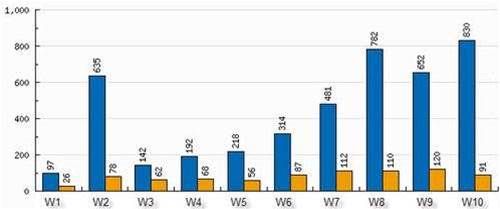 (Chart : The blue bars indicate unique users which are growing at about 25 per cent per week.)