Your guide to installing a solid state drive and transferring files from the old disk – without having to re-install Windows.
If your computer is struggling to run your applications at the same time, loading large files or just want to speed things up a little, it could well be the time to upgrade your old-school hard disk drive (HDD) to a solid-state drive (SDD).
SDDs offer plenty of advantages over HDDs – there are no moving parts, so not only are SSDs quieter, they're less likely to get damaged in, say, a laptop. And, for many users, it's the single best way to give their system a significant performance lift.
However, SSDs are more expensive than HDDs, so if you're looking to just boost the amount of storage you have on your computer, it may not be the most economical solution for you. But if you need the speed and convenience of an SSD and have decided to make the jump, follow our guide to get it installed and up and running.
What you'll need
In this guide, we'll show you how to install an SSD into a desktop computer and transfer your Windows system files to the new drive – and while the exact details may differ for a laptop and other operating systems, the principles are similar.
For this project, you will need your current hard drive, your new SSD, a backup of all your documents and other data, and plenty of time so you're not rushed or tempted to take shortcuts, which when mistakes can be made. And if you've never installed a PC component before, we'd recommend asking an experienced friend or relative to give you a hand – or at least be available if things turn pear-shaped.
You will also need a cloning tool, which will make it easy to copy files from your old hard disk to the new SSD. In this instance, we will use EaseUS Todo Backup Free – mainly because it is free and also because it is easy enough for most people to use. Also, the tool is good at cloning data from a large drive to a much smaller drive.
Next: preparing for the new SSD.
Planning and preparing for the new SSD
For a lot of people, moving data from a hard disk drive to an SSD might be like trying to fit a schooner of beer into a pot or middie, because if, like us, your music, photos and videos take up a terabyte of space, you may find compromises will have to be made. Unless you have at least $400 to spend on a new SSD, you probably won't be opting for a 1 terabyte drive.
So one option – for most desktop computers at least – is to keep the existing hard disk drive for your documents, pictures, music  and other data, and transfer the operating system to the newly installed SSD. This will provide the all-important speed boost to your OS and software programs.
Things get a little more difficult when it comes to laptops. You may have to remove the optical drive to fit in a second drive or spend more money on an SSD that can accommodate all the data present on the old disk.
Another option is to replace the old HDD with the new SDD and keep the files that you don't need for everyday use on an external drive or cloud storage service. Dropbox for Business, for example, offers a new Smart Sync feature that allows you to select which files to download onto your system.
Defrag your hard disk 
As we are cloning a traditional hard disk drive, it is a good idea to tidy up the files on the disk by defragging the drive before we start anything.
Click on the Start menu and type in defrag. When you see the option for Disk Defragmenter, click on it and run the tool.
Back up all your data
Next thing to do is the back up ALL your data, using Windows' backup, any other backup tool, an online syncing service such as Dropbox, or other methods that we've explained previously. Don't forget to backup Outlook and other files that might not be in the Documents (or My Documents) or other obvious folders.
Installing a new drive is a big thing, with potential to lose important data, so don't be tempted to skip this step.
Put your old hard drive on a diet
If you are making the move to a smaller SSD drive, you will need to delete a few files off of it to make sure the process completes. If you have a 256GB SSD, you will need to ensure you delete enough files off of the old one to fit on that.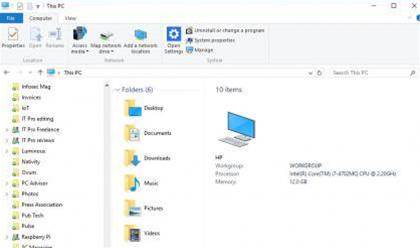 A good place to start is by looking in folders such as My Videos (often has lots of very large files within), then My Music (loads of music collected over the years), then My Documents. 
Once your backup has completed and you have verified the data is properly backed up, then delete the data within these folders but not the folders themselves, as you may need them later.
It is important to note that we don't want to delete applications in the Program Files folder. This is because we also want them to benefit from the speed boost that an SSD has. 
Next: How to install an SSD.
How to install an SSD
Installing a new SSD on most desktop computers is a relatively simple task. You screw it into one of your PC case's dedicated slots, then connect the power and data cables.
TIP: Make sure that your SSD is plugged into the lowest-numbered SATA port in order for it to be the default boot drive. If available, a SATA3 port should be used for the best performance.
1. Fit SSD into bay
Most SSDs are designed to fit in a 2.5in laptop drive bay, which you won't find in a PC. Fortunately, they come with mounting brackets to get them to fit, so screw these in before you start.
Next, find a 3.5in drive bay. Be careful not to use external bays that have a cutout on the front of the case, as these are for memory card readers and floppy disk drives.
If your case has drive rails or screwless fittings, read the case's manual for instructions on how to fit your drive. For other cases, slide the hard disk into a spare drive bay until the screw holes in the side of the drive line up with the holes in the drive bay. The disk should then be secured with four screws, two on either side of the case.
2. Plug in SATA power
In the two pictures at the top of this page, you can see the SATA power connector on the hard disk and on the power supply. Locate the correct connector from your power supply and plug it into the back of your SSD. It goes in only one way and clicks when it's connected.
Be extremely careful when plugging it in, as downwards pressure can break the clip surrounding the power connector. If you do this, the power plug won't stay in place.
3. Plug in SATA data cable
Unlike IDE, SATA uses a simple and thin connector to carry data. Your motherboard will ship with several SATA cables, so take one of these from the box. Plug it gently into the rear of the SSD. It will plug in only one way and will click when it's properly connected.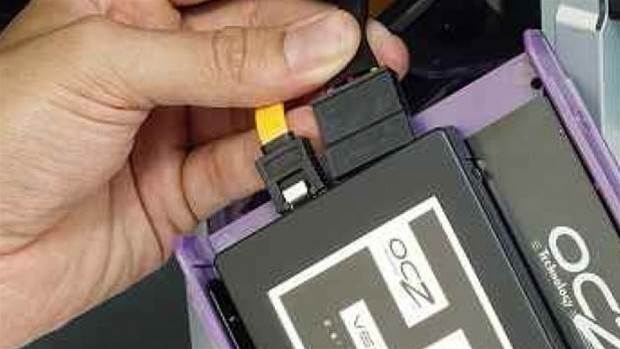 Be careful when you plug it in, as downwards pressure can break the connector and prevent the SATA cable plugging in.
4. Plug SATA data cable into motherboard
Next, you need to find a spare SATA port on your motherboard. These are usually located at the bottom-right of the board and are numbered. The lower the number, the higher up the boot chain your SSD is.
If you're installing more than one drive, therefore, make sure the drive from which you're going to boot is plugged into the lowest-numbered port. Check the motherboard's manual to ensure that all the ports do the same thing; some boards have ports reserved for RAID.
Connecting the SATA cable is easy, as it will plug in only one way. It will click when the cable is connected properly.
Next: Moving Windows to the new SSD.
How to move Windows from your old HDD to the new SSD
Once you've installed the new SDD – and assuming the old disk has been slimmed down enough – you can then begin the process of transferring this data to the new SSD. Open EaseUS Todo backup and select "Clone" from the left-hand sidebar. 
Select your old HDD as the clone source and select the SSD as the target location. Before anything else, tick the box next to "Optimize for SSD". This is so the partition is correctly aligned for SSDs (this ensures the best performance of the new drive).
The cloning tool will begin copying data over. If you tick the "Shut down the computer when the operation completed" box, the process will shut your system down when completed.
At this point, if you get an error message alerting you that the source drive is too big, you will have to go back to the step before and delete more data from the old drive. This can happen when you haven't formatted the SSD to find out the true capacity of the new drive.
Note: We've assumed here that you are keeping your old HDD, but if you're replacing it with the new SSD, you'll have to add the additional steps of saving the cloned disk to an external drive, and then, after installing the SSD, restoring the backup from that external drive (see the EaseUS documentation for more details).
Delete your old drive
Once you've completed the transfer, switch the PC back on and boot from the SSD. You may have to go into the boot menu and select the SSD as the drive to boot from (if you're not sure how to do this, see your motherboard manual).
You should notice that Windows now starts a lot quicker than before. But we are not finished yet. You can then open up Windows Explorer and wipe the old drive (make sure it isn't the backup) Right click on this old drive and select format.
Get your old data back from the backup
We can now move data from the backup onto your old disk, which is now extra storage for your system. You can create a new folder to store all your user folders. Then click on C:\users\username (replace username here!) and you should see your (now empty) user folders. Right-click on each one, select Properties, and go to the Location Tab. Click on Move, and select the newly created user folder as the destination. 
To restore your personal data from your backup, simple click and drag documents, music, pictures, videos, and other files back into your My Documents, My Music, My Pictures, and other user folders that you have just moved.
Everything should now work as before, only faster.
This feature includes articles on how to install an SSD and how to move Windows 10 from your old hard drive to SSD that originally appeared at alphr.com and IT Pro.