Don't have your own personal assistant? Why not get a digital one? We explain how to set up and use the popular smart speaker.
Smart speakers may be designed primarily for homes but they have voice-activated digital assistants that can help you manage your professional life, including your schedule, to-do list, contacts and more. Want to order an Uber? Just tell your digital assistant to order one – and, of course, it will play your favourite music while you work.
Prices start at just $79 and there's plenty to choose from: Google Home and Home Mini, Apple HomePod, Sonos One and Amazon's range are all available in Australia.
Here we'll explain how to get set up an Amazon Echo Dot, Echo or Echo Plus, troubleshoot Wi-Fi and other problems, and get started with the speakers' digital assistant, Alexa.
Australian Skills
The key thing to know about Alexa is that it can be 'taught' to work the way you want with 'Skills'.
Alexa comes with a host of built-in Skills but third-party developers can add to them too. The platform is still relatively new here, but already more than 10,000 Skills are currently available in Australia, according to Amazon.
Australian organisations supporting the platform include AGL, Airtasker, Amaysim, Dominos, EnergyAustralia, Hipages, NAB, Qantas, REA Group, Seek, Telstra, Transport for NSW, Village Roadshow, Westpac and various media outlets.
Using these organisations' Skills, you will (sooner or later) be able to ask Alexa to give you your bank account balance, provide travel information, read the latest news, help manage your energy consumption, search for suitable jobs, order a pizza and more.
And if you're interested in developing your own Skills for your customers, you can do so via the Alexa Skills Kit. In the US, Amazon has also released Alexa for Business, which enables employees to easily perform tasks such as booking conference rooms, order new supplies and report IT problems, and allows organisations to create their own Skills for better productivity.
We'll get into how to use Skills later, but first let's get you started with the device itself.
How to set up an Amazon Echo, Echo Plus or Dot
1. Plug in your Echo using its power cable. The ring light will turn blue and start spinning to let you know it's turned on. In around a minute, this blue light will turn orange, to signal the speaker is in setup mode and Alexa will welcome you to the Amazon Echo. If the orange light doesn't appear, go to step 4.
2. Download the Amazon Alexa App from iOS or Android. You can also access the app from a browser.
3. The setup process should start automatically and you'll be prompted to sign in with your Amazon account email and password.
4. If the setup doesn't start automatically, or the orange light doesn't appear when you first switch on your Amazon Echo, go to Settings and select Set up a new device.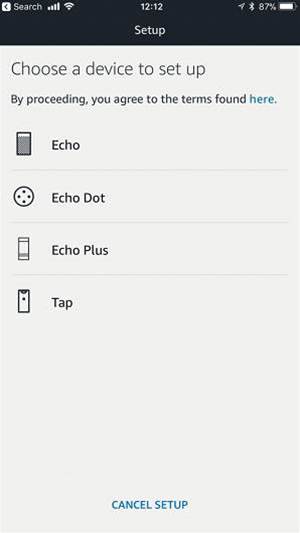 5. Select your language and choose which device you are trying to set up from the list. This includes Amazon Echo, Amazon Echo Dot and Amazon Echo Plus.
6. The next step involves connecting the app to your Echo, and connecting your Echo to your Wi-Fi network. On the Begin Echo setup screen click Connect to Wi-Fi. The orange ring should now appear on your device. If the orange light still doesn't appear, go to step 11.
7. Close the app, open Settings and go to Wi-Fi. If the phone has recognised your Amazon Echo device you will see a Wi-Fi network with a name that starts: Amazon-XXX. It can take up to a minute to appear in the list.
8. Selecting this Wi-Fi network will drop your phone from your main Wi-Fi network and connect it directly to the Amazon Echo.
9. Once connected, you will be prompted to connect the Echo to your main Wi-Fi network. Enter your Wi-Fi password when asked and Echo will join the network.
10. From this point on, any Echo device on the same network can communicate with each other and with the Amazon Alexa app.
11. Orange light still not appearing? Press and hold the Action button for five seconds and go back to step 7.
You will need to repeat this process for every Amazon Echo and Echo Dot you connect to your network.
For more specific setup instructions for your Amazon Echo model, click the links below:
Next: How to use your Echo, troubleshoot problems and get started with Alexa Skills
How to use an Amazon Echo
To get started with your Amazon Echo, it helps to know what the individuals buttons and lights mean.
The majority of the Amazon Echo devices are controlled in a similar way and each model comes with an action button, volume controls, a light ring and a microphone off option.
The Action Button, which you'll need to use during setup and troubleshooting, is the button with a single white dot in the centre. You can use this button to turn off the alarm and timer as well as wake up Echo.
The Volume controls are either represented with plus and minus buttons or via a ring. On the latter, you can increase the volume by rotating the volume ring in a clockwise direction.
The button to disable the microphone, which stops Alexa from being able to listen to you, is depicted by a microphone with a line through it. Once disabled, the light ring will turn red. Pressing it again will turn the microphone back on.
To start using your Amazon Echo following setup, simply say "Alexa" followed by your question or command. If it has recognised your voice, the light will turn blue to indicate it's listening.
By the way, you can change the wake word from "Alexa" if, for example, you have an Alexa or Alex in your home or office, so it doesn't activate when you don't want it too.
The Amazon Echo and Echo Dot on their own don't do a whole lot – or they're certainly not as useful without enabling Alexa Skills – which brings us onto our next guide. 
How to enable Alexa Skills
1. Open the Amazon Alexa app, open the menu using the three lines in the top left-hand corner and select Skills. You can also find the full list of Alexa Skills store on the Amazon website.
2. You can browse for skills by category, such as Business & Finance, Food & Drink and Games. Alternatively, use the search box to find a specific skill. You can see which Alexa Skills you've already enabled by clicking Your Skills in the top right-hand corner. 
3. Once you've found a skill you want to use, select it to open its dedicated detail page and hit Enable. Some skills may require you to create an account or subscription with the Skill provider, or to type your username and password for existing accounts.
4. In each Skill page you'll be able to see what the Skill does, supported languages and what you need to say in order to launch the app. You can also say "Alexa, open [Skill name]." If you need help with a skill, you can say, "[skill name] help."
Amazon Echo setup problems
My Amazon Echo won't connect to Wi-Fi
Amazon Echo devices can only connect to dual-band Wi-Fi (2.4GHz/5GHz) networks that use the 802.11a/b/g/n standard. Your home Wi-Fi will run these bands/this standard but peer-to-peer networks or hotspotting won't, for example. 
Test your Wi-Fi network and security
If you can't connect your Amazon Echo to your Wi-Fi network turn the device off at the plug, wait 10 seconds and repeat the setup process above.
Make sure you know your network password - this is the password needed to access your Wi-Fi network and is typically found somewhere on your router. This password is not your Amazon account password.
Check to make sure other devices, such as your phone or smart TV, are connected to the Wi-Fi. If they're not, this may signal that your Wi-Fi isn't working rather than your Amazon Echo. 
If your main Wi-Fi network isn't working, reboot the router by turning it off at the plug. If it's still not working you may need to update the firmware for your router or modem hardware and the instructions will depend on your router. You can also contact your internet service provider. 
If you saved your Wi-Fi password to Amazon previously, but you recently changed the password, you'll need to re-enter your new password to connect the Amazon Echo to your network again.
By default, your router may use both WPA+WPA2 for security. To resolve connection issues, switch the router security type to either WPA or WPA2 only. If the router also has an option to set the type of encryption, setting it to AES only is recommended.
Reduce Wi-Fi congestion
If you have multiple phones, tablets, Amazon Echo, smart devices, TVs and computers on your Wi-Fi network, or you're downloading or streaming apps and content, you may find your Wi-Fi struggles to keep up. 
Turn off devices you aren't using to free up bandwidth.
Move your Amazon Echo closer to your router.
Keep the Amazon Echo away from possible interference, such as microwaves or baby monitors.
You can additionally connect to your router's 5 GHz Wi-Fi frequency band where possible. Many devices automatically connect to the 2.4 GHz band which can leave that band a little crowded.
Reset Amazon Echo
If this doesn't solve the problem you can also reset your devices and start from scratch. To reset your Echo device:
Find a paper clip, earring or the SIM card tool found with new phones to press and hold the Reset button on the Echo device on the base of your device. The light ring on your Echo will turn orange, and then blue.
Wait for the light ring to turn off and on again.
The light ring should turn orange, and your device will enter setup mode. You can try repeating the following steps at the top of this article. 
What about my privacy?
Digital assistants like Alexa become more effective as they learn more about you, and that means sharing your data with one of the world's biggest tech companies.
Remember also that unless you press the disable microphone button, the mic is potentially always on. According to Amazon, Alexa is only activated when you speak the wake word, but it can be turned on accidentally, and ultimately, you are trusting Amazon with a lot of your information and audio recorded inside your home or office.
Thankfully, however, you can access, listen to and delete all your recorded dialogue with Alexa – and in fact, all your Amazon interactions.
This feature is based on an article that originally appeared at alphr.com.