Don't have your own personal assistant? Why not get a digital one? We explain how to set up and use the popular smart speaker.
Smart speakers may be designed primarily for homes but they have voice-activated digital assistants that can help you manage your professional life, including your schedule, to-do list, contacts and more. Want to order an Uber? Just tell your digital assistant to order one – and, of course, it will play your favourite music while you work.
Prices start at just $79 and there's plenty to choose from: Google Home and Home Mini, Apple HomePod, Sonos One and Amazon's range are all available in Australia.
Here we'll explain how to get set up an Amazon Echo Dot, Echo or Echo Plus, troubleshoot Wi-Fi and other problems, and get started with the speakers' digital assistant, Alexa.
Australian Skills
The key thing to know about Alexa is that it can be 'taught' to work the way you want with 'Skills'.
Alexa comes with a host of built-in Skills but third-party developers can add to them too. The platform is still relatively new here, but already more than 10,000 Skills are currently available in Australia, according to Amazon.
Australian organisations supporting the platform include AGL, Airtasker, Amaysim, Dominos, EnergyAustralia, Hipages, NAB, Qantas, REA Group, Seek, Telstra, Transport for NSW, Village Roadshow, Westpac and various media outlets.
Using these organisations' Skills, you will (sooner or later) be able to ask Alexa to give you your bank account balance, provide travel information, read the latest news, help manage your energy consumption, search for suitable jobs, order a pizza and more.
And if you're interested in developing your own Skills for your customers, you can do so via the Alexa Skills Kit. In the US, Amazon has also released Alexa for Business, which enables employees to easily perform tasks such as booking conference rooms, order new supplies and report IT problems, and allows organisations to create their own Skills for better productivity.
We'll get into how to use Skills later, but first let's get you started with the device itself.
How to set up an Amazon Echo, Echo Plus or Dot
1. Plug in your Echo using its power cable. The ring light will turn blue and start spinning to let you know it's turned on. In around a minute, this blue light will turn orange, to signal the speaker is in setup mode and Alexa will welcome you to the Amazon Echo. If the orange light doesn't appear, go to step 4.
2. Download the Amazon Alexa App from iOS or Android. You can also access the app from a browser.
3. The setup process should start automatically and you'll be prompted to sign in with your Amazon account email and password.
4. If the setup doesn't start automatically, or the orange light doesn't appear when you first switch on your Amazon Echo, go to Settings and select Set up a new device.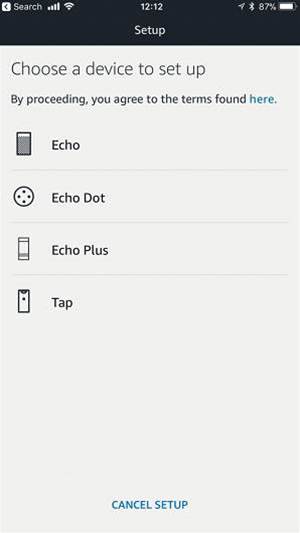 5. Select your language and choose which device you are trying to set up from the list. This includes Amazon Echo, Amazon Echo Dot and Amazon Echo Plus.
6. The next step involves connecting the app to your Echo, and connecting your Echo to your Wi-Fi network. On the Begin Echo setup screen click Connect to Wi-Fi. The orange ring should now appear on your device. If the orange light still doesn't appear, go to step 11.
7. Close the app, open Settings and go to Wi-Fi. If the phone has recognised your Amazon Echo device you will see a Wi-Fi network with a name that starts: Amazon-XXX. It can take up to a minute to appear in the list.
8. Selecting this Wi-Fi network will drop your phone from your main Wi-Fi network and connect it directly to the Amazon Echo.
9. Once connected, you will be prompted to connect the Echo to your main Wi-Fi network. Enter your Wi-Fi password when asked and Echo will join the network.
10. From this point on, any Echo device on the same network can communicate with each other and with the Amazon Alexa app.
11. Orange light still not appearing? Press and hold the Action button for five seconds and go back to step 7.
You will need to repeat this process for every Amazon Echo and Echo Dot you connect to your network.
For more specific setup instructions for your Amazon Echo model, click the links below:
Next: How to use your Echo, troubleshoot problems and get started with Alexa Skills