Best portable rescue tools
The best type of recovery kit is one you build yourself. There's a huge range of portable tools available, but here are some of our favourites to get you started.
Google Chrome Portable or Mozilla Firefox Portable
You'll definitely want to include your browser of choice in your toolkit, unless you want to be stuck using Microsoft Edge – or worse still, Internet Explorer – on someone else's PC, so it makes sense to take Chrome or Firefox with you.
Nirsoft Password Recovery Tools
Nirsoft offers a number of tools designed to recover lost usernames and passwords, which might come in handy if simply resetting your password isn't an option. There are password tools for instant messengers, routers, browsers, wireless networks and more. You can download all of the tools in a single zip file (enter 'nirsoft123!' as the password).
If you suspect one or more of the PC's hard drives is failing, CrystalDiskInfo can tell you for sure. It displays the drive's S.M.A.R.T (Self-Monitoring, Analysis and Reporting Technology) status and current temperature, along with details such as the number of hours the drive has been on for, and the read-error rate.
If you need to fully remove unwanted applications or browser junk, IObit's Uninstaller is the tool for the job. It can batch uninstall multiple items, then identify and remove any leftovers afterwards.
AdwCleaner can remove toolbars, adware, hijackers, and PUPs (potentially unwanted programs) from your web browsers. It's very easy to use, you just run it and then click the Scan button, and it will present you with its findings.
If the problem PC keeps crashing and ends up on the 'blue screen of death' (BSoD), this program can narrow down the cause by scanning all the minidump files created during a crash, and making them available to study.
Speccy is a fast, lightweight, system information tool from Piriform, the creators of CCleaner. It can tell you everything you need to know about a PC, from the version of the operating system it's running to the hardware inside. You can even use it to monitor the temperature of all of the core components.
Like BlueScreenView, WhoCrashed will search your crash dump logs, tell you the cause of your woes, and offer suggestions for fixing the problem. The download is an installer, but you can then copy the program's folder to a USB flash drive and run the executable file from there.
Another very useful Nirsoft tool, it helps you find the Windows key of the PC you run it on, as well as several other registration keys.
Process Explorer displays a list of running processes and colour codes them to make it easier to see what they are. You can scan suspicious entries using the VirusTotal.com online virus checker.
If you, or someone else, has accidentally deleted some important files, you can use Piriform's Recuva to find and restore them. Running it from a flash drive – rather than the PC's hard drive – means there's less likelihood of you overwriting the files you're trying to recover.
Create a rescue kit using PortableApps
You can just manually drop each of the tools listed above into their own folders on a USB memory drive, then run them as and when they're required. However, another option is to create a rescue kit using PortableApps.
This is a start menu and organiser, which even comes with its own built-in app store to make it easier to find and install the latest tools. You don't have to worry about updating your apps either, as the software makes it easy to download the most up-to-date editions.
Here's how to assemble your toolkit using PortableApps: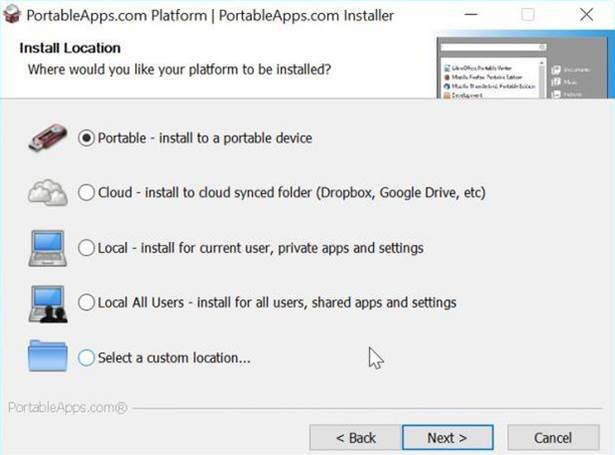 1. Insert a USB memory drive into a spare port on your PC, then download the PortableApps program to your desktop and run it.
During installation select Portable as the location to write the software to. On the next screen, select the drive to install to (make sure you pick the right one).
2. When you run PortableApps on your drive, a blank Windows 7-style Start menu appears, along with the Portable App Directory.
The directory lets you find apps to install. Chrome can be found under Internet, which is sensible enough, while the likes of CrystalDiskMark and IObit Uninstaller are under Utilities. Tick the ones you want.
3. When you've chosen some programs, click Next. Your selection is downloaded and installed, which might take a while.
Once it's finished, the installed apps appear in the menu, ready to be launched. You can also access the App Directory by clicking the Apps button in the menu, and selecting 'Get More Apps'.