We explain how you can install the latest version of Windows 10 (with the Fall Creators Update) on any PC.
Updates are mandatory in Windows 10, and there are very good reasons to install them – especially the security updates, while others like the latest Fall Creators Update offer some worthwhile new features.
Still, some of us prefer to control when updates occur, especially on business systems when it can interrupt work. We've explained how to block or at least delay updates elsewhere, although to minimise vulnerabilities, you'll need to make sure you install critical updates in a timely fashion.
But even if you have the latest updates installed, there are good, practical reasons for creating a bootable version of a fully updated version of Windows 10 on a USB flash drive: you will be able to use it to clean install the operating system and easily upgrade any PCs that aren't running Windows 10.
Furthermore, it also means you can carry round a portable version of the operating system in case of emergencies.
The benefits of a clean install
Any update for Windows 10 will usually happen automatically in the background. The update may take a while to complete but should be relatively stress-free. When it's finished, your system should work just as it did previously but with new features and improvements in place.
That said, the upgrade doesn't always run as smoothly as it could. Because the Windows 10 Creators Update is fairly big, there's more potential for things to go wrong. Also, the operating system stores the old version of Windows 10 on your hard drive – in case you encounter problems and need to roll it back – which means you'll lose a considerable chunk of drive space after it's installed.
Another, arguably better option is to perform a clean install rather than an in-place upgrade, because the end result will be a fresh operating system that isn't bogged down with old system files, unnecessary Registry entries and incorrect drivers.
Once the installation is complete, you will need to spend some time reinstalling all your programs and copying over personal data and settings, but it's worth the extra effort because it means Windows will run faster and be less likely to crash once you've finished setting up everything.
Preparing the bootable USB drive
For any operating system installation, you need to be prepared. It's especially important for a clean install, which wipes your main hard drive, so if you don't prepare properly – and above all back up all your important files – it may end in tears. We highly recommend reading our guide to clean installing Windows 10 on how to prepare, then perform the installation.
Now you're ready to create a bootable Windows 10 USB drive. You could also create a bootable DVD, but because many newer computers and laptops don't have an optical drive, a USB flash drive is more versatile.
The easiest way to create a bootable USB flash drive is to use Microsoft's own Media Creation Tool. The Media Creation Tool has been updated to the very latest version of Windows 10, with the Creators Update, and you can use it to download and install the OS immediately, or create your own installation media.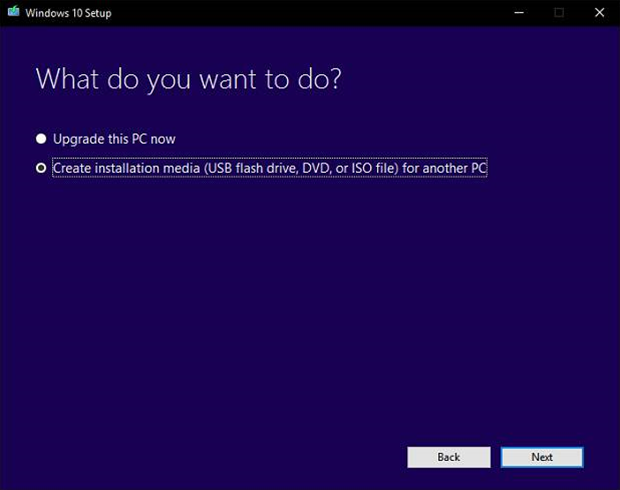 You have the option of writing the operating system directly to a USB flash drive or saving it as an ISO file that you can manually write to the drive or a DVD later on.
The Windows 10 Creators Update is several gigabytes in size, so the download will take a while to complete, depending on the speed of your internet connection. Make sure the flash drive you choose is large enough – we recommend a drive that's at least 8GB in size and preferably quite fast – USB 3.0 is ideal, if your PC supports this.
Another way to create a bootable drive is to use Rufus. This excellent third-party tool takes all the hard work out of creating a bootable drive from an existing ISO file. It can also create a Windows To Go drive which will let you install and run Windows 10 directly from the memory stick, turning it into a portable PC that you can use on your travels. You will need a very fast flash drive for this option, however.
Finally, you can manually create a bootable drive using an ISO file and a series of commands in the command prompt. While this works well enough, it's a bit fiddly and the other two methods described are much easier to perform.
Activating Windows 10
Windows 10 was free for the first year, but that period ended on 29 July. If you didn't upgrade before the deadline, then you will need to purchase a licence to activate the new OS – although there is possibly another option to receive a free upgrade if you act fast.
If you did upgrade your PC to Windows 10, then you will have been granted a digital entitlement which is tied to your computer and stored in the cloud. It doesn't matter if you subsequently rolled back your PC to Windows 7 or 8.1, or if you wiped or formatted your hard drive – you'll still be able to install and use Windows 10 for free on that device.
If you're planning a clean install, you will need your Windows key, which you can find by running NirSoft's ProduKey in Windows – although a better way is to keep your product key in a safe place (not on your computer), so you can access it if ever your computer dies.
Next: creating your bootle Windows 10 USB drive